10 of the best car mounts and phone holders for iPhone and Android phones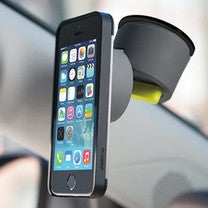 Raise your hand if you've ever had to look at your phone behind the wheel. All hands up? Yeah, we thought so. The fact of the matter is that a smartphone can be a useful companion even when driving, especially when the driver is in need of directions to the nearest Wing Stop. And lifting your phone each time you need to make sure you're going the right way is anything but convenient.

The solution? Getting one of these, perhaps. We've scouted the internet in search of the best car mounts and phone holders you can get right now, and the list we came up with is looking pretty solid. It includes mounts of all shapes and sizes – from the classic ones that suck onto your windshield to clever contraptions that use magnets to keep your phone in place. Check them out below, and if you feel like there's an awesome car mount for phones that we've missed, just drop us a line in the comments!