10 of the best USB car chargers you can get to power your phone
9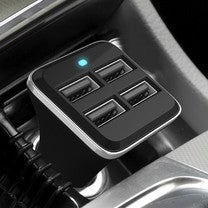 Have you ever wondered what the future of smartphone batteries and charging holds? Perhaps the handsets of our grand-kids will recharge from the sun using solar panels, or perhaps they'll harvest the kinetic energy from walking and turn it into electricity. Or who knows, smart minds might come up with batteries that charge in a minute and last a month. That's the kind of world we wish to live in one day.
However, for the time being, we'll have to make do with what the technology's current state has to offer. USB power seems to be the most convenient way to charge a smartphone right now. That's why we thought we'd put together a list of USB chargers - a list of USB chargers for your car, to be more specific. These plug into your lighter, which you probably aren't using anyway, and deliver several amps of power through their one or many USB ports. They're the kind of gadget you need to keep your smartphone powered even when you're out and about.
As usual, do let us know if you feel like there's an awesome car charger that we've missed. If not, tell us which USB car charger from the ones below you find best.