1 in 5 people in Japan have a smartphone, most are Android
21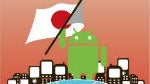 Japan was a bit slow to jump on the smartphone bandwagon, mostly because so-called feature phones in Japan were always pretty feature-rich with games, apps, and even broadcast TV, but the country has gone for smartphones, and the uptake has been impressive. In Japan, DoCoMo's 4G service took just one month to jump from 4 million users to 5 million.
The most recent data says that 1 in 5 people in Japan has a smartphone, which adds up to just about 24 million people. This is even more impressive given that back in February, there were only 19.3 million smartphone subscribers. Back in February, that number meant that 1 in 5 mobile phone users in the country had a smartphone, but now the number is 1 in 5 people in the country. That's a solid jump.
Android has been pretty dominant in Japan, again after a slow start. The iPhone took an early lead a couple years ago, but now Android holds 64% of the smartphone market in Japan, which is up 1.9% from March. Apple and Microsoft (the data doesn't distinguish Windows Phone vs Windows Mobile) both dropped in that timeframe, with Apple now at a respectable 32%, and Microsoft well behind at 3%.
Recommended Stories