*** Updated with official brochure: Unlimited Calling coming to Verizon!!
20

*** UPDATED: We have obtained the officialbrochure about the Unlimited Calling plans expected to be announcedtoday or tomorrow!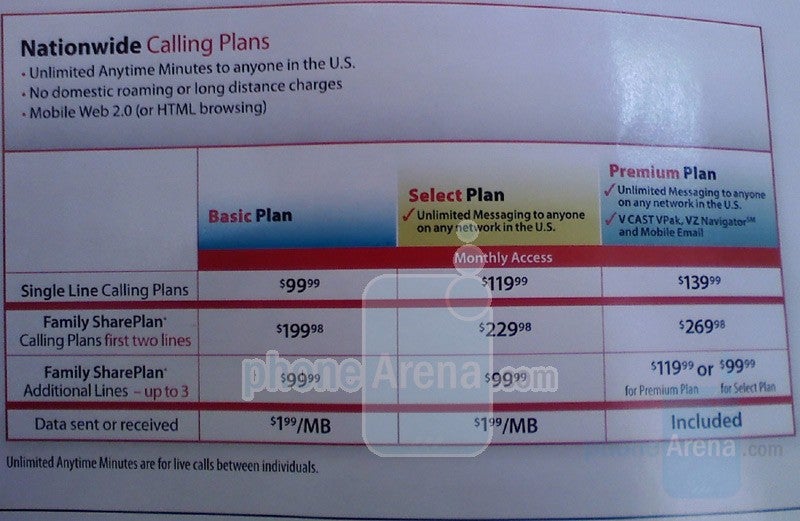 We have been told by severalinsiders that starting on 2/19 Verizon will be offering Unlimited VoiceCalling Plans. This was first spotted by an advertisement that Verizonhad on the USA TODAY's web site this weekend, but has since beenremoved.
Keep in mind that Unlimited Voice is not Unlimited Textand Data. We expect the $2 per MB charge to stay in place, unless youopt for the VCast V-Pack for $15/month, and Texting will requireanother "messaging pack", just like it does on current Nationwideplans. After you add all that together, you are well over $99 for an"Unlimited Everything" package.
Engadgetmobile
originally posted some pricing options information supplied by tipsters, which proves that
Helio's
and
Sprint's
similar offers are way better. Now we have official borchure whichconfirmes their info. The unlimited voice plan will cost you $100, thesame one without any restrictions on the amount of SMS or MMS sent,will run for $120. $140 gets you unlimited voice, SMS, MMS, VZNav,VCAST and email. If you choose the $150/month plan, you won't have toworry about going over your minutes, SMS/MMS, or data sent/received andif you are planning to travel overseas, you should consider the $170plan. As Engadget informs us, there should be a $200 family solution($100 per additional line) as well.