Best VR headsets in 2023: Experience the future today with these top 5 picks
1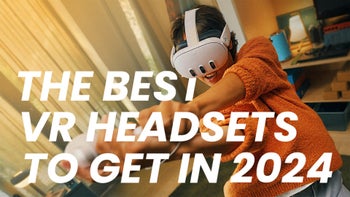 VR (virtual reality), once science fiction, has now become quite popular and affordable. While VR has actually been around for a while, it was the advent of Oculus, a company now owned by Meta, that eventually brought it into the mainstream, thanks to its increasingly more affordable headsets.
And what is VR, exactly? Well, normally it's a headset that's strapped to the user's face, blocking their view of the real world, and immersing them into a virtual one. VR headsets traditionally employ one or two displays behind lenses that rest right in front of the user's eyes. The user is shown a virtual image from two slightly different angles for each eye, and, just like in the real world - that gives them a sense of depth.
Like with a lot of tech, it's gaming what drives the progress of VR the most, but that doesn't mean gaming is all its good for. Certain modern VR headsets, such as the Meta Quest 2, have ambitions to become a productivity device, but we'll get onto how that works later.

Choosing the right VR headset can be tricky, as this is the kind of purchase you're statistically, probably doing for the first time ever. You'll need to consider your budget, whether you want a standalone headset or not, its available games library if you plan to game, or app library if you're interested in productivity or watching movies, and even things you may have never thought about - such as - will its lenses match the distance between your eyes? Yes - this is something that could make or break certain headsets for you!
But worry not, as we're here to help! The following is not just a list of the best VR headsets on the market, but we've also included detailed information about which one that you definitely need to know, such as what it can and can't do, what's good and bad about it, will it fit you and be comfortable, and more. Let's begin!
What are the best VR headsets right now?
Things you should know:
Types of VR headsets
Right now you'll most often find three types of headsets - the first one are
tethered VR headsets
, meaning it needs to be connected to PC or a gaming console to work. If you're buying a headset that needs to be tethered to a PC, you also have to keep in mind that your PC should be powerful enough (some manufacturers call it "VR ready") to run certain, heavier games in VR.
Gaming console VR headsets
, as the name suggest, connect to a specific console and work with no issues, with the most notable example being PlayStation VR. That one works with both PlayStation 4 and PlayStation 5.
After that we have
standalone VR headsets
, with the most notable example being the Meta Quest 2 (although it can also optionally tether to a PC). Those headsets have their own operating system (normally Android, same as on most phones), their own stores for buying games and apps, and a built-in battery for playing them without any cables attached. While this all sounds like a benefit, standalone headsets are usually not very powerful, and are incapable of running triple-A games (Skyrim VR, Half-Life: Alyx, etc), as a headset tethered to your PC can, so that's something to keep in mind. Unless - again, they have an optional tethering mode, like the aforementioned Quest 2.
Lastly we have
mobile VR headsets
, which are hardly in the same ballpark as the rest. Mobile VR headsets are simple plastic (or even cardboard) shells with lenses, and occasionally a physical button for interaction, that rely on your smartphone for everything. They're designed with a compartment for it, and your phone is meant to act act as the VR display. While some VR games and apps are still available for phones, and mobile VR headsets had a brief moment of popularity, they're just a simple novelty nowadays, and definitely not something you'll want to invest in nowadays, and we haven't included any on this list.
Oculus Quest 2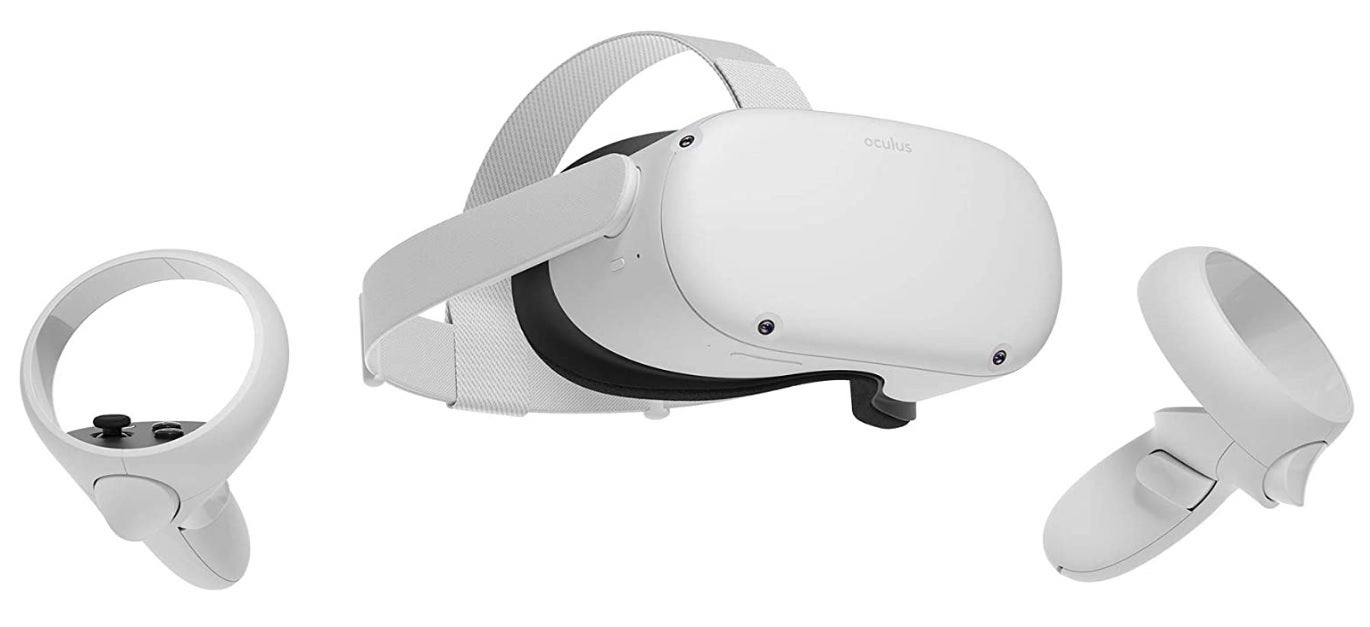 Oculus Quest 2 (now known as the Meta Quest 2)
Weight (headset only):
501 g (1.10 lbs)
The
Meta Quest 2
(formerly Oculus Quest 2) is without a doubt the easiest VR headset to recommend right now. It's not just the most affordable one in the bunch, starting at $399.99, but it is by far the easiest one to set-up. No complicated lights or cameras you need to place around your room; you just put it on, it uses its cameras to see what's around you, and prompts you to draw a virtual line around your play area.
That's it! It tracks your position in the world perfectly, without requiring anything more from you, and will warn you if you step near the edge of your play area, so you won't hit a wall or trip over something.
Even better, although it's technically a standalone headset, that needs no cables attached once its charged, runs its own version of the Android operating system, with its own huge library of dedicated apps and games, the Meta Quest 2 also works as a tethered VR headset for your PC! It can connect to your (preferably powerful) computer either via a cable, or, even better (if you have fast internet) - wirelessly, thanks to a feature called AirLink.
Its display resolution is 1920-by-1832 pixels per eye, the image is good and reasonably sharp, and there is no screen door effect (visible pixels) to speak of, although occasionally I find it a bit dim. Regardless, you can easily get fully immersed in your game, especially if it's a bright one by design.
The headset has three IPD (Inter Pupillary Distance / lens spacing) modes - 58 mm, 63mm and 68mm, which means your eyes ideally need to be very close to those distances from one another, in order for you to have a good experience using the Quest 2.
Meta suggests that anyone with an IPD of 56-to-70mm will be fine, but I personally have an IPD slightly higher than 70 and find it a bit hard to see things sharply from both eyes, as they're just not as close enough to match how close the headset's two lenses are to each other.
Obviously this causes eye fatigue and discomfort, so it's something to keep in mind - always check your IPD, and whether the VR headset you're planning to get supports it.
Speaking of eye comfort, the Quest 2 comes with an optional plastic separator that keeps the lenses a bit further from your eyes, so you can wear glasses while using the headset, if needed. It's also a bit of a hack to use that separator if your IPD is larger than 70mm, as at least in my case, it helps a bit.
The Quest 2's great stereo speakers help the immersion too, providing not only fantastic stereo separation for the sounds and music you'll be hearing, but even a bit of bass. And if you want to use your own wired headphones - there's a headphone jack available.
The Quest 2 has a massive library of paid and free games, with the most popular one being Beat Saber. Those games run on the headset itself, and again - require no PC or anything more than your headset and its two controllers. In addition, there are plenty of great apps for the Quest 2 - from web browsers, through VR video players, to Netflix and YouTube VR; whatever you may want.
Again, alternatively you can pair your Quest 2 to a PC and use it as a tethered VR headset to play triple-A PC VR games too, such as Skyrim VR and Half-Life: Alyx, provided your PC can handle VR gaming. This is actually how I most commonly use my personal Quest 2 nowadays, and I just love it. AirLink, which is the feature that makes your Quest 2 tether to your PC wirelessly, is incredible, and very simple and easy to use... And least when it works from the first attempt.
Which brings me to the downsides. With all of the ambitious features Meta often adds to the Quest 2 following each (fully automatic) software update, it also tends to gets new bugs, alongside the many it already has. From randomly not being able to show the main menu, or connect to my PC until I restart it, to it turning itself off abruptly while I use it - I've seen it all, and had to adapt and find ways around it all. It's safe to warn you that you will definitely encounter some bugs during your Quest 2 usage.
The good news is, most are usually resolved with a quick restart of the device (hold down the power button for a few seconds), and those experimental features Meta often adds tend to be quite exciting, at least for the VR/AR enthusiasts. Passthrough has become from a beta experiment to a full-fledged feature, and it enables the Quest 2's cameras to show you your surroundings while you use it (in grainy black and white, unfortunately, but still!), creating a sort of primitive AR (augmented reality) experience.
For example, you can open up to three web browser windows at once, and do your web surfing like a multitasking boss, while seeing your real-world surroundings behind said windows. So your VR headset is now pretty much AR too! Unfortunately the Quest's web browser is a mobile one, same as on any Android phone, so don't expect a desktop web experience.
We now also have hand tracking, which aims to allow you to use your Quest 2 without the controllers, but simply with hand gestures. While it's cool in concept, hand tracking remains quite unreliable, and nowhere near as convenient as using controllers - but again, those experimental features can be pretty exciting, fun to play around with, and a sign of what's to come.
From a build quality standpoint, the Quest 2 is well-made, and my only complaint is directed at one particular, thin plastic piece that holds its strap connected to a spot right above, and between the two lenses. This plastic piece snapped very early in my Quest 2's lifetime, as I was simply adjusting the strap and pulling on it, not even too hard. It can't be fixed or replaced, so my only option was to buy a third-party strap that can hold the headset to my face without it. Not great.
Other than that, the plastic that makes up the Quest 2 and its controllers is solid, grippy, and insusceptible to wear and tear, which is all fantastic.
The inner foam that gets pressed against your face when you wear the headset is luckily replaceable, just like the default strap, so you can find and choose different variants if you don't like how it feels, and you can easily replace it, should you eventually have to.
Valve Index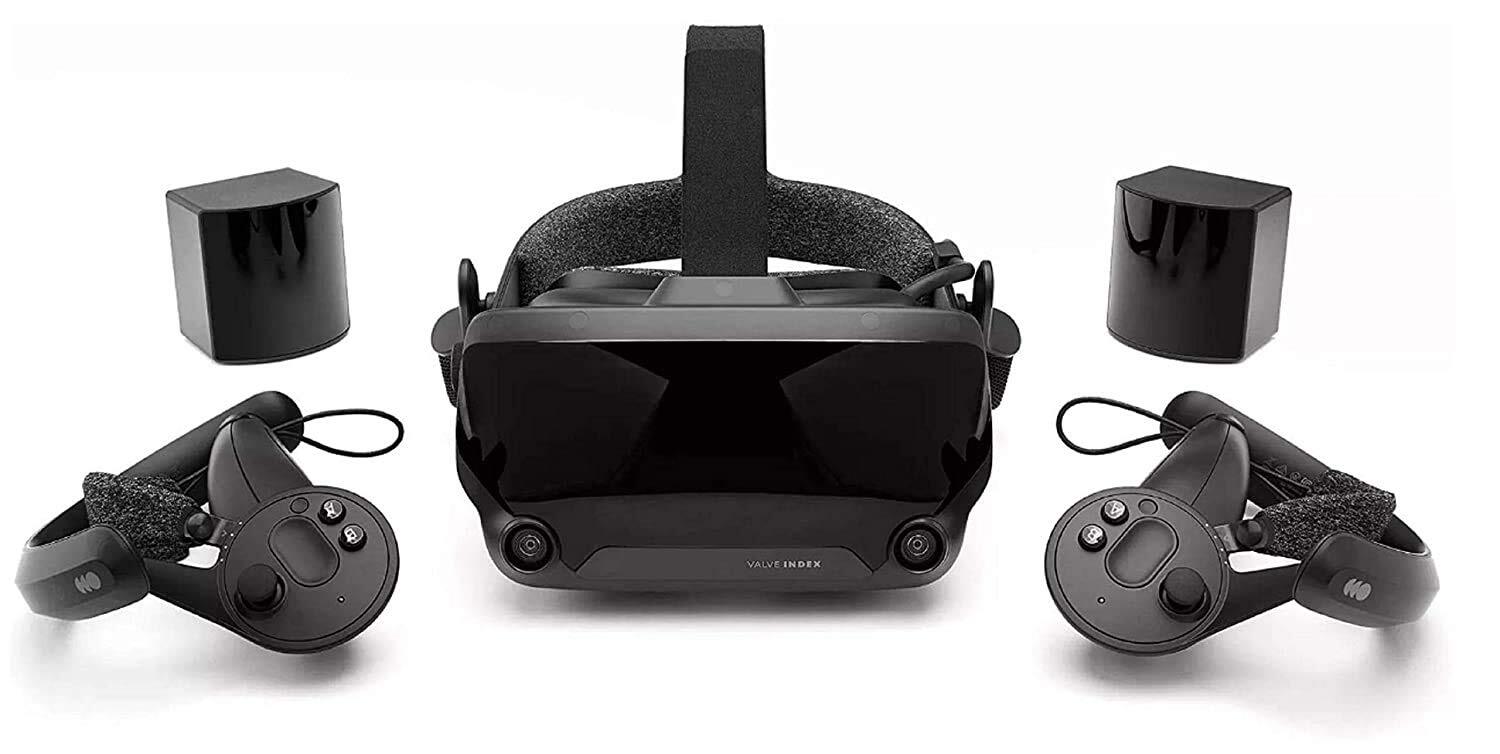 Valve Index
Starting price:
$999
IPD range:
58-70 mm
Refresh rate:
120 Hz
Weight (headset only):
809 g (1.78 lbs)
This $999 VR headset is by none other than Valve, a company you may know from its Steam video game store, or perhaps the Half-Life and Portal franchises. The Valve Index is not a standalone headset, meaning it's meant to be connected to a powerful (VR ready) gaming PC, so you need have to have one already. Valve's GPU recommendations start at NVIDIA GeForce GTX 970 and above, or AMD RX480 and above.
The Valve Index's per-eye screen resolution is actually lower than the Quest 2's, at 1440-by-1600 pixels, but it's no noticeable downgrade whatsoever, and the field of view (FOV) on this headset is actually a massive upgrade at 130 degrees - higher than any other option here.
Like the Quest 2, the Valve Index has a huge library of apps and games to choose from, such as Valve's own tripe-A game called Half-Life: Alyx, which you get free, no less! So long as you have a reasonably powerful PC, you'll be able to enjoy the many VR ready games on Steam with no issues.
Unlike the Quest 2, however, the set-up process here is a bit more complicated. Before you can use your new Valve Index, you'll need to plug in two tracking devices for it, called Base Stations, into their own individual power sockets. Those Base Stations are used by the headset to track your position and movement, so using them is mandatory. That's not to say the set-up process is vastly more complicated than setting up a Quest 2, but it sure feels unnecessary when that one doesn't need such tracking devices and still works perfectly well.
From a build quality perspective, the Valve Index and its controllers are beautifully made from solid matte and glossy plastic. Its controllers are rechargeable via USB Type-C, so you won't have to replace batteries like you would with a Quest. There's a headphone jack if you wish to use your own headphones, and both its head strap and face gasket are replaceable.
Overall, if you already have a great gaming PC with a DisplayPort connector (this is important!), you're already using Steam to buy games, and you don't need a standalone headset, just a premium tethered one for high-end PC VR gaming, and nothing more or less - you can't go wrong with the Valve Index.
HTC Vive Cosmos Elite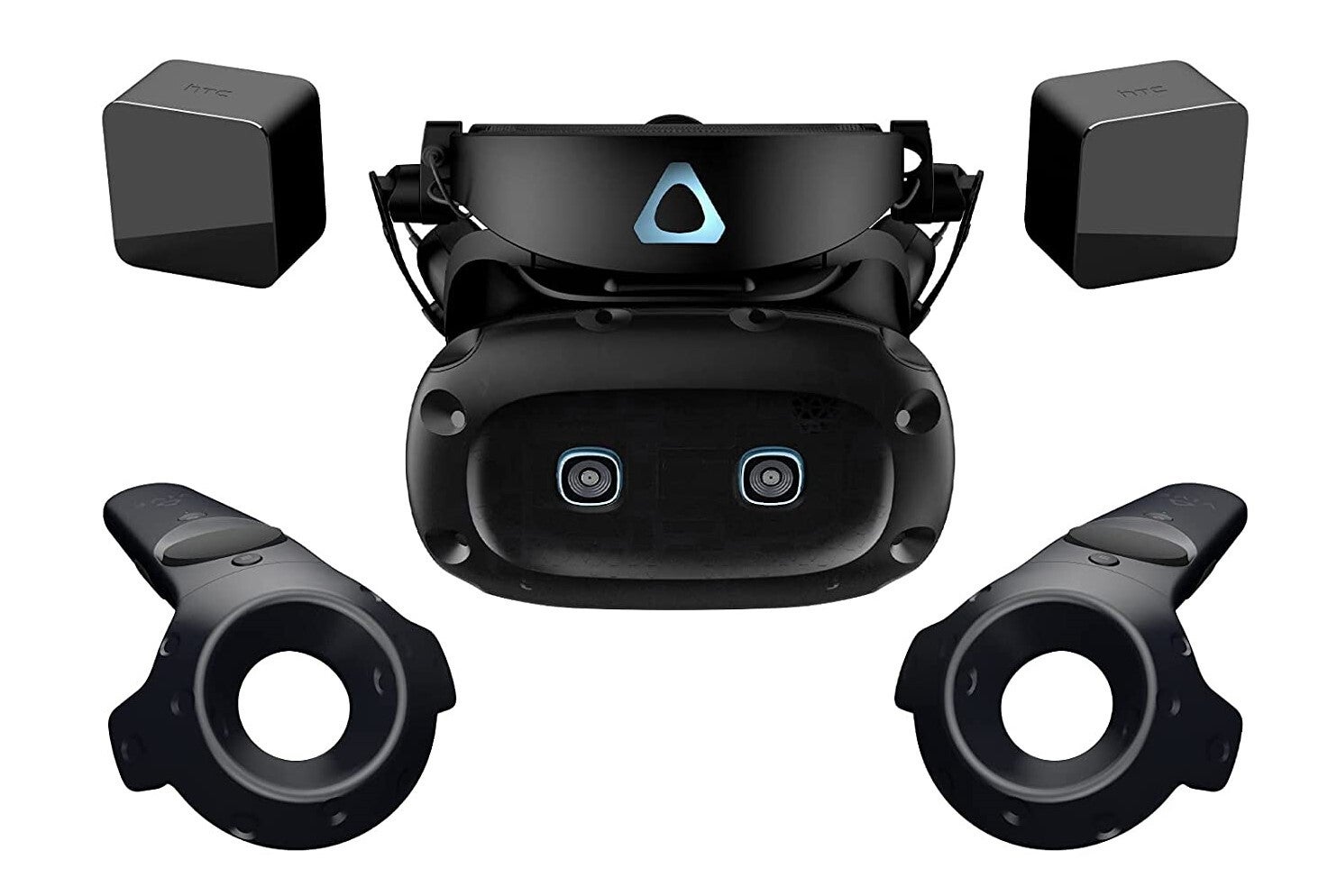 HTC Vive Cosmos Elite
Starting price:
$749

IPD range:
61-72 mm
Refresh rate:
90 Hz
Weight (headset only):
702 g (1.54 lbs)

The HTC Vive brand has been around for a while, and offers several variants of VR headsets, form basic mobile ones, to high-end (and expensive!) ones, but arguably the most well-rounded model we can recommend to you right now would be the HTC Vive Cosmos Elite.
Starting at $749, it bears some resemblance to the Valve Index, also using two Base Stations to help track the user's position and head movement. But at the cost of making you do a more complicated room set-up like the Valve's aforementioned VR headset, HTC promises "supremely precise" tracking.
This headset is not standalone, requiring a VR ready gaming PC with a DisplayPort 1.2 connection to work, while its GPU requirements start at a GeForce GTX 970 4GB equivalent or better, or AMD Radeon R9 290 4GB or better.
As it uses some SteamVR tech, it's pretty much a given for this headset to be supported by the same VR PC games that work with the Valve Index, of which there are countless, including pretty much all triple-A VR games.
Despite its promise of superior tracking, however, the Vive here does have slower display refresh rate (90 Hz, while even the Quest 2 can technically go up to 120 Hz), and lower FOV than the Valve Index (110 degrees).
Overall, this is a great alternative to the Valve Index, offering a similar set-up and gaming experience, with slightly lower specs, at a lower price.
HP Reverb G2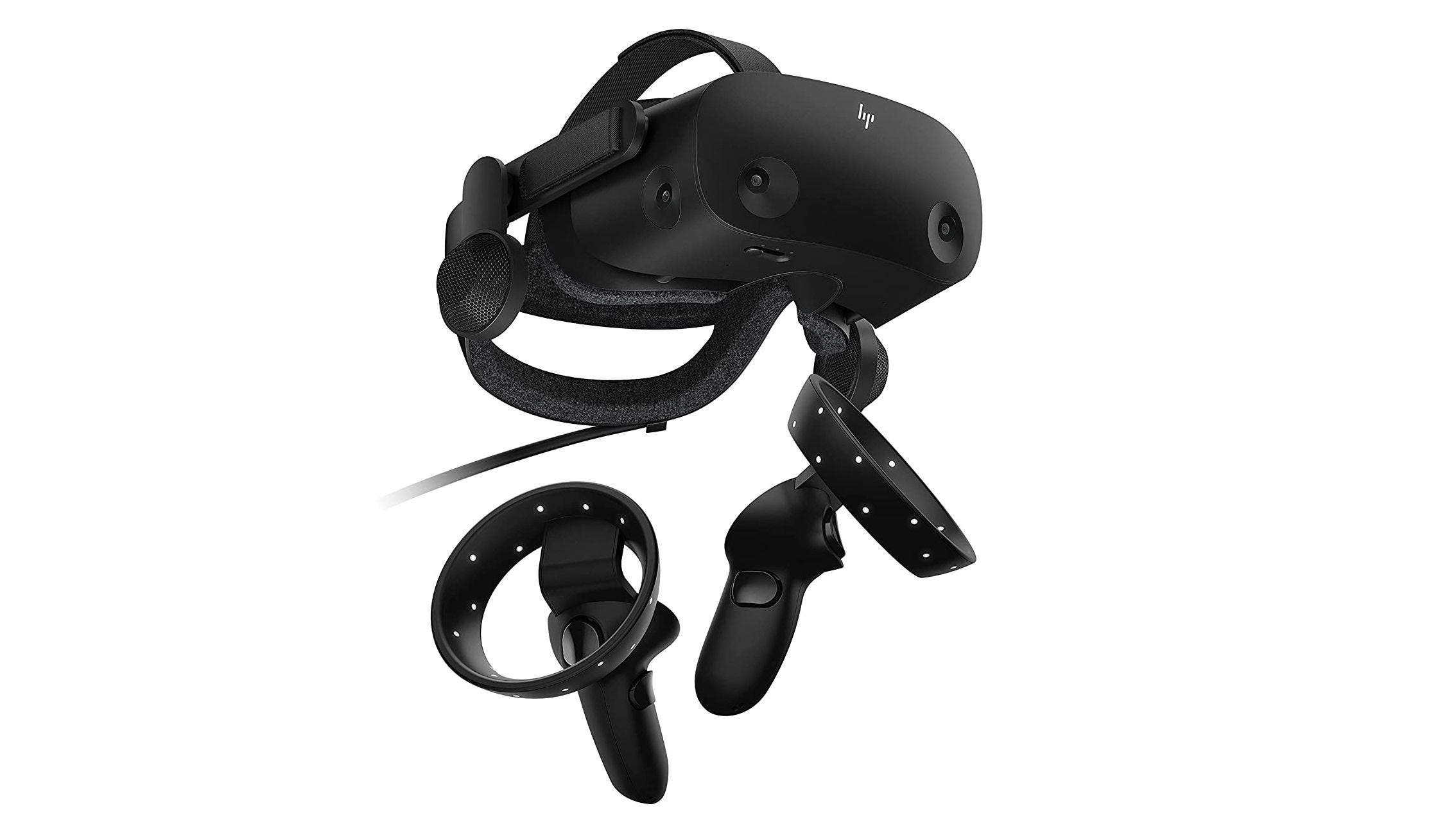 HP Reverb G2
Starting price:
$449

IPD range:
60-68 mm
Refresh rate:
90 Hz
Weight (headset only):
548 g (1.20 lbs)
Here we have a VR headset from HP, that can be best described as a Quest 2 alternative without the standalone features - this here is PC-only. But, like the Quest, it's rather affordable! And again like the Quest, the set-up is simple, without any special equipment for tracking.
Like the Valve Index and HTC Vive above, as a PC-only VR headset the HP Reverb G2 has full support of SteamVR, and you shouldn't have any issues playing any triple-A PC games with it. As always, all you need to worry about is whether you have a VR ready gaming PC with a DisplayPort connection, or mini DisplayPort.
The controllers are non-rechargeable, meaning you'll occasionally have to replace the AA batteries inside, as you would with a Quest, but the speakers are great, and the display specs are not too shabby either. Although this headset's IPD range is a bit small, it does offer good field of view (114 degrees), a pretty common 90 Hz refresh rate, and VR content looks great, without any screen door effect to worry about.
If all you want is a dedicated VR headset for your PC, for a good price, with a massive library of supported games, minimal latency due to its cabled connection, and a hassle-free, simple set-up process - this is a great alternative to the Quest 2.
Sony PlayStation VR 2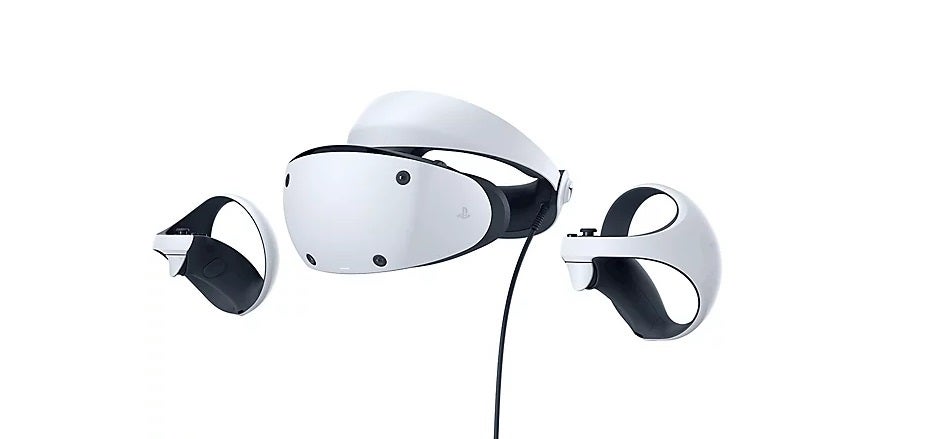 Sony PlayStation VR 2 (also known as PS VR2)
Starting price:
$549.99
IPD range:
Unconfirmed
Refresh rate:
90-120 Hz
Weight (headset only):
560 g (1.23 lbs)
The recently-launched PlayStation VR2 is a successor to the good old first-gen VR headset by Sony, and like that one, the new PS VR2 is only to be used with a PlayStation consoles. And even more specifically - only PlayStation 5 consoles; so it's a pretty expensive package to get started with it. But simpler and arguably cheaper than buying a gaming PC and a PC VR headset nonetheless.
With that in mind, the PS VR2 here doesn't have nearly the same huge library as a VR headset for PCs, or the Quest 2, but Sony does promise 30+ games at launch, which do include popular PC and Quest 2 VR titles like Resident Evil Village VR, Gorn and Pavlov.
From a design standpoint the new PlayStation VR 2 headset is vastly improved and simplified from its predecessors. Its controllers are also notably now similar to what you'd expect from the competitors, and not similar to lightbulbs, or golf balls on sticks, like the PS VR1 controllers were.
From a technical standpoint we actually have some impressive specs here - 110-degree field of view, smooth refresh rate of up to 120 Hz, OLED screens, which provide superior colors and contrast from the LCD you'll find on most headsets... In addition, the PS VR2 even has eye tracking, something no other mainstream VR headset has yet. We're still to see in what ways game developers will utilize this feature, but it'll likely help you be more expressive in multiplayer VR games, and perhaps serve as an additional way to control your headset?
Something to keep in mind is that Sony hasn't specifically announced the PS VR2's IPD range, but it is adjustable, and should fit most users, as all other headsets on this list.
What to consider when choosing a VR headset



Display resolution:
The higher the display resolution - the sharper the image; simple as that. Lower-res screens will appear a bit blurry and you may even see the individual display pixels, which is undesirable and ruins immersion. But the good news is - most headsets nowadays, including all on this list, have high-res displays, and no such problems.
However, you may want to avoid mobile VR headsets that rely entirely on your smartphone to be both the display and the "computer" that runs your VR headset - because the average smartphone doesn't pack a display nearly as sharp, high-res, and with pixels as dense as a dedicated VR headset.
Field of view:
The bigger the field of view (FOV), the larger the lenses, and the larger the lenses - the more of your vision they cover. If a VR headset has a small FOV, you may feel like you're wearing goggles and seeing your VR content through them, making immersion a bit harder than it would be on a high-FOV headset. Nevertheless, your brain can adapt to even a VR headset with a lower FOV (such as the Quest 2), so even if its lenses don't fully cover your entire field of view, eventually you won't even notice that.
Refresh rate:
Refresh rate refers to how often a VR headset's display refreshes its image per second. On average, you get about 90 Hz, although we do have plenty of options that go up to 120 Hz or more. The faster the refresh rate - the smoother and more immersive your VR content gets, as your brain won't perceive any latency between your head movements and what you're seeing in VR.
Of course, getting a higher, smoother refresh rate also depends on how quickly your PC can render a VR game at 120 Hz, which is more power-intensive than rendering it at 90 Hz. So both your headset and your PC should support a higher refresh rate, if that's what you're aiming for; not just the headset itself.
Comfort and fit:
All headsets on this list have adjustable IPD and adjustable head straps for the sake of comfort and fit - because obviously, that's extremely important. Even if you won't notice it, you may end up using your VR headset for hours on end, and if it feels loose, or top-heavy, or too tight, or the foam that surrounds the lenses and presses on your face isn't breathable enough, your gaming experience won't be nearly as pleasant.
In addition, headsets on this list have third party head straps available also, so you're free to discover the perfect one for you, to replace the stock one. Some are extra-adjustable, others are extra thin and light for comfy use even if you're lying down - plenty of options out there to help make your experience as comfortable as possible!
Tracking technology:
At this point, we have headsets that are capable enough to track your head movements without the need for any extra gadgets, such as the Quest 2. Other headsets, like the Valve Index, will require you to plug in little devices that help it track your movement. Regardless, the tracking technology in all headsets here is pretty similar, and not something you should worry about. As long as a headset can track both your head's position in 3D space, and its rotation, you can be immersed in all of your favorite VR games. And, all on this list can do that.
Controllers:
Controllers are an essential part of your VR gaming experience, so they need to be comfortable and durable, because you're likely to smack them against a wall on accident at some point in your life. Luckily, all on this list are extremely reliable and have similar features. The one thing that may be of interest to you, and you may want to consider, is that some controllers, usually the ones that come with cheaper headsets, run on AA batteries and you'll have to change those periodically.
Other controllers, usually in more expensive VR headsets like the Valve Index, are rechargeable via USB Type-C, just like your smartphone, so you won't need to buy batteries for those regularly, but still - charging them one way or another is inevitable.
Weight:
We've included the weight of each headset here for good reason - weight adds (or reduces the) comfort to your VR gaming experience, and over time - it'll start to matter, even if you don't notice how heavy your headset is at first.
All headsets on this list have obviously be designed to be worn for hours on end without causing fatigue, but you know yourself best - and if you believe it necessary - you may want to consider a lighter headset.
Available apps and games:
You can't be sure that all VR games you may want to play, or all VR apps you may want to use, will be available and compatible with your chosen VR headset, until you check their individual requirements.
If you're buying a PC-tethered headset, it's a good idea to first check the Steam pages of any VR games you plan on playing on it, as those pages also list which VR headsets are supported by the game.
But overall, buying a PC-tethered VR headset means you'll get a massive library of games and apps to choose from, not just on Steam, but on other platforms that offer VR content. Things are a bit more limited on non-PC VR headsets, though...
Getting a console-based VR headset like the PS VR2 obviously means you'll be limited to only VR games made for the PlayStation 5, of which there are about 30 right now.
Last, but definitely not least - you should consider what apps and games standalone VR headsets have. The Oculus Quest 2 is the most popular example in this category, and it does have an impressive one. As the Quest 2 runs Android and has its own app store, and Meta has been building it for a while, you'll likely find most big-name VR games, both single player and multiplayer, to be available - from Beat Saber, through Gorilla Tag, Superhot VR and many more.
The Quest 2 also has countless apps - video players, web browsers, Netflix, YouTube VR, even productivity ones. And since the Quest 2 can also optionally tether to your PC for PC VR gaming - you also get that huge library of SteamVR games, among many others, as even those normally support the Quest 2.
All in all, you only need to be careful if you decide to buy a more niche VR headset from a lesser-known brand, as such headsets are less likely to be supported by most VR games, and even if they're standalone headsets with their own libraries - those are not going to have anywhere near the available apps and games as the headsets on this list.
How we test VR headsets
We test headsets while keeping important factors, such as their ease-of-use, price, image quality, library of available games, and more, in order to recommend you the best options. We also take their availability in consideration, making sure you can get the headset that you choose, regardless of where you are in the world.
In addition, we consider versatility, as the more versatile a headset is - the more likely we'll recommend it to you, which is why the Quest 2 is currently our #1 pick. You can do the most with it, and use it in different ways (e.g. both standalone and tethered to a PC).
What is field of view and why it's important when choosing a VR headset?
Field of view (FOV) refers to how much of the virtual world you get to see when you wear a headset. The bigger a headset's FOV is, the bigger its lenses are, covering a larger field of your view, and immersing you more into your games or other VR content.
Larger FOV is usually reserved for the more expensive headsets, but the good news is, even one, such as the Quest 2 with its ~89-degree FOV, can immerse you perfectly well. Although it doesn't cover what your eyes fully see nearly completely, your brain eventually learns to ignore the black space beyond what the lenses show you.
Obviously, if you can afford a more expensive headset with a higher FOV, you'll likely feel a greater sense of immersion, but realistically, most headsets don't go that much beyond what the budget Quest 2 offers, so FOV shouldn't be a main priority when choosing one.
What is IPD and why is it so important?
IPD stands for IPD (Inter Pupillary Distance), and basically means the distance between the centers of your eyes. As VR headsets have two lenses, one to rest over each of your eyes, those lenses need to be the same distance apart from each other as your eyes are, to give you a perfect VR experience.
While the headsets on this list all have adjustable IPD modes, you need to make sure that they can match, or at least get very close to your personal IPD, in order to have a comfortable, clear VR gaming experience, without eye fatigue.
If your IPD is out of your VR headset's range, you may see a blurry image, and you'll find it more difficult to focus on the VR content. That's why you need to do your IPD research before making a VR headset purchase. And that's why, to help you, we've included the IPD range of each headset here. You just need to measure your personal IPD and make sure it's within the supported IPD range for your chosen headset.
What is refresh rate and does it really matter?
A VR headset's refresh rate refers to how often the headset's display/s refresh in a second. The faster the refresh rate - the smoother and more natural your VR gaming experience will feel, while slower refresh rate may cause dizziness in some people, as the brain can have a hard time believing the image it's seeing is real when it's lagging behind your head's movement.
Realistically, any VR headset with refresh rate of 90 Hz or above will feel natural and comfortable for most people, so you needn't obsess too much on the refresh rate, or necessarily aim to spend more on a headset with 120 Hz or faster speeds, although if you can - it could make a difference. With that in mind, VR headsets with faster refresh rate also require a faster gaming PC that can handle it, so that's something else to consider.
While your computer may have no problem rendering a game in VR at 90 Hz, 120 Hz or faster could be a bit too much work for it, if it's not powerful enough.
But again, any VR headset at 90 Hz or faster should be more than enough for most users, and all the headsets on this list can go beyond that.