reMarkable tablet review
2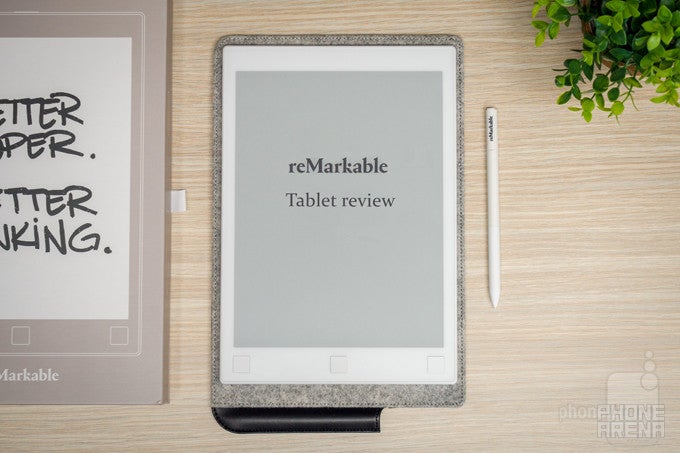 The reMarkable tablet is something only a real "paper" person—as the company likes to call its potential customers—would ever consider buying. It's not a traditional tablet, in that it doesn't run Android, or iOS, or Windows, and as such, it doesn't have access to a developed ecosystem of apps and services. In fact, there are no apps available for the reMarkable tablet, per se. So, what's the hook, then? Well, this device does something that no other tablet on the market does — it feels and acts like paper. Digital paper, of course, but it's as close as it gets to the real thing right now.
Design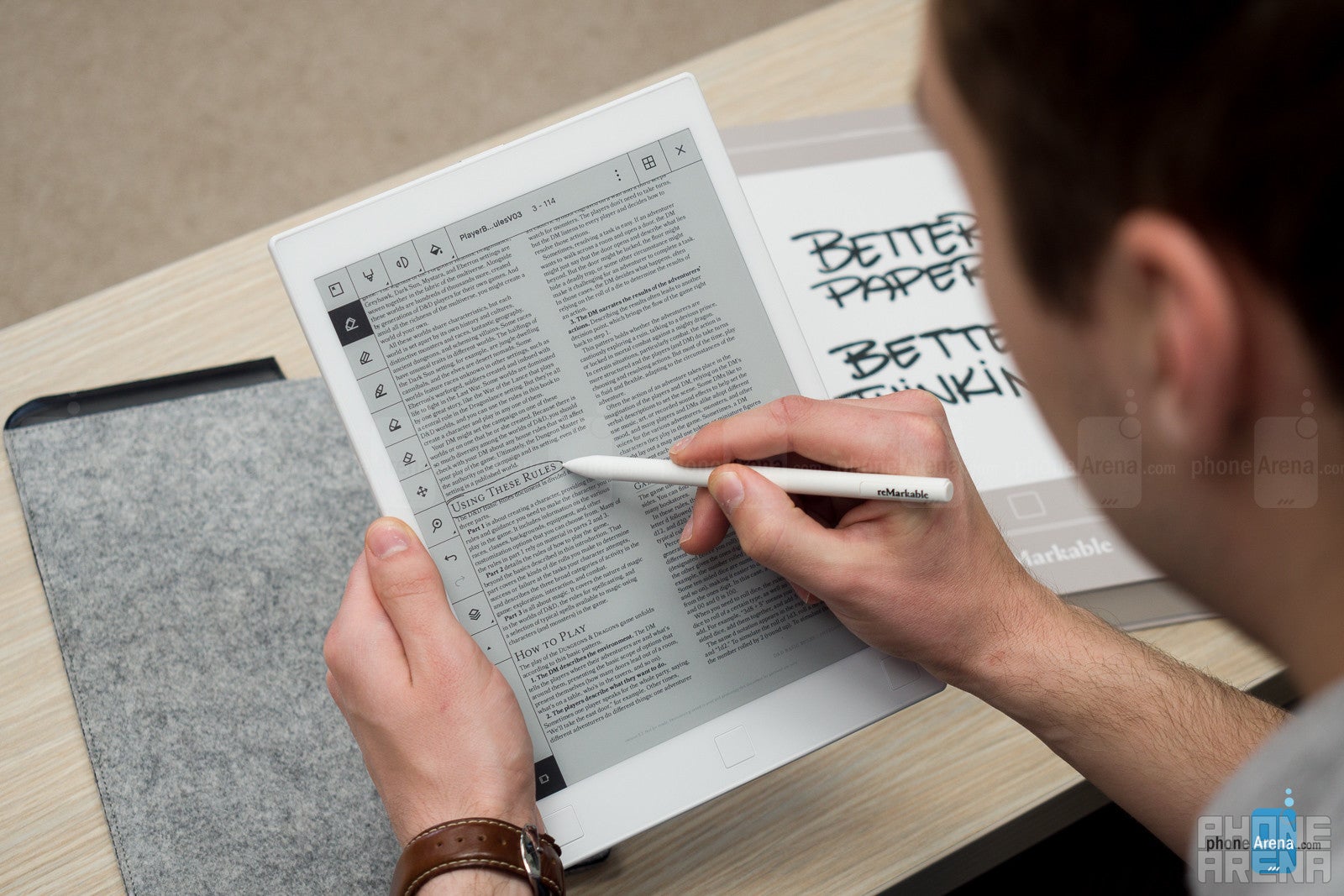 The reMarkable tablet features a simplistic, unobtrusive design that's far from remarkable (I swear, we're going to keep these puns to a minimum), but nonetheless quite befitting of its nature as a digital notepad. The build is almost all plastic, save for the aluminum plate on the back, which adds a bit of sturdiness to the entire thing and is pleasantly cool to the touch when held. There's also a pair of rubber feet on the back, which do a nice job of keeping the tablet from sliding around on your desk or table, but make getting the tablet in and out of the official felt case a bit hard, since there's a lot of friction between the rubber and the lining of the case.
The only physical controls available on the reMarkable tablet are the power button on the top and the three navigational buttons below the display. The latter are unmarked, although intuitive to use—back on the left, home in the middle, and forward on the right—everything else is done on the 10.3" e-ink touchscreen. It's a good thing that the buttons are on the bigger side, since this makes them easier to press with the pen, and you'll no doubt find yourself doing this at times.
There's a microUSB port on the bottom, that's used for charging and data transfer, although there's no power plug included in the box, and transferring files is more easily and conveniently done with the desktop and mobile apps available from reMarkable.
The 10.3" screen is responsive and crisp-looking, although it's not quite up to match with some current ebook readers in terms of pixel density. Oh yeah, it isn't frontlit either, like the Kindle Paperwhite and readers on the market. Why is this the case? Well, the most likely reason is that reMarkable wanted to keep things as thin as possible, and the tablet does, indeed, feel paper-thin and light in the hand at only 350g. Also, the company probably wanted to put as little as possible between the tip of the pen and the display, so as to more closely recreate the immediacy of writing on paper, and a front light would have contributed against that. Also, it's cheaper and more like real paper.
Software and features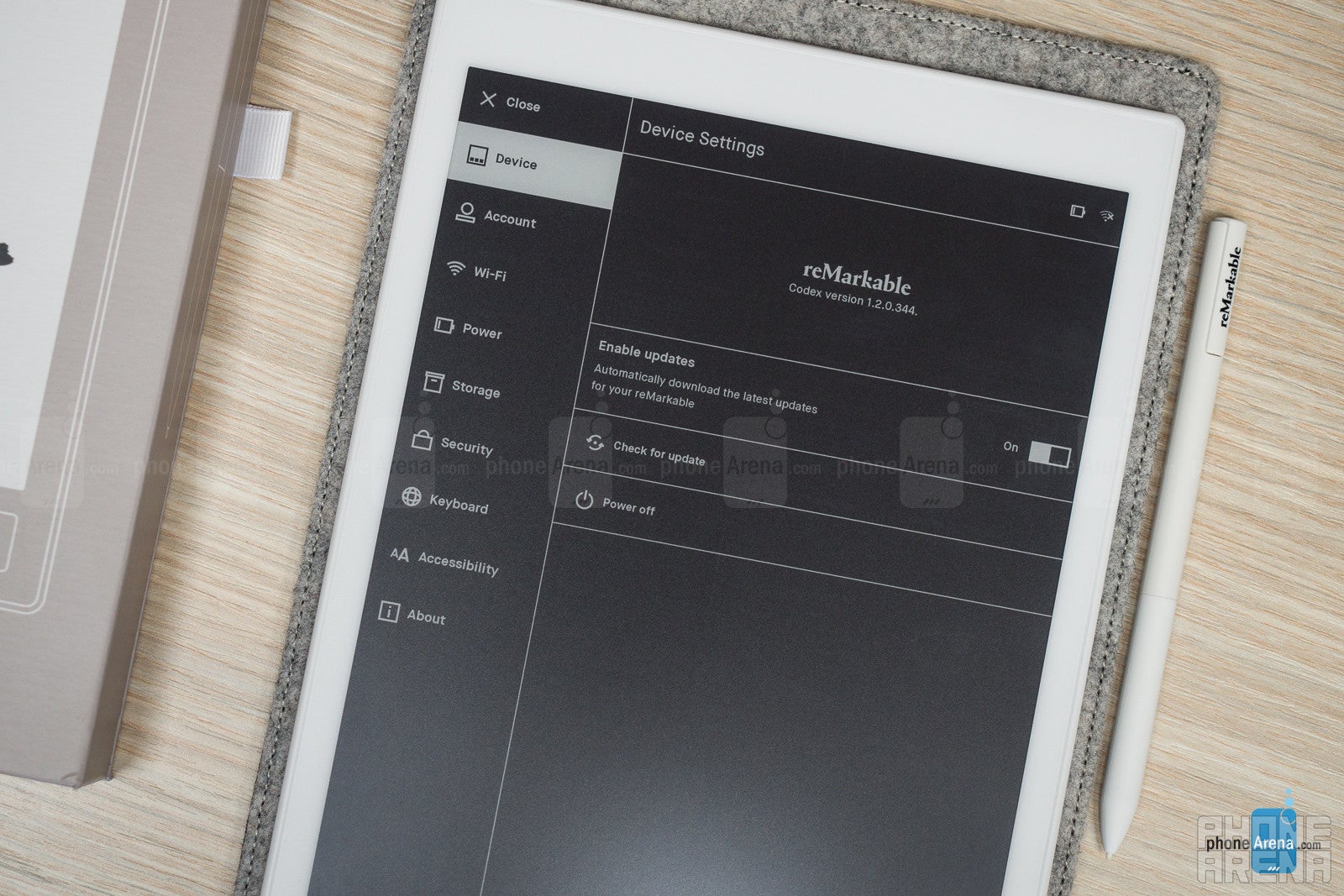 The reMarkable tablet runs a proprietary, Linux-based OS that's as basic as it gets, but it's also really lightweight and snappy, which really helps on an e-ink device. You have a simple home screen with a list of all your notebooks, documents, ebooks, and bookmarks to the left, and a settings and search buttons on the top. You can also create folders to compartmentalize your content, but that's pretty much it. Almost every part of the user interface is accessible by finger, although the note-taking capabilities are reserved for the pen that comes in the box.
As far as taking notes and sketching go, the set of tools available is quite limited in number, but what's there works fine. You've got your pencil, technical pen, brush, marker, fill tool, and eraser. There's even layers – up to five on top of the template layer! The reMarkable is capable of recognizing a commendable 2048 levels of pressure, which makes using all the tools a pleasant and precise experience. It even recognizes 512 levels of pen tilt, meaning that you'll get wider lines while drawing with the pen slanted at an angle, just like you would with the real thing.
Speaking of the pen, it is completely wireless and powered by electromagnetic induction from the tablet. The tip of the pen is designed to deliver an authentic feeling, and as such, it has limited lifetime. The durability of the tips will depend on writing technique and use, but the company claims that, on average, one should last between three to six weeks. The tablet comes with ten tips in the box – one is already installed, one is tucked away in the specialized compartment in the pen itself, and there are another eight in a small box. New tips can be purchased from reMarkable's online store in sets of eight, for $12 per set.
Sending data to the device can happen either via cable, or through reMarkable's desktop and mobile apps. The software is as basic as it gets and allows you to drag and drop files (or share them, if you're on mobile) and then they appear on your tablet. Unfortunately, however, the device supports just two file formats – PDF and non-DRM ePub. This means that you won't be able to import or leave notes on any .txt or .odt files that you may have worked on. You can export your notes in either PDF or PNG, but we do hope that the company expands the number of supported file formats in future firmware updates.
Performance
The reMarkable tablet is powered by a 1GHz ARM A9 CPU coupled with 512MB of RAM. It doesn't really need much more than that, considering what it does, but the price tag may lead you to believe that you're getting more in terms of power. Performance is alright, as good as you can expect from an e-ink device. The screen is slow to refresh, which is not a problem most of the time, but may get annoying when you realize that each tap of the "undo" button needs a second or so to work, and then you have to wait another second before tapping it again.
The reMarkable has a 3000 mAh battery inside, capable of delivering around three days of regular use at full charge. The company says it's aiming for a full week, but it's not quite there yet. Things may improve in future updates.
Conclusion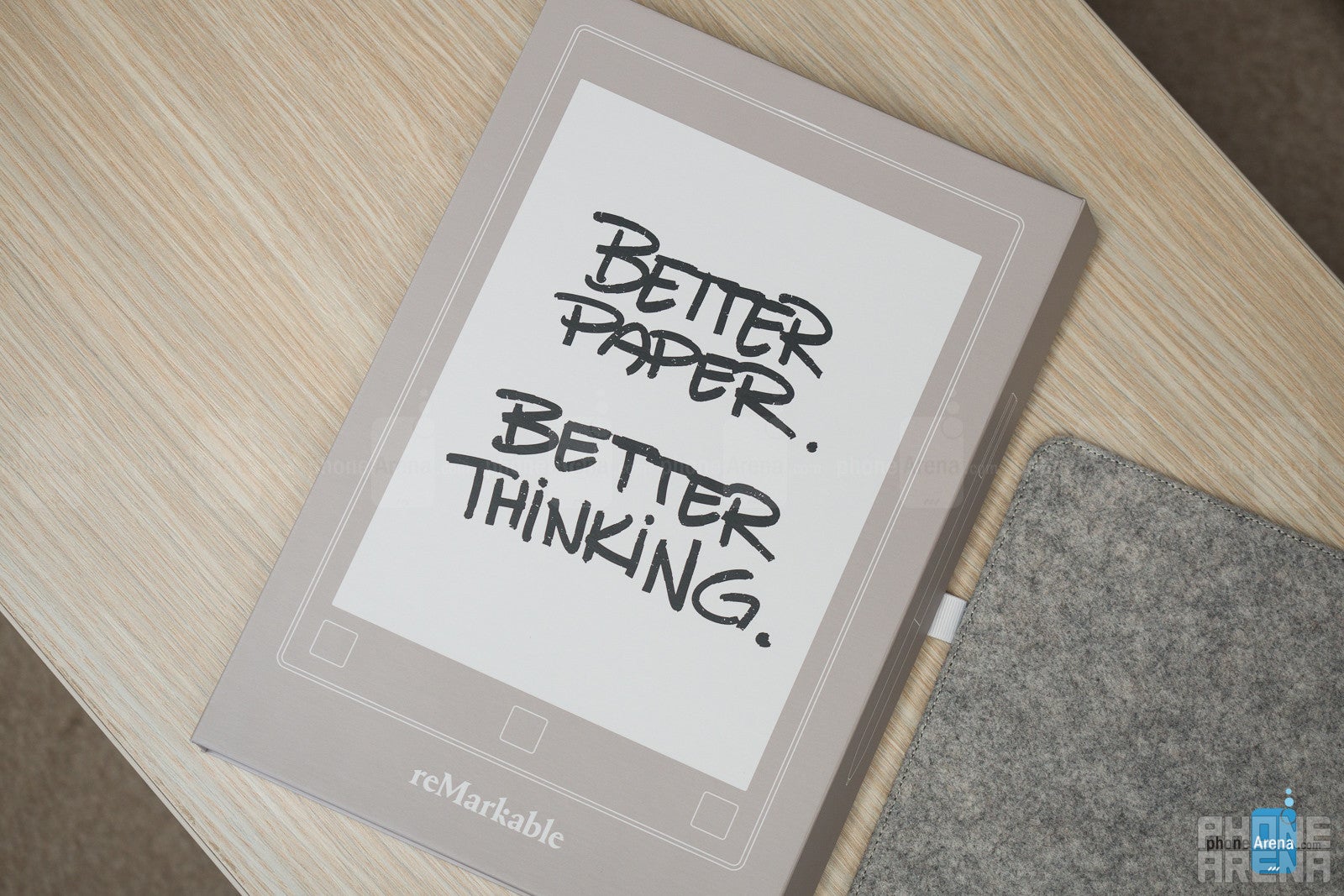 The area where this tablet excels is, well, in feeling like paper. Scribbling on the reMarkable gets really close to what writing on real paper with a harder pencil feels like. It's because the e-ink screen is not completely smooth, but has this fine, gritty texture to it. The authenticity of the experience is only further accentuated by the fact that there's close to no delay when writing and by the excellent pen stroke simulation that happens on the screen. Furthermore, since writing on the reMarkable tablet happens only via the pen, you can conveniently rest your palm on the screen, without worrying that it will pick up on it and ruin your drawing or note.
The results do, indeed, look very convincing on the e-ink display. Unfortunately, however, when you export your sketches or notes and examine them on another device, you'll quickly realize that the authentic look is all but gone, as it is largely a result of the reMarkable's textured e-ink screen. On other devices, your creations will look like they've been made in MS Paint.
We really can't recommend this device to digital artists, because, for one, it is limited to black and white only, and offers a very narrow selection of software and tools to work with. It also retails for $499, which puts it in a price range close to that of the
iPad Pro
and the
Galaxy Tab S3
.
All that said, the reMarkable tablet still remains a very, very niche product. It is unremarkable as a tablet, in the general sense, but it's a remarkable digital notebook. It's something you really have to "get" in order to buy. This is reMarkable's first product, and we do admire the company's dedication to crafting a digital experience that is as authentic to the real thing as possible. We're also sure there are enough people out there that will "get" it to create a nice niche for reMarkable.
Recommended Stories