Huawei P50 Pro review
6
We may earn a commission if you make a purchase from the links on this page.
Intro
Huawei's newest
flagship P50 series tops out with the P50 Pro
that has not only undergone the regular design and specs upgrades in terms of display quality, processing speeds, battery life, or charging abilities, but also introduces new and unique mobile camera technologies.
The P50 Pro is a culmination of the company's signature phone photography trends it started many moons ago, before periscope zooming, multi-lens camera kits, or unorthodox color science were cool. Does the P50 Pro succeed in what it ultimately sets out to do? Mostly yes.
Huawei P50 Pro price and storage options
P50 Pro release: February 7, 2022
P50 Pro price: €1100 for a 256GB model
The new
Huawei P50 Pro is already available for preorder
and will be released on February 7 in the Asia Pacific, the Middle East, Africa, Europe, and Latin America regions, basically everywhere but North America for obvious reasons. For those in the U.S. this means they have to import, but, as usual, Amazon is here to help with the heavy lifting.
Design and display quality

The cool new Dual-Matrix design of the P50 Pro with two signature "rings" on the back houses the many cameras and sensors of its photography kit and exudes image-snapping authority from the get-go. While that makes it instantly recognizable, the choice of its Cocoa Gold and Golden Black (in Europe), as well as the Charm Pink or Pearl White colors also contributes to the unorthodox looks of the glass phone.


At the front, the Huawei P50 Pro lands a 6.6" curved glass 120Hz display with 2700 x 1228 pixels resolution and a centered punch hole for the front-facing camera that makes the phone fit very comfortably in the palm when grasped. On another positive note, Huawei not only throws a 66W charger in the P50 Pro box, but also a silicone case so you'll have no post-purchase outlays.





The HDR screen is capable of covering the wide DCI-P3 color gamut, and has a dynamic 120Hz refresh rate with the whopping 300Hz touch sampling rate for lower latency while gaming.




Our tests found the P50 Pro screen's color presentation to be excellent, with one of the smallest deviations from the reference white balance or color punctuality we've ever measured, and excellent peak brightness levels that make it easy to view outdoors.

Display measurements and quality

The dynamic refresh settings are a new area for Huawei and we found that for some reason the company hasn't included transitional interface animations in the high refresh mix. Swiping from one home screen to another brings a noticeable blur unless you set the display to be on 120Hz refresh at all times.




One possible explanation is that the home screen interface runs at 90Hz when the "Dynamic" refresh setting that Huawei touts as "balance between smoothness and battery life" is on. Perhaps Huawei rightfully concluded that home screen swipes are a rarer occasion than scrolling in the settings menu, but if you want the 120Hz smoothness there, too, you'd have to turn on the "High" refresh rate option in the display settings.
Performance and software
Huawei's 2022 flagship is powered by the Snapdragon 888 chipset without a 5G component and sports 8GB RAM as well as 256GB of storage. These may seem like 2021 specs, but with the P50 Pro Huawei has been squarely focused on the camera experience. The use of this exactly Snapdragon processor without the 5G modem and filters come to no fault of its own as that's the maximum that the U.S. sanctions are allowing it to use in its phones.
As you can see, the P50 Pro's performance is more than enough for anything Android apps can throw at it, and it runs synthetic benchmarks on par with Samsung's S21 series, as expected. In any case, we didn't feel underpowered during out daily interactions with the phone.
The lack of a 5G modem may also like more of a thing to worry about, but 5G network coverage is still few and far between, and the tower equipment already up delivers speeds on par or worse than those you get on the robust legacy 4G LTE network more often than not.
Emotion UI 12, the Android interface
The lack of Google services on the P50 Pro is a bigger dealbreaker than the 5G connectivity, but it can be circumvented with various amounts of success, too. The P50 Pro runs on an open-source Android 11 version with Huawei's own EMUI 12.1 interface on top, with a homebrew App Gallery that has grown leaps and bounds in just the past year to include most popular apps you might need, even financial ones. Huawei is also going hyper local, introducing support for many banking apps in the markets it serves, and now even has a fintech alternative to Google Pay.
Needless to say, there are no Google services, as this is pure AOSP Android, and we hope that Google and Huawei are allowed to interact at some point because this is a lose-lose situation for both sides. To circumvent the situation, you can install APKPure, APKMirror, or any similar vetted APK aggregator as a Play Store alternative. You can thus download Maps, Chrome, and a few other Google apps that you might need but you'd need MicroG if you want to integrate those with your Google profile.
There are a Maps, YouTube, Gmail, etc. app alternatives that work very well, too. YouTube Vanced, for instance, is better than the original, the Petal Maps app is preinstalled and works offline, while you can grab the excellent Here WeGo maps app, too, and download whole continents for offline navigation. You can also use Huawei's secure Petal search that also comes preinstalled now, and is an intriguing privacy-oriented take on Google's nosy search engine.
Where things get hairy, however, are some apps that not only check for Google Play services upon launch, but need them to run properly, mainly paid ones, or some requiring a subscription. Other than running through more hoops to install apps, to no fault of Huawei, EMUI 12.1 presented us with a silky smooth experience.
Huawei has its own Celia voice-controlled butler as an alternative to Google Assistant that can make your phone respond to various voice commands. Unfortunately, Huawei insists on making EMUI look like iOS by letting you pull a Control Center and Notifications panel from both sides of the punch hole yet dragging down a search field when you pull down on an empty screen area, instead of bringing down the status bar.
Huawei P50 Pro camera test
Those two signature camera rings on the back are housing some really impressive hardware. The big 50MP True-Chroma main camera sensor is aided in light capture by the 40MP monochrome one at the bottom ring. A 13MP camera does the landscape and big crowd photography duties, while the record "200x zoom range" is achieved by going from the 0.5x ultrawide camera to the 64MP 90mm 3.5x periscope zoom shooter in a 13mm-2700mm equivalent span.
Huawei is now including a new XD Optics solution to the pesky signal loss that is inherent to mobile photography, the "
first inclusive image signal restoration system that can apply computations to rectify optical errors and reproduce fine details
" that can
"restore as much as 25 percent of the image signal
."
Besides the breathtaking camera hardware, Huawei introduces a new True-Chroma Image Engine that "
delivers the highest possible color accuracy, creating images that reflect what is seen by the human eye
" by leveraging a new 10-channel multi-spectrum ambient light sensor whose input gets additional calibration on 2000+ colors along the P3 spectrum.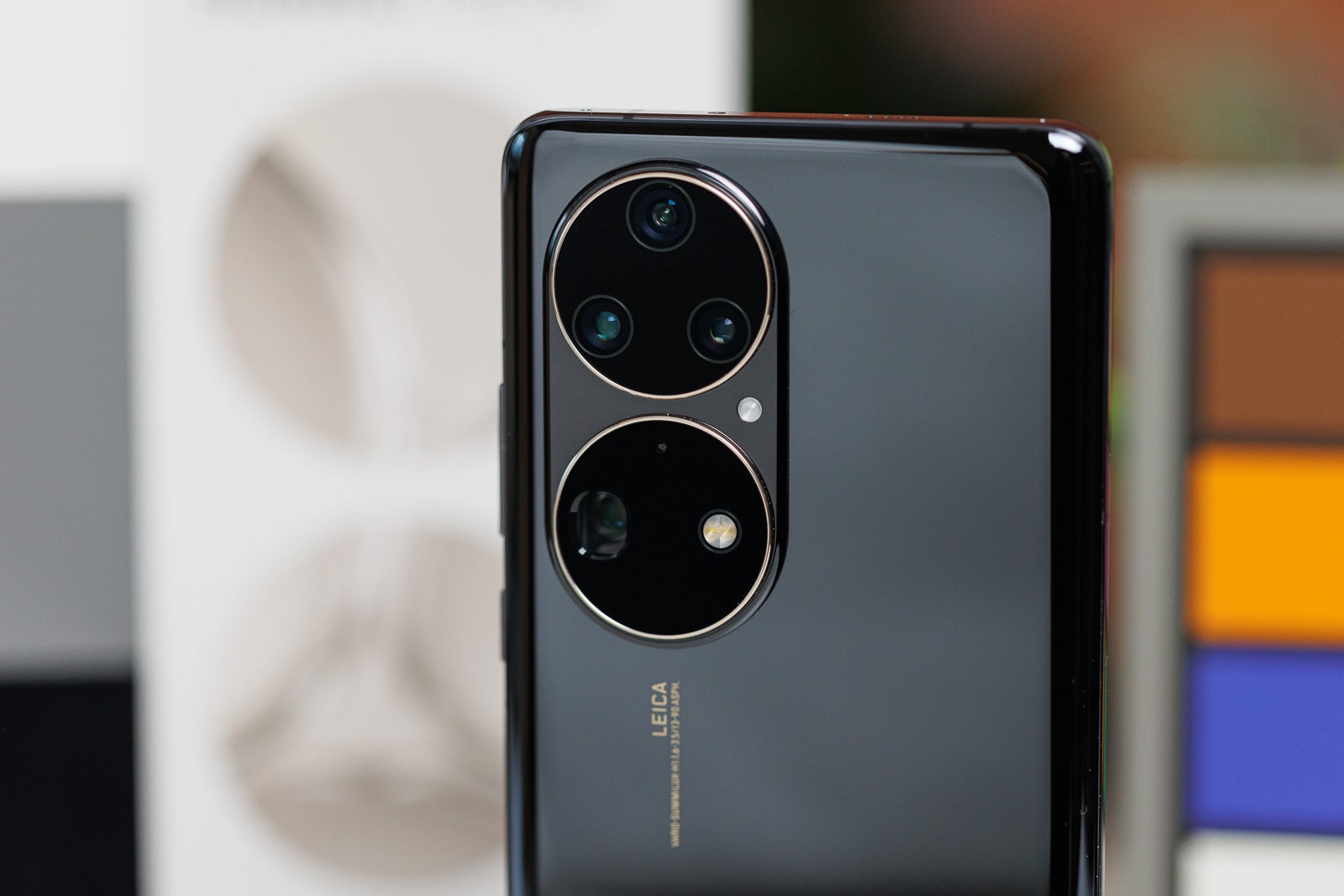 Huawei claims that the True-Chroma Image Engine can capture a much higher percentage of the camera subject image information that's in front of the lens than other phone cameras, plus the new color filter system gets an extra hand by an improved Super HDR tech.
Indeed, we found the images from the P50 Pro to be the best a Huawei phone has managed to produce so far, with balanced and credible colors, unlike some previous uses of its unique sensors.
While pictures from the ultrawide camera are middling, the main camera snaps sport very good light dynamics in the shadows and brighter areas, as well as an excellent amount of detail, as you can see from the samples below.

We are especially pleased by the amount of detail and sharpness those far-reaching periscope zoom shots are able to achieve, on par with the best ones out there like those from the S21 Ultra or Pixel 6 Pro. There is a slight oversharpening going on with main camera shots, but we have to admit that people like their photos well-defined out of the bat, so that's what Huawei delivers.
Video recording

Last but not least, the P50 Pro's camera captures 4K video definition all along the zoom range of the phone with a new AIS Pro image stabilization that Huawei says is good even for timelapse modes out of the box.




Videos can then be edited directly in the Gallery with the built-in PetalClip tool, though they look sharp and shiny enough, without visible artifacts to warrant only the cutting services of the built-in video editor.





Audio and call quality
We also liked the stereo sound recording abilities of the Huawei P50 Pro while capturing video, as it weeded out ambient noise when we were talking and managed to successfully fight with the gusts of wind hitting the three noise-cancelling mics around the phone.
The stereo speakers are also rather clean and powerful for ones mounted on a phone, and our voices were relayed loud and clear to the receiving end during out call quality tests, the phone executes its audio duties very well.



Battery life and charging

The 4360mAh battery pack in the Huawei P50 Pro can be charged via the fast 66W brick in the box in about 40 minutes, or with a 40W wireless charger for about an hour and change. These are one of the fastest charging speeds on a popular phone flagship line out there and an improvement over its predecessor.

The phone discharges with about 10% per hour with the screen turned on on automatic brightness with regular usage which is a pretty good indicator that it will last you from a morning off the charger to the next one.



Summary
There are plenty of competitors to the Huawei P50 Pro in its flagship price range. The phone delivers some of the best main camera shots we've witnessed from a phone, and its zoom shots are right up there with
periscope stalwarts like the S21 Ultra or the Pixel 6 Pro
. It also has one of the most color-credible displays we've tested and very fast charging abilities with the brick in the box, unlike its direct competitors.
Contrary to popular opinion, the U.S. sanctions-induced lack of a next-gen modem or Google services aren't that much of a deal breaker on a daily basis one thinks, but they do alter the value-for-money proposition of the P50 Pro enough to warrant pausing on the buy trigger and wait on a price drop. Unless you really, really want those nice True-Chroma camera shots, that is.