Xiaomi Mi Mix 2 Review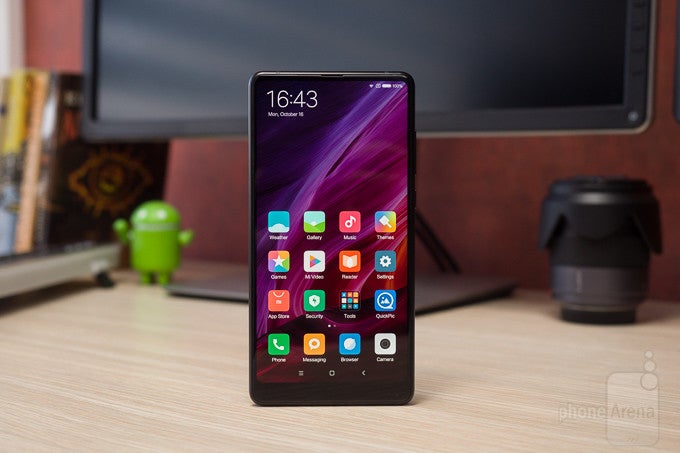 Introduction
In 2016, Chinese manufacturer Xiaomi introduced a smartphone which was among the first to spur the all-screen craze we're observing today. The name of this unusual device was the Xiaomi
Mi Mix
. The gigantic phablet stood out with its "tri-bezel-less" 6.4-inch screen and attractive ceramic back plate, but unfortunately, it was hard to acquire for anyone living outside of China.
Luckily, Xiaomi has recently released a follow-up to the handset which grabbed our attention a little less than 12 months ago. The new
Mi Mix 2
comes with many of the traits which made its predecessor a head-turner, but is more compact and features global LTE support. This may sound encouraging if you're looking to import something exotic from overseas, but let's first put the
Mi Mix 2
under scrutiny and see if it can compete with its mainstream rivals.
Design
No longer futuristic, but still a looker
Unlike the first model, the design of the Mi Mix 2 doesn't look that futuristic anymore... Of course, this is largely due to every other big company jumping on the all-screen bandwagon, and it doesn't take away from the fact that this handset is a joy to look at.
This time around, Xiaomi has gone with a smaller, 6-inch screen, which makes the Mi Mix 2 much more compact than its 6.4-inch predecessor. The display seems to run off the
edge
on three sides, with a thicker "chin" situated at the bottom.
The 5MP front camera is located at the right corner of this lower bezel, which is a big con from a design standpoint. We've covered this at length in our "camera" section, so make sure to check it out for the full scoop.
Meanwhile, an aluminum frame is sandwiched between the front and back of the device. It plays host to the speaker and type-C USB port that are placed at the bottom, as well as the power key and volume rocker which are situated on the right. You'll find the SIM tray on the left, but sadly, Xiaomi hasn't included a 3.5mm headphone jack. Still, there is an adapter present in the retail box.
Display
One of the defining features of the Mi Mix 2 is its 6-inch LCD display. With a resolution of 1080 x 2160 pixels, this screen employs an aspect ratio of 18:9. This is not some fancy Quad HD panel, but its
pixel
density of 402ppi translates to some really nice and sharp-looking graphics.
Our overall impressions are that the display is sufficiently bright and quite accurate in terms of color representation. This is further confirmed by our measurements – the color temperature is really close to the ideal 6,500K, while the maximum brightness level stands at 517 nits. On the other hand, the minimum brightness level of 1 nit means that you won't burn your retinas when you use the phone at night.
Display measurements and quality