Touchscreen phone comparison Q3 - U.S. carriers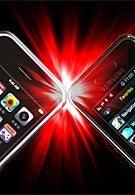 This article has been updated, expanded with more details per readers' request. Thank you for your feedback.


Introduction:


There's no denying it, touchscreens are the latest trend in the mobile world and with the iPhone on the forefront of technology and fashion they show no sign of going away anytime soon. The iPhone was not the first phone to feature a touchscreen- they have been around since last century in fact- and it wasn't even the first fashion phone to ditch the keyboard; that distinction goes to the LG PRADA. The iPhone did, however, bring it into the collective conscious of the world, and since its launch a year ago manufacturers have scrambled to put out that ever-elusive iPhone-killer. There have been countless attempts, but there are a few that stick out in particular. Today we'll take a look at three phones- the Dare and Vu from LG, as well as the Samsung Instinct- and see how they stack up to the new iPhone 3G. We will compare each phone in several categories, and give them a score of 1-5 with the top performer in each category being the standard.
If you are interested in GSM phones, check out the
Touchscreen phone comparison Q3 - GSM phones