TextNow Review
10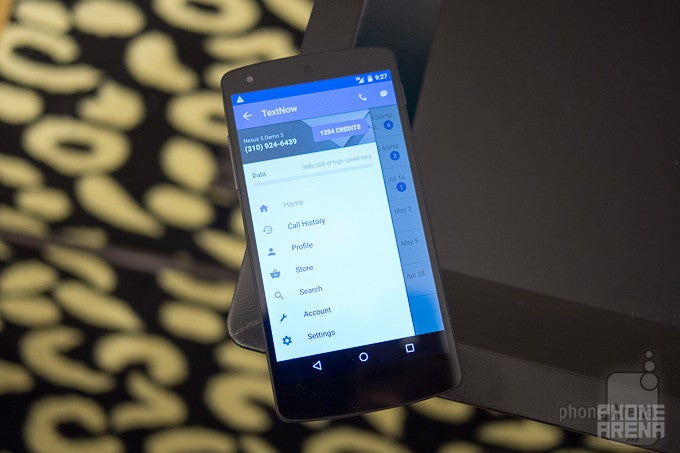 Introduction
Here at PhoneArena, we don't shy away from reviewing an assortment of things related to mobile. From the cool smartphones, to some nifty accessories, we love to share our experiences with the various products, services, and apps that we come across. Although it's not frequently we cover services, we thought that it'd be intriguing to see what TextNow has to offer to consumers.
For those of you wondering, TextNow is the world's first all-IP, cloud-based mobile phone carrier that offers competitive service pricing and device discounts that'll make you second guess what you currently have now. The way cell phone service is being offered here in the US is evolving, where contracts are no longer offered – moving instead towards the no-contract model. TextNow has an enticing package that can't be overlooked, so we thought it'd be a good opportunity to see what it's all about.
How it works
For one, we have to say that choosing a plan with TextNow is simple, thus, eliminating the confusing options that traditional carriers provide. You should know that its plans are all 100% commitment free, giving customers the flexibility of choosing to stay or go at any time – and there are no penalties in doing so!
Choosing a plan is like figuring out what drink size you want from Starbucks. There are a total of 4 options when it comes to service: tall, grande, venti, and Quattro. Priced respectively at $18.99, $26.99, $39.99, and $59.99 per month, all four plans include unlimited call and texting to the US & Canada, as well as unlimited data at 2G speeds. What's different, though, is the allotment you get for 3G/4G speeds – so you get 500MB, 1GB, 2GB, and 4GB respectively.
From a pricing standpoint, it's hard to deny that TextNow offers some aggressive pricing that undercuts the competition by nearly half the cost. The savings is arguably the single most attractive thing about going with TextNow. Comparing it to what's offered by T-Mobile and Sprint, you're still achieving considerable savings with TextNow.
Billed as an all-IP, cloud-based phone carrier, it mainly leverages Wi-Fi as its main mode of connectivity to the cloud. Its supported phones can place and receive phone calls and text messages via Wi-Fi, but it falls back on traditional cellular connectivity when there's no Wi-Fi present – in this case, it's the Sprint network.
The supported devices
Perusing through TextNow's website, they offer a total of 7 smartphones sold directly to consumers. Specifically, its lineup is comprised out of the
Motorola Moto G (2013)
,
LG Volt 4G LTE
,
Motorola Moto X
(first-gen),
LG Nexus 5
,
Samsung Galaxy S III
,
Samsung Galaxy S4
, and the
Samsung Galaxy S5
. Indeed, it's a small lineup, which are sold as brand new or certified refurbished, but what's most astounding is the pricing that's attached to them.
For example, the Moto G can be snatched for the hard-to-believe price of $19.99 brand new – whereas the Samsung Galaxy S5 has a sticker price of $399.99. Our particular unit, the LG-made Nexus 5, carries a cost of $169.99 and $199.99 respectively for the refurbished and new models. That's still pretty competitive!
Not interested in any of the devices? Well, you can actually bring your own device, but they need to come from Sprint, Sprint Prepaid, Virgin Mobile, and Boost Mobile, in order for them to work properly. While this is undoubtedly a pleasant option for those who are existing owners of phones from these carriers, the phones from TextNow are programmed to utilize both the data and cellular networks for calling. Bringing your own phone means that they won't leverage the data network for calls, so the call quality is impacted outside of Wi-Fi.
Recommended Stories