Sony Xperia Z1S vs Apple iPhone 5s
33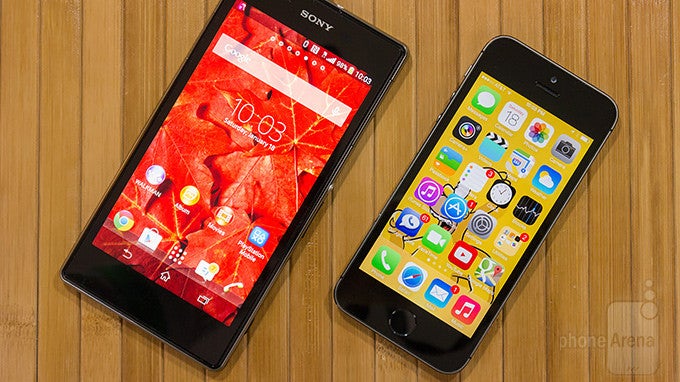 Introduction
Sony been slowly getting the ball rolling with its unique set of Xperia devices – with the Z1S being the latest one. Based on the
Z1
that launched last year, this T-Mobile flagship is known for its glass waterproof body and 20-megapixel camera with bigger than average image sensor. It's a good idea to pit it against
Apple's iPhone 5s
– arguably one of the best in the space currently. There's a lot to love about the two devices in this particular comparison, but it'll be especially titillating for those T-Mobile customers who can't quite make a definitive choice on which handset to go with.
Design
Luxury is the name of the game with these two flagships, as they sport eye-catching designs that are complemented by their premium choice materials. Lovely from head-to-toe, it's rather difficult to say which of the two designs we prefer more – mainly because they have their own set of delectable traits. The iPhone 5s continues the trend from its predecessor by making generous use of glass and brushed aluminum for its casing, but the Xperia Z1S also shines for its hard lines and glass surfaces. Equally so, the construction of the two smartphones are top-notch, showing that there's a lot of love placed into their designs. However, we have to be mindful and point out the IP58 rating of the Xperia Z1S. Having that in tow, it's able to survive being dunked in 4.9 feet of fresh water for 30 minutes without any damage. Come to think about it, how often do we come across a flagship that we can use right in the shower or tub?
Without a doubt, we like the form-fitting nature of the iPhone 5s, which looks miniscule in comparison to the larger sized Xperia Z1S. As much as adore the glass finish on Sony's pride and joy, it just feels too slippery in the hand – and it's also prone to getting dirty very quickly.
Nowadays, it seems as though more and more flagship phones are stripped of various ports and buttons that otherwise used to be standard. Sure, we have dedicated power buttons, volume controls, and charging ports with the two in question here, but the Xperia Z1S benefits by featuring a microSD card slot, a spot for a lanyard, and a dedicated shutter key – all of which help to give it some flexibility. With the latter, it becomes handy when it's used under water where it's impossible to interact with the display.
Display
Quickly glazing over the two, it's obvious that the Xperia Z1S' 5-inch 1080p Triluminos display dwarfs the smaller 4-inch 640 x 1136 Retina display of the iPhone 5s. Doing the math, the Xperia Z1S churns out the higher pixel density of 441 ppi – easily beating out the 326 ppi figure of Apple's baby. Honestly speaking though, the detail superiority is hardly noticeable unless we're looking very up close and personal to their screens. In fact, from a normal viewing distance, it's almost indistinguishable which of the two is sharper.
iPhone 5s has very good display, with accurate tones, while the Z1S in comparison looks slightly blueish and washed out. Outdoor visibility is really good with the two of them, seeing that their respective screens are able to obtain a very high level of brightness. Looking at them squarely from a 90-degree angle, they produce vivid colors that don't disappoint in attracting our eyes, but the poor viewing angles of the Xperia Z1S is a sour point.
Sony Xperia Z1 360-Degrees View
Apple iPhone 5s 360-Degrees View