Sony WH-1000XM3 headphones Review
27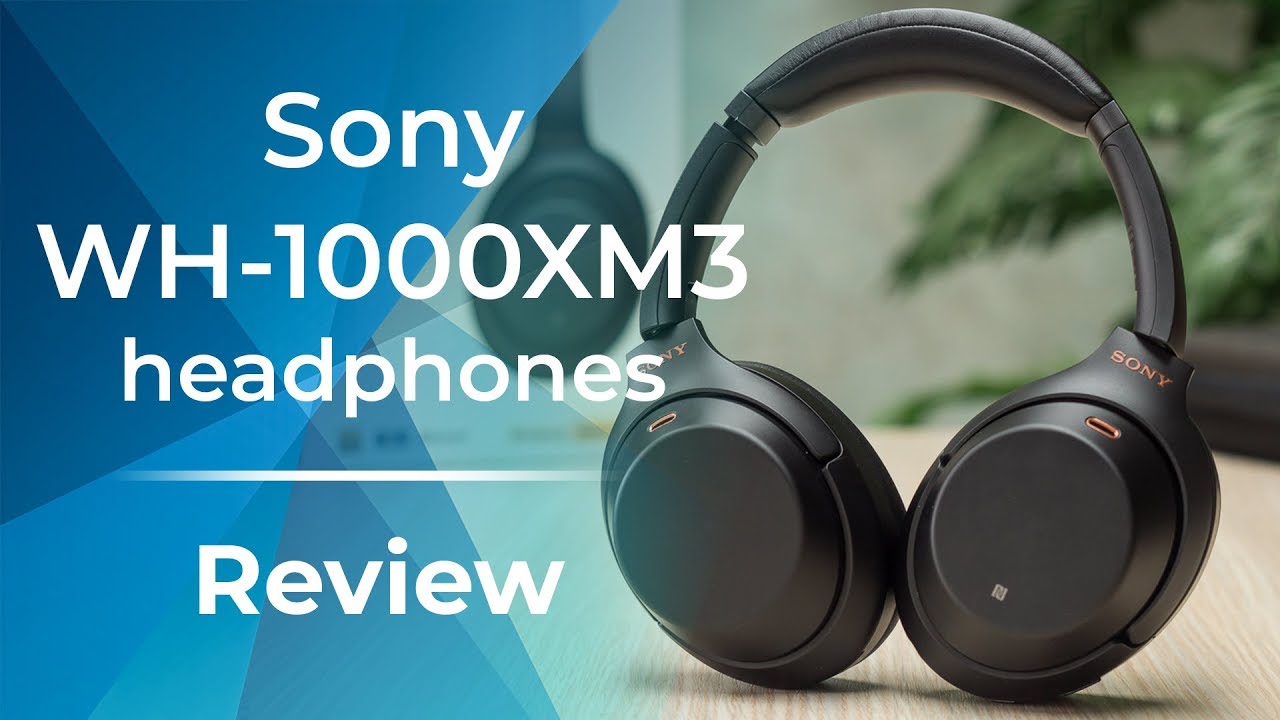 The Sony WH-1000XM3 (that name though) are Sony's latest high-end wireless over-the-ear headphones. With this model, Sony promises not only great sound quality, but also improved active noise canceling over the M2 model, going as far as adding a feature that optimizes the sound for changes in air pressure, so you can get the best audio experience even at 10,000 feet in the air, with no engine noises humming in your ears.
Following that same path, the target group for these headphones appears to be the traveling business person that spends lots of time in noisy environments and relies on the headphones to provide comfort and relaxation. Enjoying the luxury these headphones provide will cost you a hefty $350, so are they that good? Time to find out!
Headphones
Detachable 3.5 mm cable
USB Type C charging cable
Flight Adaptor
Carrying Case
User's manual, Warranty etc.
Design

The Sony WH-1000XM3 have a very clean and inconspicuous design. You won't be turning heads walking down the street, but in our book, that's a plus. They come in two colors: black with copper accents and silvery gray with brass accents. The headphones are made of plastic, but that doesn't make them feel cheap. The build quality is very good: the adjustment mechanism feels sturdy, as do the hinges that allow the headphones to fold into their carrying case.

The earcups fit snuggly around your ears without squeezing your head, just tight enough for good noise isolation. They have soft padding and provide enough room around your ears but are not too deep, so if you've had trouble with other headphones squishing your ears, you should try these on before buying.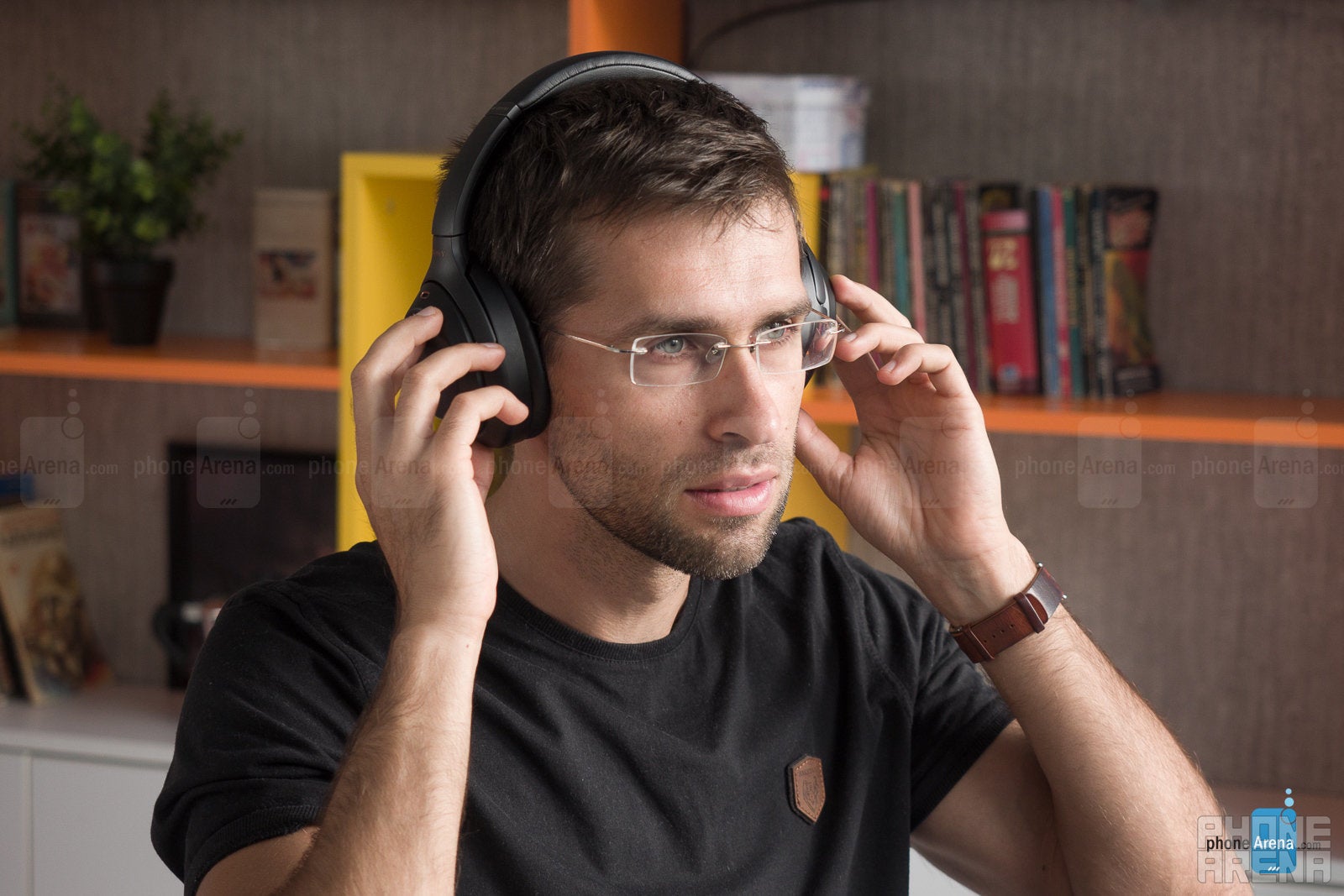 One thing we don't like as much is the narrow headband. Yes, it makes for a sleeker design, but even though it's generously padded as well, it's spreading the weight of the headphones over smaller area and over time it can cause minor discomfort. Overall, the headset is comfortable to wear, and despite the batteries built into each earcup, it's relatively light and it's easy to get used to having it on your head.

When you want to take a break and put the headphones around your neck, the earcups swivel towards your body, which protects the speakers and makes them stick out less, so you can comfortably have them under your jacket.

The carrying case is elegant and as small as possible while still having space for not only the headphones, but all the accessories that come with them. The headphones are easy to place inside once you rotate the speakers and fold them. It even has a mesh pocket on the outside where you can put... something.
Controls
The Sony WH-1000XM3 headphones have only two physical buttons, discretely placed at the bottom of the left earcup, but very easily pressed with the thumb on your left hand. One of them is the power button, used besides that for activating pairing mode with a long hold. A short press of the power button during use will let you know how much battery you have left. By default, the other button is used to switch between three modes: full-on active noise canceling, Active or Ambient Sound Control (depending on your settings within the Headphones Connect app), and no noise canceling. Through the app, you can remap the button to make it activate the voice assistant functions.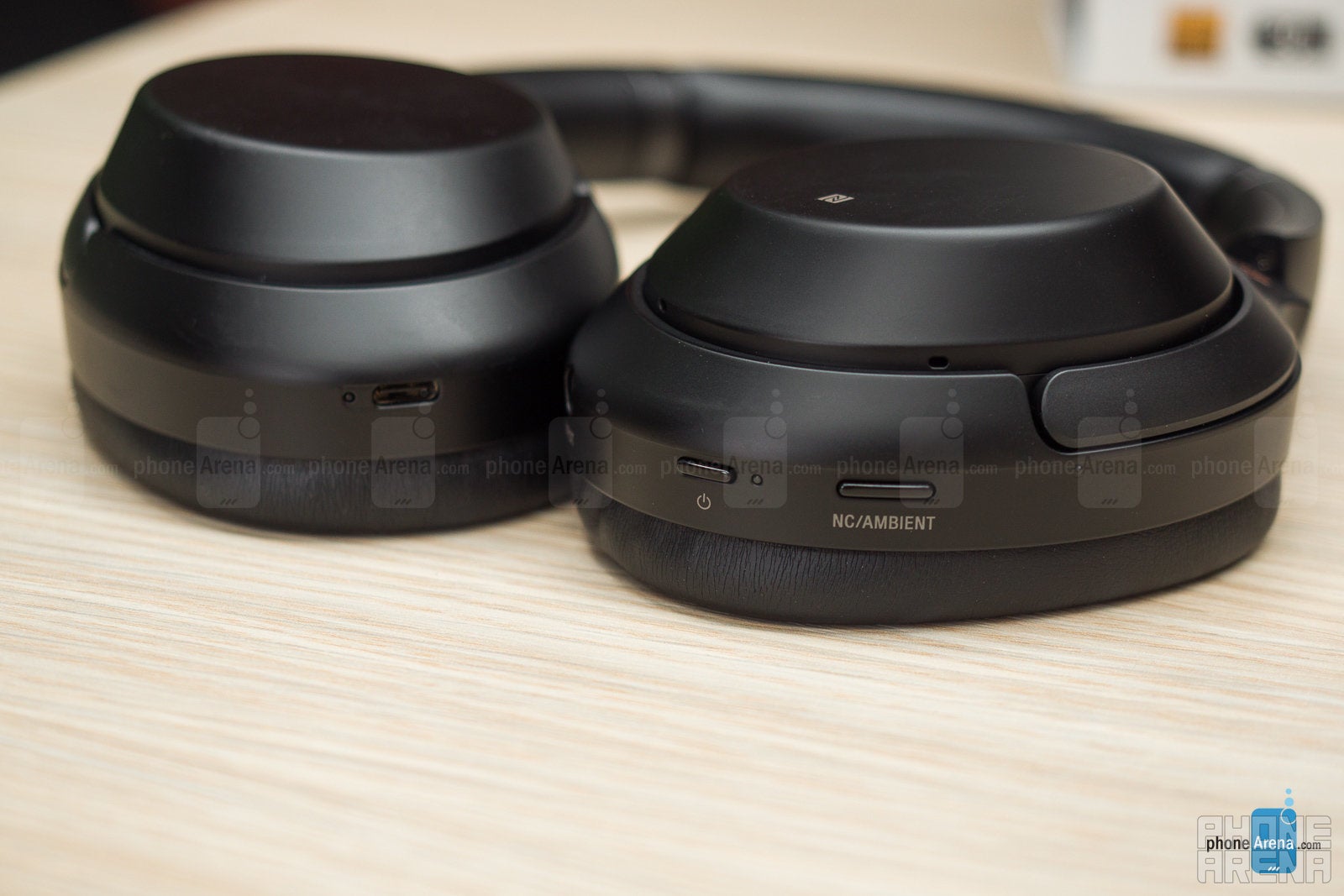 The rest of the controls are cleverly hidden in the right earcup, which has a touch-sensitive surface. Using different gestures, you can switch tracks, play/pause, adjust the volume and answer/end calls. Because the headphones are noise canceling, there is one additional cool feature. Putting your palm on the right earcup will turn the volume way down and let you hear the ambient sounds around you. If you see someone talking to you, just put your hand up to the headphones and you'd be able to clearly hear them. The sensors only react to the touch of a hand, so don't worry about triggering the function while resting your head on a pillow. The gestures are designed to avoid any accidental input from handling the headphones and we haven't had any issues with that.
Software and functionality

Some additional features of the headphones can be unlocked by using the dedicated Headphones Connect app by Sony for Android and iOS. While the app isn't necessary for the headphones to work, we recommend that you download it. The app gives you control over many functions, and these are the more interesting ones.
Adaptive Sound Control
is a feature that monitors your physical activity and switches automatically between four modes – staying, walking, running, and transport. For each mode, you may manually set a different level of noise cancellation. For example, if you're sitting at your desk, it can be set to cancel as much noise as possible, but if it detects that you're walking, it will pass some ambient noise through so that you're aware of what's going on around you. We found this feature to be a bit burdensome and not really working that well in practice. Once you turn it on, the initial detection takes a while, and after that, switching between the different modes isn't very quick either.
If you want to let a certain amount of outside sounds pass through, you're better off using
Ambient Sound Control
. This is a similar function (with a confusingly similar name), but it is different in that it keeps the noise canceling level constant until you change it. If you're not using full noise canceling, it has an extra feature that amplifies voices to separate them from the background noise. If you don't have any music on, it will actually help you have a conversation with someone in a loud environment (or hear other people's conversations). It works surprisingly well.

The app also enables support for the voice assistants for both iOS and Android, meaning Siri and Google Assistant. Through the app, you can change the function of the button which normally toggles noise cancellation on or off to activate the voice assistant. You can use the assistant normally for the usual things like asking for the weather, setting reminders, and so on.
One cool feature is that you can have notifications read to you when you receive a message. When you hear a notification sound, you can press the assistant button to hear what it says. After the message is read, you have a brief window during which you can reply by pressing the button and saying the message you want to send back. While theoretically you can have a full conversation that way, it's best used to quickly acknowledge the message and say that you're on the go and will talk later.
Connectivity

Pairing the headphones to your smartphone can be done either by using NFC (Android only), or by discovering them through the Bluetooth menu. Once paired, you can open Sony's Headphones Connect app and tap Connect to use the additional functionality we talked about above.

We had no issues with connectivity during regular use, it was only when we tried to put it to the test that we got some interference after going about 40 feet away from the phone and behind two brick walls. Unless you live in a mansion, you can comfortably wear these while doing stuff around the house or in your yard, without having to carry your phone with you. If your use case requires even more distance from your phone, the app allows you to switch modes so that you get a better connection but at slightly reduced sound quality because of the different codec being used.

Using the included audio cable, the Sony WH-1000XM3 can be plugged into any device that has a 3.5 mm audio output. The cable is short (about four feet) and with the included adapter you can even connect your headphones to the entertainment system on a plane, so you don't have to rely on the cheap headphones they hand out.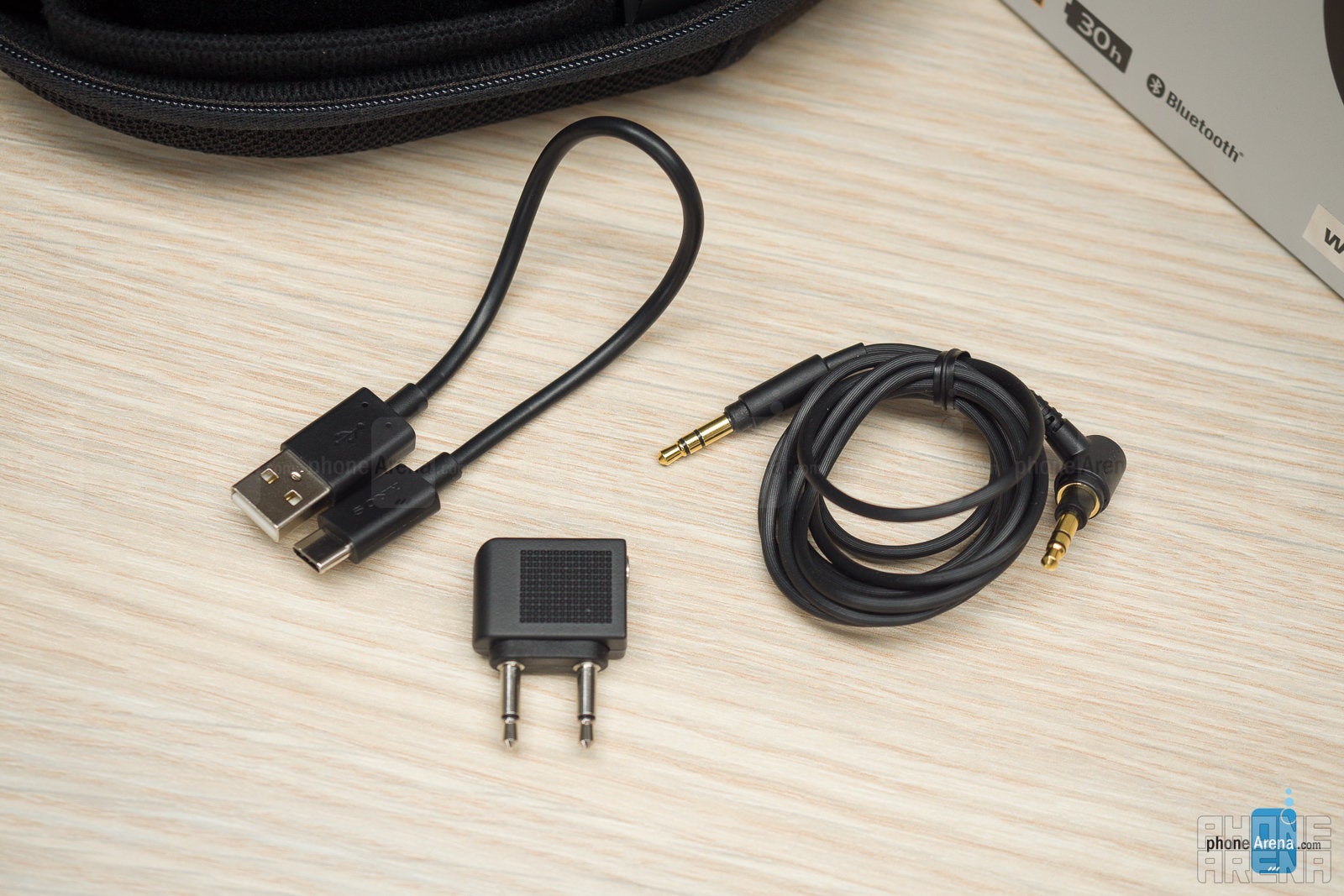 While it's not specifically stated on the box, the headphones can be connected via Bluetooth to your laptop as well. You won't be able to use the app, but even without it, the headphones will provide far better sound than your laptop speakers, plus you still get the noise canceling.

Overall, the lack of wires is not only great when you're on the go, but very convenient when working on a desk as well. It's very easy to get used to the freedom the wireless headphones provide.

The most important question regarding high-end headphones is if they sound good. The short answer: Yes, they do.

Sound quality is something hard to describe with words, but the WH-1000XM3 leave little more to be desired. The sound is deep, rich and all-encompassing. Close your eyes and you'll immediately be engulfed by the music you're listening to, each instrument clearly distinguishable.
The Headphones Connect app has an equalizer you can use for sound adjustment. There's also an additional slider called Clear Bass and is one you'll probably use the most. Think of it as an intelligent dial that adjusts the amount of bass without causing distortion. Something we noticed was that even when Clear Bass was set to minimum, the headphones can be a bit too bassy, depending on the music. If you're sensitive to bass more than usual, it can get uncomfortable after a while. On the other hand, turning the bass all the way to +10 feels like putting your head between two subwoofers.
Noise canceling

With these headphones' emphasis on noise canceling, we should focus on how they sound in the conditions they're meant to be used. This is where the WH-1000XM3 shine. To be clear, active noise canceling is not perfect and it won't turn you completely deaf for the outside world. However, these Sony headphones are doing a great job at reducing any distracting sounds to almost unnoticeable levels. Even without any music playing, turning on the headphones immediately makes some sounds straight up disappear. If this is your first time trying headphones like these, it's shocking how well it works.

While you have music playing, you can practically forget about most external sounds. An airplane taking off is one of the loudest sounds you can hear in a city. While looking at one from the opened office window, we couldn't hear it. Any monotonous rumblings, fan noises, and clattering sounds are either canceled completely or very heavily reduced. We even tried the earphones while cleaning, and the noise of the vacuum was something in the background that we had to consciously listen for to notice. And all that at average volume. At full volume, the headphones get so loud it's pretty much impossible to hear anything else. Keep in mind that Sony's app has a separate volume slider that's controlled by the headphones, independent from the media volume of your phone.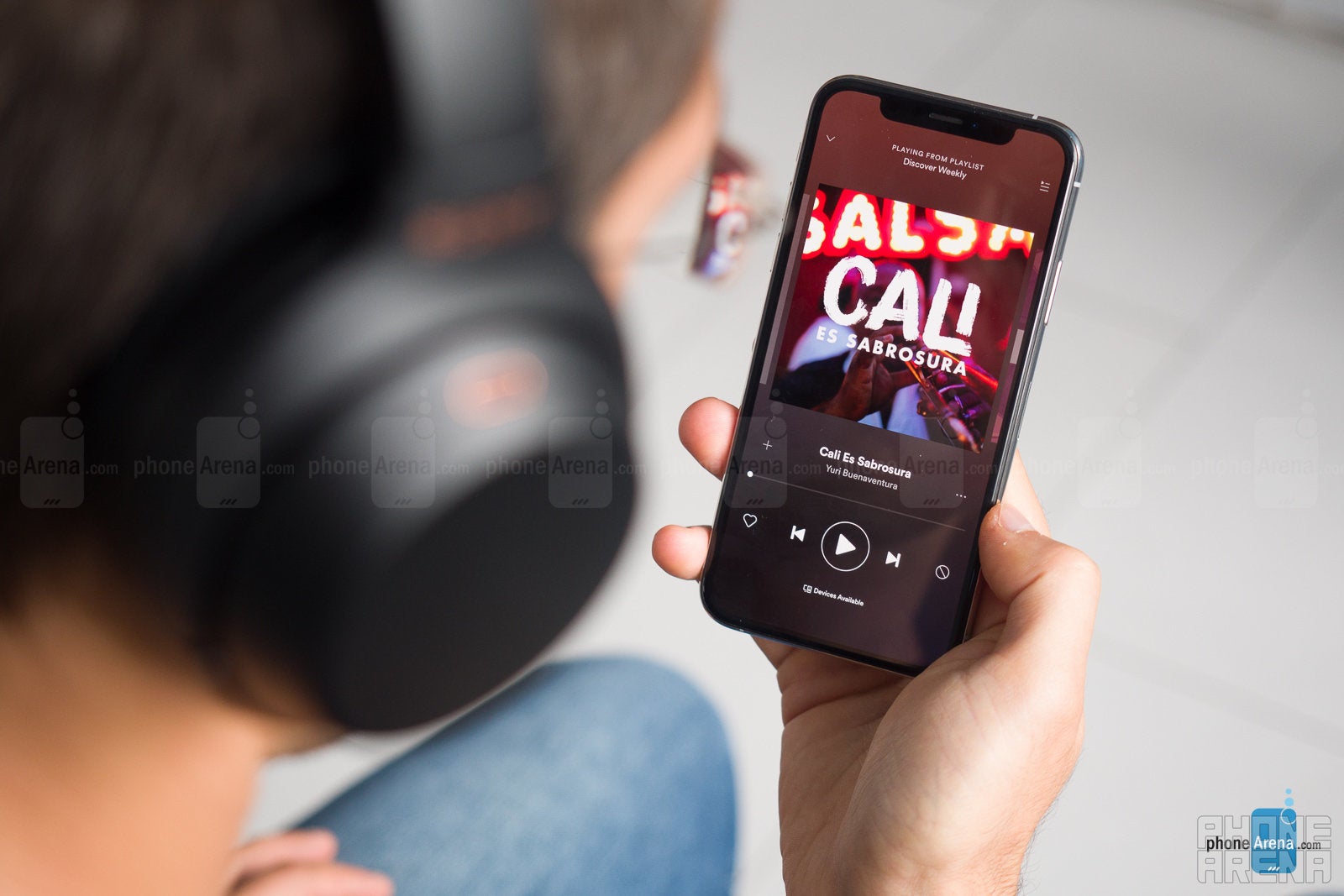 There's one negative side effect of the good noise isolation that we experienced while walking. If you go downstairs or just whenever you drop your weight heavily on one foot, you can hear a thump in your ears. To get an idea what we mean, press your palms against your ears and tap your head with one finger. The thumps you hear are not very loud but can be distracting. This isn't really a fault of the headphones, just the way our ears work, but it did affect our experience while on foot.
The WH-1000XM3 contain their sound well thanks to the snug fit. At average volume, the environment must be very quiet for someone to notice any sound coming out and they'd have to be literally next to you.
Battery life

Sony rates the maximum battery life of these headphones at 30 hours, and we agree with that estimate. Your mileage will vary, depending on the volume and other factors, but these headphones will keep the music going long enough to fly to the other side of the world, no problem. There's definitely no battery anxiety involved when you're using them. From the time you receive the first "battery low" notification (at 10%) you still have about 3 hours left until they stop playing, so in most cases, you'll have enough to get you through the day.


Battery life is shown in 10% increments, which doesn't give a very accurate idea of how much time you have left, considering the long battery life. If you don't check often and see 20% left, it could have been 30% a minute ago, meaning you have about 6 hours of listening time left, or it could be at the end of the 20% and drop to 10% in a couple of minutes, leaving you with around 3 hours of battery life. Not ideal, but headphones aren't as vital as your phone, so we can look past it.

You can charge the headphones with the included (and pretty short) USB Type-C cable and power from any USB port, but if your smartphone already uses USB Type-C, you can simply use its charger instead. The charge time is around 3 hours, but the headphones support quick charging. With a smartphone fast charger, we managed to get them from 0 to 100% in less than 2 hours. The headphones can't be used while charging.

They do, however, work with the wired connection even when the battery is empty, but you'll lose the active noise cancelation. The passive one isn't too bad either, so you'll still be able to enjoy your music without many distractions.

All said and done, there's one question that's left to answer. Are the Sony WH-1000XM3 headphones worth the price of $350? And the answer is: it depends. Shocking, we know. If you have the lifestyle that will make the most out of the noise canceling, you value good quality sound and are ready to pay top dollar for some ear pampering, then this pair of headphones will not disappoint you. For the average user that spends their days in an office and commuting using public transport, the benefits of these headphones may not be enough to justify the price. If you have a close relative or significant other that fits the target group for these headphones, they will make a great gift.
Recommended Stories