Sony Ericsson Yari Review
2

This is a global GSM phone. It can be used with AT&T and T-Mobile USA.
Introduction and Design:
We have to admit that Sony does have quite a lot of experience in making game-oriented devices. After all this is the company we should thank for one of the most successful gaming consoles of all times – the Sony Playstation series. However, the manufacturer doesn't have such a brilliant device in its mobile gaming cell phone range. We have already reviewed one of handsets in it, the
Sony Ericsson F305
- it´s funny and amusing indeed, although the titles for it proved to be rather simplified. What we are about to review today is the
Sony Ericsson Yari
, the next step in the development of the same concept. Aside from its slightly odd name (that means "spear" in Japanese), it comes with buttons and accelerometer that can be used as game controls and the interesting option to use the phone camera as a motion detection device that tracks the moves of the player. To allow you to better utilize the latter option, the manufacturer ships the phone with a stand and you´re supposed to set the handset on it before getting down to jumping, waving and wriggling. The Sony Ericsson Yari also comes with an USB cable, charger, 1GB microSD card and user guide. And with nice youthful design, of course.
The motley version we´ve got in our hands seems better suited for the intended audience than the black and white prototype we had. Moreover, many young ladies will certainly find the former more appealing.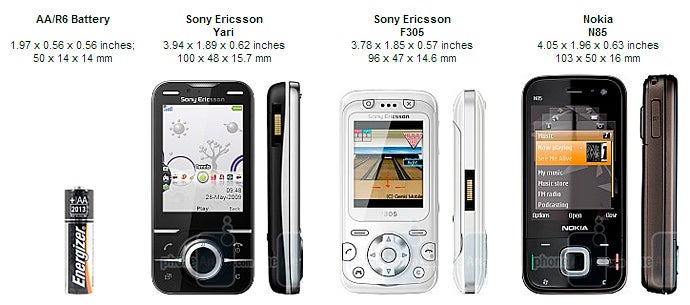 You can compare the Sony Ericsson Yari with many other phones using our
Size Visualization Tool.
We are pleasantly impressed by the
2.4-inch screen with QVGA
resolution. It offers high image quality with really saturated colors and remains totally usable in direct sunlight. In other words, you will be able to play games even on the sunniest days at the beach.
We didn't have any problems with
the buttons
on the front side, because they have proper travel. Those above the screen are used to call up the game menu and as game controls. Unfortunately, some of them require that you use the keyboard and its keys are almost flush with the surface, so you can easily press the wrong one.
We are by no means pleased at
the camera shutter
– it´s annoyingly small and hard to press, which prevents you from getting nice pictures.
The Sony Ericsson Yari has an overall design that will surely appeal to many youngsters, so let´s move on and see if it´s any good at games.
Sony Ericsson Yari 360 Degrees View: Recommended Stories