Sony Ericsson T68
1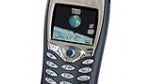 » Introduction

Ericsson T68, very small, powerful and sleek mobile phone with a completely new look and feel is developed for UK, EU and US networks (GSM 900/1800/1900) and GPRS networks. Most will consider T68 to be a high-end phone, packed with groundbreaking features including GPRS, Bluetooth and EMS. The T68 has advanced calendar and contacts and you can synchronize data in your phone with your PC. In standby mode, you can have a color background picture of your choice filling the screen.

» Design

This is a really amazing looking phone. The dark gray color (the T68 also comes in gold/yellow color) is accentuated by chrome buttons and a nice silver outline around the screen. This is also Ericsson's first non-antenna phone; a small but often overlooked irritation with mobile phones.
The phone is amazingly light (3.14 Oz, dimensions 3.97 x 1.88 x 0.76 in.) It is neither too fat nor too thick. Maybe it's the "Sony" influence here (the mobile venture of Ericsson is now a JV with Sony) but the way the phone is curved, with the screen area slightly wider than the buttons, makes this a very nicely designed phone.The back of the phone (including the battery) has a rubber padding on it. This is particularly useful so that the phone doesn't accidentally get bumped off a table and crashing onto the floor
One of the really neat new add-ons is the pointing device in the middle of the phone. You use it to navigate the menus, play games, select text, etc.