Sony Ericsson MW600 Review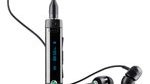 Introduction:
Sony Ericsson MW600
, so, please, read on this review, for this headset has a lot to offer.
Design:
Design-wise, the Sony Ericsson MW600 Bluetooth headset is extremely compact (6.88 x 5.90 x 24.40) and lightweight (13 g). Just to visualize it - if your hands are with average size, the MW600 is almost as small as your little finger and the clip-on design means it's easy to carry it around. This wireless headset doesn't offer something unseen in similar devices, i.e. you have headphones, which you connect to a 3.5mm jack, placed on the Bluetooth module. On the
top side
, this wireless device sports some goodies like an OLED display, a microphone and the end call button. On the
left
, we have the USB port, as well as the dedicated power button, while on the
right
there is the 3.5 mm headphone connector. On the
back side
resides the above-mentioned clip, while the
two upper sides
are occupied by the volume rocker and the play, back and forward buttons.
FM radio
is also offered as a feature.