Sony Ericsson MW600 Review
38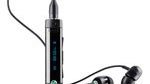 Introduction:
Bluetooth headsets are just another tribute to the modern technology, as they enable us to do things that were reserved for the sci-fi movies not that long ago. And we're not talking about some flashy moves, but about a few highly useful tricks - after all, it's quite enjoyable to talk to your friends, while cycling or do the dishes at 4 a.m., while using your phone and headset to listen to some political hip-hop from the 80's. It's not only convenient - after all, the good old MP3 players have proven again and again that in certain situations, they simply can't get the job done - but also it feels great and cool. One example of such device is the
Sony Ericsson MW600
, so, please, read on this review, for this headset has a lot to offer.
Design:
Design-wise, the Sony Ericsson MW600 Bluetooth headset is extremely compact (6.88 x 5.90 x 24.40) and lightweight (13 g). Just to visualize it - if your hands are with average size, the MW600 is almost as small as your little finger and the clip-on design means it's easy to carry it around. This wireless headset doesn't offer something unseen in similar devices, i.e. you have headphones, which you connect to a 3.5mm jack, placed on the Bluetooth module. On the
top side
, this wireless device sports some goodies like an OLED display, a microphone and the end call button. On the
left
, we have the USB port, as well as the dedicated power button, while on the
right
there is the 3.5 mm headphone connector. On the
back side
resides the above-mentioned clip, while the
two upper sides
are occupied by the volume rocker and the play, back and forward buttons.
The practical implementation of all these buttons is that you can fully control your handset and its music/call capabilities without even being in the same room as your phone, which is quite handy. Furthermore, you can use this device with your favourite headphones, since they are all compatible, and pair the Sony Ericsson MW600 with another manufacturer's handsets.
FM radio
is also offered as a feature.