Samsung Seek M350 Review
1

Introduction:
It wasn't too long ago when the touchscreen marked was the pinnacle of cell phone achievement. They represented the best of the best with the spec sheet to match, but like anything in the gadget world this once high and mighty piece of tech has crept down to the mass market. Meet the
Samsung Seek M350
, probably the lowest-end touchscreen device to date. Though wrapped up in an attractive package with a full QWERTY keyboard, the Seek offers otherwise low-end features like a 1.3 megapixel camera and 1x data. Included in the box (which doubles as a return container to recycle your old phone) you'll simply find a 1000 mAh battery and microUSB charger.
Design:
The Samsung Seek is a rather small phone with a 2.6" QVGA resistive touchscreen. The front of the device features the same three buttons as the Instinct- Back, Home and Phone- but this time they are actual buttons instead of touch-sensitive. The left side of the phone has the volume rocker and microSD slot, whereas the right is busier with the Lock/Power button, microUSB port and camera key. A 3.5mm headset jack can be found on the top of the Seek, and the back simply houses the 1.3MP camera and the phone's single speaker.
The Seek opens thanks to a very solid spring-assisted mechanism and reveals a full
4 row QWERTY keyboard
. The keys are a bit flat and slick, but offer a strong click when pressed and tapping out a message is generally a pleasant experience. Since the Seek is shorter than most sliding QWERTY phones the keys are spaced closer together which means less stretching to reach them and an more pleasant overall experience for the general user.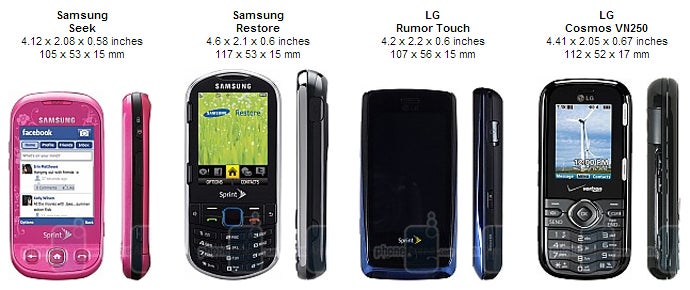 You can compare the Samsung Seek M350 with many other phones using our
Size Visualization Tool
.
The 2.6" resistive touchscreen performed as one would expect. It was arguably more responsive than the
LG Rumor Touch
, and about on par with what we've seen on the Instinct s30. Build quality is very good on the Samsung Seek, much better than one would expect for a device of this class. Given that this is a more basic phone, the size is nice and compact and the keyboard is very usable. The touchscreen gives users more display than typically seen in a low-end device which sweetens the package. While the Seek is aimed at the low end market, it doesn't do so at the expense of quality.
Samsung Seek M350 360 Degrees View: