Samsung Lindy M5650 Review
2

This is a global GSM phone, it can be used with
AT&T
's 1900MHz 3G band, and with
T-Mobile
without 3G.

Introduction and Design:
Samsung´s youthful series, the Corby line-up, has been quite a success so far and the forefather of the family, the
Corby S3650
that we have recently reviewed has been selling great. Kids and teens make for a market niche that is truly difficult to please, since they are more easily influenced by all the rage trends established by mainstream media and tend to have more liquid views and swiftly varying taste. Perhaps this is why the Corby range is one of the most rapidly evolving cell phone families today and new models with diverse extra features and orientation are springing like mushrooms. Oddly enough, the
Samsung Lindy M5650
is not a member of the mentioned family aalthough we´ve caught wind of an almost identical handset called the
Corby Beat M3710
, with the only difference being the latter will roll out without 3G support.
The overall design of the device is similar to that of the Corby S3650 and it´s not by chance that we came to call it "the Corby on steroids" when we first saw it. The outer appearance of the Samsung Lindy M5650 cannot be altered with the help of motley panels, but its glossy front side is more than eye-catchy, not to mention the blue (actually cyan) color scheme of our unit did hit the headlines with us.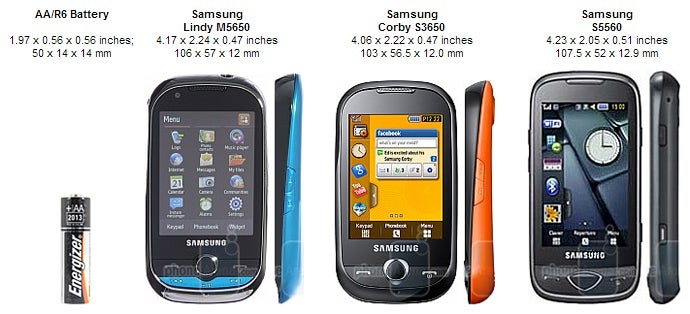 You can compare the Samsung Lindy M5650 with many other phones using our
Size Visualization Tool
.
The Samsung Lindy M5650 is equipped with
2.8-inch capacitive screen
with QVGA resolution and as expected, its sensitivity is quite good and makes typing away using the
screen keyboard
(actually you´ve got a standard, alphanumeric layout only) an easy and enjoyable thing. All
hardware buttons
are great, feature proper travel and feel easy to press. The keys to control the audio player are actually one of the noticeable differences in the design of the Samsung Lindy M5650 as compared to the Corby. They make the body of the newer handset a bit elongated, which in terms gives it a seemingly slightly thinner look.
The presence of
3.5mm jack
and
microUSB port
is a truly pleasing novelty. The phone comes boxed with a headset, wall charger and USB cable, all of them equipped with proper tips. Unfortunately, the microSD slot is hidden beneath the battery, meaning replacing the expansion card is a relatively harder task.
As a whole, the Samsung Lindy M5650 is one of the most likeable mainstream devices on the market today. This is mainly due to the pleasing color scheme that we believe quite a few young people will certainly find appealing.
Samsung Lindy M5650 360 Degrees View: