Samsung Level U Review
13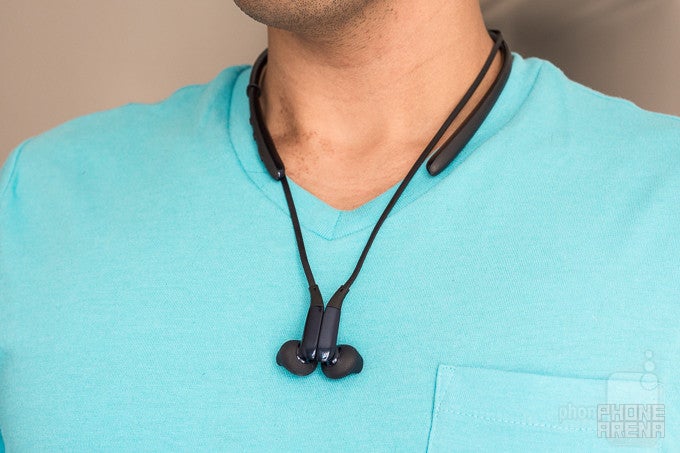 Introduction
Around the neck styled Bluetooth headphones aren't new, but for Samsung, it's still an area where they've yet to make any significant headway. With the introduction of its premium audio line, the Level series, the company has slowly diversified its headphones portfolio to a greater degree. In that regard, the Samsung Level U became the latest entrant to the series – a flexible, around-the-neck Bluetooth headphones that blends style and comfort. We've seen similar things recently, such as the
SOL Republic Shadow
,
Phiaton BT 100 NC
, and
LG Tone+ Infinim
to name a few, so we're curious to know how this one stacks up to the competition.
Packaging contains:
Samsung Level U
microUSB cable
3 sets of ear gels
Quick start guide
Design
The thin and lightweight design makes it practical to use for an assortment of scenarios.
After captivating and surprising us with the Galaxy S6, Samsung has a track record to keep when it comes to its designs. Fortunately for the Level U, it's something that's evident given the modest price tag associated with it. Going with the around-the-neck style, one that's in a U-shape and rests gently around our neck with the earbuds attached via cable, the plastic constructed body manages to maintain a very thin profile and lightweight feel. However, its weight is counterbalanced by the thicker back end of the headphones.
The plastic body ensures it's something that feels comfortable around our neck for long periods of time, but even better, it's not something that rattles when we're executing vigorous movement – a nagging quality we found with the LG Tone+ Infinim. Accenting the aesthetics, there are some rubbery coated areas that provide even stronger grip to ensure it won't come off if we're sweating away during a workout.
There are very few buttons on this thing. In fact, the majority of them are found along the right compartment of the Level U, which include the pause/play, volume up, and volume down buttons. Generally speaking, we have no issues accessing them because they're raised and offer great response when pressed. Along the backside, there's a simple on/off switch with a tiny LED light located close by to show us its status.
As for the earbuds, it's neat that they're attached magnetically when they're not being used. Initially, we didn't like how the silicon earbuds themselves kept on falling out with abrupt movement, but there's a pair with stabilizing wing ear gels to ensure they're securely in place – including when we're moving around a lot. At first glance, the ear buds seem menacing due to the spout on the end of them, but it simply allows audio to flow directly into the ear without obstruction.
Thus far, the Level series has this reputation for being constructed with premium qualities, but with the Level U, it's clearly favoring a totally different result that's more on the opposite end. Regardless, it's a straightforward design that caters to a wide range of scenarios that we find pleasant.
Recommended Stories