Samsung Knack Review
11

This is a CDMA phone offered with Verizon
Introduction: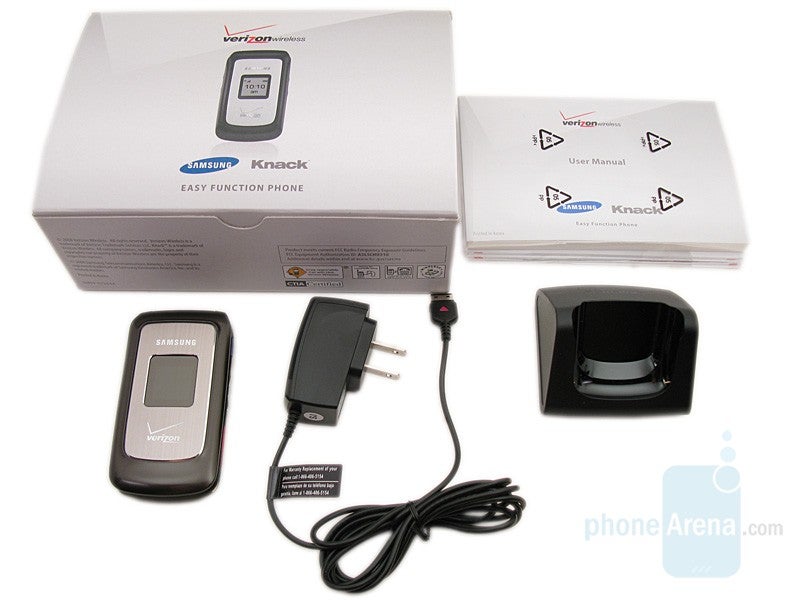 The Samsung Knack, offered by Verizon Wireless, is designed for the senior demographic or anyone who wants a basic and easy-to-use cell phone without a lot of unnecessary features. It is similar in function to the
Coupe
, which is manufactured by UTStarcom, but comes in a more stylish appearance. Its primary competition comes from the
Samsung Gleam
and
U550
since both are in the same price range, yet offer more features.
The retail package includes the Knack phone, 1000mAh battery with cover, wall charger with cradle, and user manual.
Design:
The exterior of the device is charcoal gray in color with faux stainless on the front flip. Despite its overall construction being mainly out of plastic, it feels durable and should hold up to normal use. The external display is a small 1" diagonal 96x96 pixel monochromatic TFT and is only capable of showing the time, signal and battery level. Both the Gleam and U550 have color external displays, yet are still limited to the same size. On the left side is the volume rocker, and on the right is the color-coded charging port, 2.5mm headset jack, voice command and voicemail buttons. The hinge is constructed well and allows the phone to be flipped open and closed smoothly.

You can compare the Samsung Knack with many other phones using our
Size Visualization Tool
.
Located on the inside is the main 2.2" diagonal 176x220 pixel
TFT display
, capable of viewing 65K colors. It shows the current date, time, and mobile phone number in a large font for easy viewing. However, like most displays on budget phones, it can be difficult to view while in direct sunlight. The higher quality QVGA display on the Gleam does a better job. On the bottom flip are two buttons that most phones do not feature,
911
and
ICE
(in case of emergency). Pressing on 911 will ask you if you wish to continue and be connected to 911. We tested this and were connected to the local Broward 911 call center. The ICE button is for storing up to 3 emergency contact numbers (such as family and doctor) and also for typing in your health info (medication, allergies).
Located in the center is the
d-pad
for menu navigation. It is smaller than the surrounding buttons, but is still easy to use. The numeric dial pad and white backlit letters are larger than most other phones to allow for easy viewing and dialing in various conditions. They provide a good "click" sound when pressed and are slightly raised from the surrounding plastic.
Recommended Stories