Samsung Intensity II Review
14

Introduction: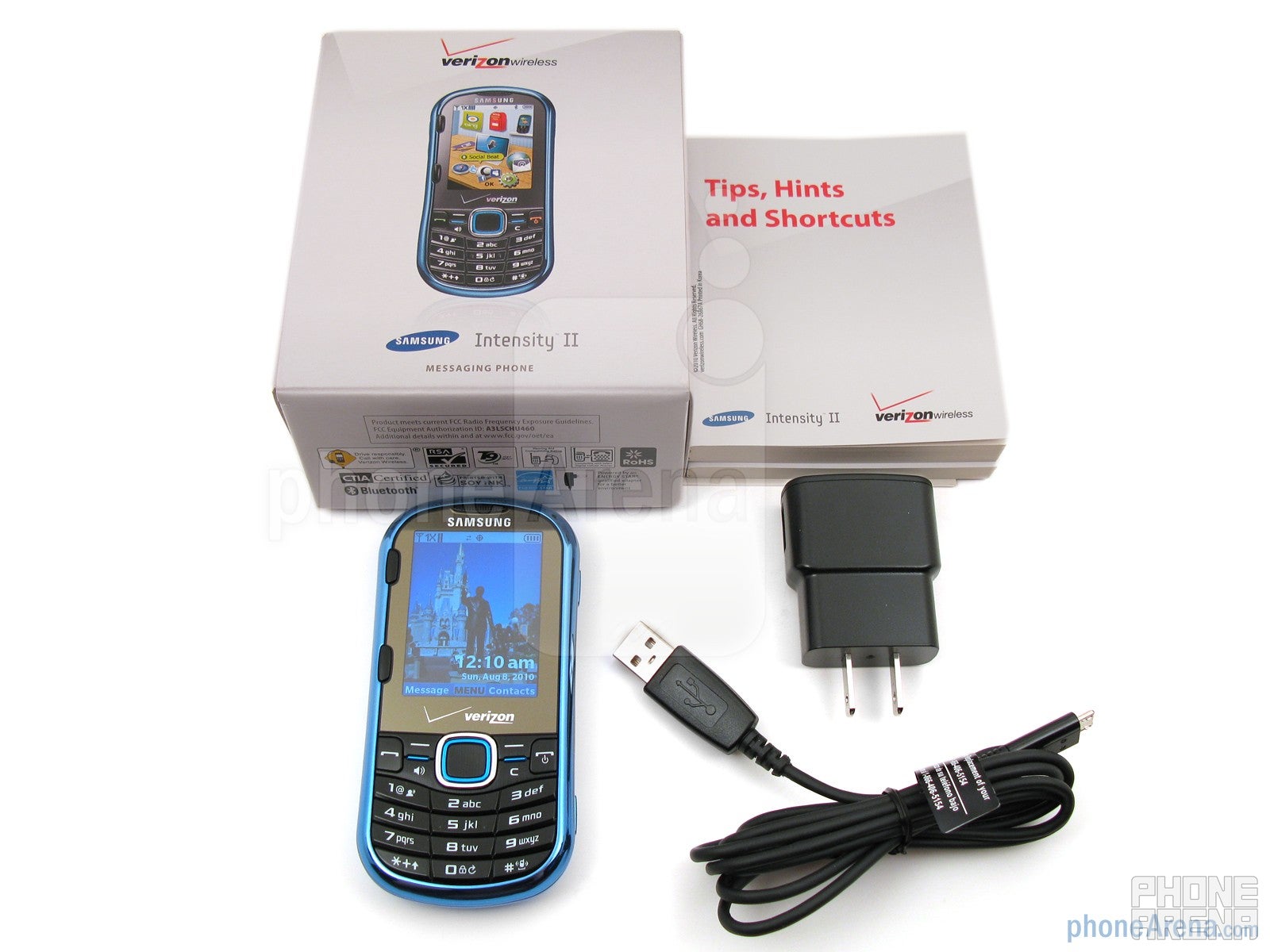 When Samsung introduced the original Intensity U450 last year, we weren't too impressed by its features, or lack thereof, but it did help fill a gap in Verizon's line-up for an inexpensive messaging phone with full sliding QWERTY keyboard. Since then, there have been plenty of other devices in that category, most recently with the LG Cosmos VN250 and Pantech Jest. Now Verizon has introduced the new
Samsung Intensity II U460
, as it has some upgrades from last year's model, but is it enough to warrant an upgrade from current Intensity U450 owners? Let's take a look.
Included in the retail package is the Samsung Intensity II U460 phone, 1000mAh battery, wall charger with detachable microUSB cable, and user guide.
Design:
The Samsung Intensity II U460 follows closely in the footsteps of the Intensity U450, as both share a similar design. The Intensity II is offered in a standard gray and metallic blue color, and fits comfortably in the hand or pocket, thanks to its curved edges and sleek profile. Even though the device remains constructed out of plastic, the Intensity II feels sturdier and not a cheap as the original model.
The
display
has been improved, and now measures 2.2" with a resolution of 320x240 pixels and supports up to 262K colors. When looking at the display on both models, you can clearly see the improvement with the Intensity II, as images and text are sharper and not pixelated. This is a welcome change. Below the display is the standard d-pad, which is now square instead of being circular, which does make it easier to use with your thumb. Unfortunately, the surrounding buttons, such as the left & right soft key, speakerphone and back key are still smaller than we would like and feel cramped together. The design of the numeric keypad has also changed, though not for the better, as the keys are now smaller and closer together, which allow for frequent misdials. The
LG Cosmos
does better here, as its numeric keypad is larger and easier to use with big hands. Located on the sides of the Intensity II are the volume rocker, microUSB port, 2.5mm headset jack, voice command and camera key, and microSDHC memory card slot that supports up to 32GB cards.
The
sliding QWERTY
keyboard retains its 4-rows, though its layout has changed some, as the directional arrows now have their own dedicated keys, and there is also a dedicated left and right soft key that is at the top. But the keyboard isn't the best that we've used, as the buttons feel cramped and are perfectly flat, providing almost no tactile feel at all. Once again, the LG Cosmos does better here, as its keys are raised from the surrounding plastic and have some space between them, allowing for a better typing experience.
Samsung Intensity II 360 Degrees View: Recommended Stories