Samsung Galaxy Mega 6.3 Preview
73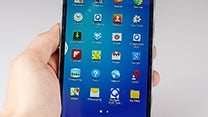 We've been waiting with baited breath for this year's gargantuan phone ideas from Samsung, and the
Galaxy Mega 6.3
didn't disappoint with screen diagonal. Measuring 6.3 across, as the name suggests, it is not meant to be a flagship product, given the mid-range for 2013 specs, but rather fit an existing or imaginable marketing niche of users. These would be people who use their handsets mostly for media, browsing and games, rather than actual talking, and want their display as big as possible this side of a tablet screen.
Will the Galaxy Mega 6.3 succeed in addressing this alleged target market? We've got a prototype unit in the office to answer this question, so read on to find out...
Design:

The first impression about the phone is "
darn, it's big
". The second impression is that it is in fact very thin, with a slim bezel, classy faux-metal rim around the sides and a very nice looking pattern, which spans both on the back and at the front, transitioning into the camera lens cover, too. Despite the cool looks, it is
almost impossible to operate the Mega 6.3 with one hand
– you'd be lucky if you don't drop it trying to pull down the notification bar, let alone while fumbling for the back key way down right.
To cut a long story short and deal with the question on everyone's mind – yes,
you can hold the phone with an average or larger palm
, but not operate the handset with one hand. You'd have to shrink the keyboard and dialer left or right, which is a feature Samsung provides on its big-screen phones, or else it would literally be a stretch to write a quick text message reply, or dial a number by keying it in. Two hands are your best bet, and that's the price to pay for a giant display.
As for carrying it around, you'd better have baggy pants with deep pockets and stretch fabric, or sport a purse – it is not by accident that Samsung is heavily marketing the Note family to women, for example.
Display:

The
6.3" LCD panel sports 720x1280 pixels HD
resolution, with a pretty decent 233ppi pixel density. This is not a sassy Full HD panel, yet it is a far cry from the 480x800 pixels abomination on the 5" Galaxy Grand, for instance.
Color representation seems vivid, though not OLED-style saturated and the display has very good viewing angles, but could use more brightness and less reflectivity outside under direct sunlight.
Recommended Stories