Samsung Galaxy Express 2 Review
4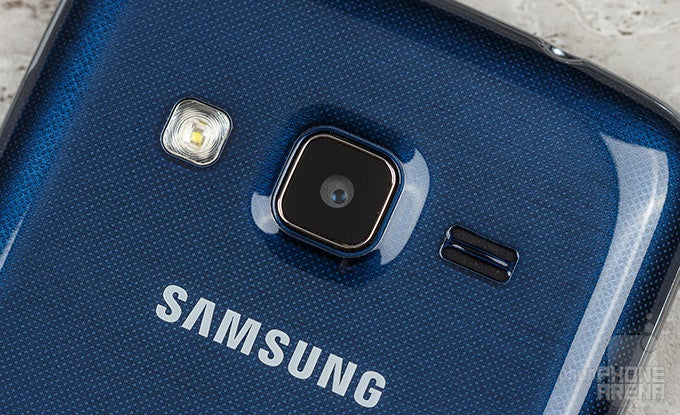 Introduction
The
Samsung Galaxy Express 2
comes with one hallmark feature – it supports 4G LTE connectivity. The Express 2 takes pride in being one of the more affordable smartphones with LTE, but that does not necessarily make it cheap. It's a mid-range phone that checks most bases, at least on paper – it's got a fairly spacious 4.5" display, a dual-core Snapdragon chip and runs on Android Jelly Bean.
With all things considered, it is its price that might actually turn out to be the biggest turndown. What are the compromises you need to make with the Galaxy Express 2, and is it worth buying? Let's explore it to find the answers to these questions.
In the box:
Wall charger
microUSB cabler
In-ear headphones
User manual
Design
The Galaxy Express 2 is a smartphone with typical Samsung looks, a bit chubby in appearance, but otherwise solidly put together.
Overall, the second generation Galaxy Express is a device of reasonable size, heft and thickness. With its healthy-sized 4.5-inch display, it is not too small, nor too large, and easily fits in a pocket. It's definitely on the chubby side, though, measuring 0.39" (9.8mm) thick. While that's not a dealbreaker for us, it's a thing to consider, and we do wish the handset was at least just a bit thinner.
The Galaxy Express 2 features the typical Samsung style that the company used in the Galaxy S4, and you could easily mistake the Express 2 for a
Galaxy S4 Mini
, or even the Galaxy S4 itself, if you didn't know the sizes - they are that similar. On the left side of the phone is a volume rocker, and on the right, easy to reach, is the lock key, and both have a decent amount of travel and are easy to press.
Overall, the Galaxy Express 2 leaves an impression of a solidly built phone. It's practical and nicely put together, but nothing more.
Display
The reasonably large 4.5-inch qHD screen on the Galaxy Express 2 is okay for its class with only slightly washed out colors, but it lacks automatic brightness.
The Galaxy Express 2 features a 4.5-inch IPS LCD display with a resolution of 540 x 960 pixels (qHD). With pixel density reaching 245ppi, it goes for a reasonably sharp screen for its class, making it possible to read regular-sized text clearly, but tinier fonts are hard to read.
In terms of colors, the display is far from being perfectly accurate - colors appear a bit washed out and pale rather than overblown, whites are colder than normal, and nearly all colors are generally a bit off, most notably blues and cyan in particular. However, for the average user who does not care about really true-to-life colors it is fine..
One thing that Samsung annoyingly omitted in the Express 2 is a light sensor. What this means is that the screen cannot automatically adjust its brightness, so you'd need to manually set it lower or higher depending on the conditions. The screen is pretty reflective and also not bright enough to compensate, so in the outdoors, you may have a hard time making out what's on it.
Display measurements and quality
Recommended Stories