Samsung Galaxy Ace Style Review
10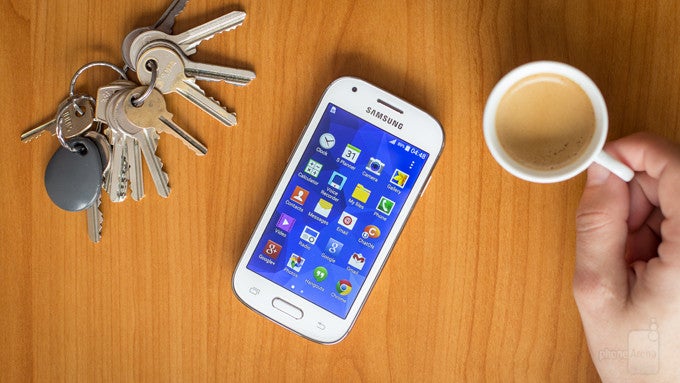 Introduction
The
Samsung Galaxy Ace Style
is an affordable Android phone running on KitKat, the newest version of Google's operating system, and it also features the latest iteration of Samsung's TouchWiz user interface. Having the latest version of Android on an affordable phone is definitely an advantage - and even more so given the specific optimizations that Google has made in 4.4 KitKat for phones like the Galaxy Ace Style with just 512MB of RAM.
Just by looking at the name, though, you might think that the Galaxy Ace Style is all about looks and design ingenuity. In fact, the only thing that sets it apart from all other plasticky, cheap Android phones is its striped back, and little else.
We're far happier to see a 5-megapixel auto-focus camera on the back of the phone (more than the typical for the class low-res shooters), as well as a front-facing cam. How does this all work out in real life, and is the Galaxy Ace Style a good phone overall? Let's find out.
In the box:
User Manual
microUSB Cable
Wall Charger
Design
The Galaxy Ace Style is a compact device with a typical Samsung design and plastic build, with a stripe on the back that sets it apart from the rest.
The Galaxy Ace Style has attention to looks embedded in its name, and you'd expect a stand-out design. It does indeed stand out with having its back decorated with a vertical line of stripes running from top to bottom. That's about as far as style goes on this device, though - for all else that's worth, it is made of very cheap-feeling matte plastic, and save for its peculiar stripes, looks no different than any other affordable Samsung device.
With that said, build quality is pretty fine - the device feels solidly put together, with no screaking parts. Buttons are the typical Samsung affair with a large physical home key up front, a lock key on the top right, and the volume rocker on the left. We wish they were a bit clickier and less shallow, but this grievance is rather minor and you'd have no real problem pressing them.
Being a 4-inch phone, the Galaxy Ace Style is very compact, fits comfortably in a hand and in pockets, plus it is great for single-handed usage. It is not among the thinnest phones out there (it's 0.41" thick), but its compact size makes up for that, and it's also fairly lightweight, tipping the scales at 4.34 ounces (123g).
Display
The 4" WVGA display is decently sharp, but it's also noticeably bluish and hard to use outdoors.
The Galaxy Ace Style features a 4-inch display with a resolution of 480 x 800 pixels (WVGA), which works out to a pixel density of the quite decent 233ppi. For this class of an affordable device, this is satisfactory, and it results in a display that is not pixel-perfect, but neither is the slight pixelization on it too annoying.
In terms of colors, this is quite a middling display for its class. The issue here is that the screen looks very noticeably blueish, and it does not support 16 million colors - instead the color count stands at the quite antique 262k. Some colors are also way off. In terms of viewing angles, the display holds its ground okay, and colors wash out at an angle, but not hugely.
Using the display outdoors, however, is a bit problematic - with a low peak brightness and a reflective screen, you'd need to shield the screen and stare carefully to see what's on it. We should also note that the phone does not feature extras like an ambient light sensor or a proximity sensor, so you'd need to adjust brightness by hand.
Display measurements and quality