Samsung Craft Review
2

Introduction:
Although it's rather difficult to fathom that a national prepaid carrier is the first to the punch in launching a next-generation LTE network in the US, the
Samsung Craft SCH-R900
for MetroPCS has a huge reputation to overcome since it's the first LTE enabled handset in the market. Sure it's nothing close to the depth of features that accompany a majority of smartphones out there, but luckily, it does pack a healthy solid dose of features under the hood to make it stand out. Priced at the upper echelon of the spectrum at $299.99, it potentially might make some people look the other way and straight into smartphone territory – but then again, it's LTE we're talking about here.
The package contains:
Samsung Craft SCH-R900
Wall charger
microUSB cable
Quick Start Guide
Tips & Tricks
Design:
Sadly, the design of the Craft is two years too late since it employs the same style and feel of other messaging devices from Samsung. Even though it's constructed out of glossy plastic, which does attract plenty of dirt and smudges, it doesn't necessarily translate to a light weight device. In fact, it feels rather bulky (0.60" thick) in the hand versus other similar offerings and has a noticeable weight (3.74 oz) to it as well. The contoured outline of the handset does little to hide its overall girth – which does make it less appealing versus some other streamlined options out there. It would've been nice to supplement its LTE enabled backing with some kind of slick design, but regrettably, we're left to nonchalantly yawn at its conventional look.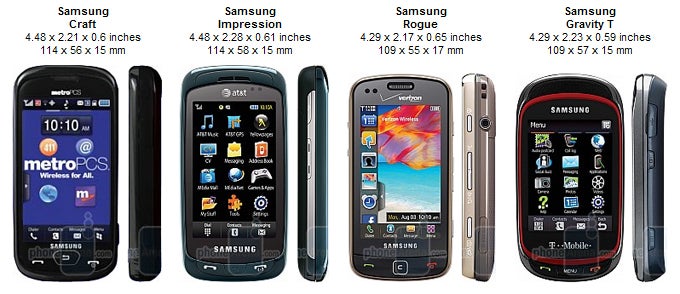 You can compare the Samsung Craft with many other phones using our
Size Visualization Tool
.
With a loud roar, we are especially enticed by its brilliant
3.3" AMOLED touchscreen
which happily packs WVGA resolution (480 x 800) with support for 262k colors. There's no arguing that colors pop with lush and vibrant tones, but it's also complemented with some stunning detail since the tiniest of text is still legible to the naked eye. Viewing angles are decent, but much like other handsets implementing AMOLED panels, it suffers in outdoor usage when the sun is shining brightly down on it. As for responsiveness, the capacitive panel manages to register touches correctly, but we notice some instances of delay – which can be attributed most likely to the software on the phone.
Three
physical buttons
grace the area below the display – these are the send, end, and back/clear keys. All three are well sized, flush with the surface, and provide a relatively tactile response when pressed.
It's quite crowded on the
left side
of the phone seeing that it packs the easy to access microSD card slot, voice command button, pronounced volume rocker, and lanyard spot. While on the
right edge
, you've got the two-level shutter key, microUSB port for charging/PC connection, and dedicated lock/unlock key. Finally, the 3.5mm headset jack is the only sole item found on the
top
area of the handset.
When viewing the rear of the phone at a certain angle, you can visually see that it has a red polished look to it – which of course holds the Samsung branding and the striking 4G logo. Additionally, you'll find the 3.2-megapixel auto-focus camera with LED flash, self-portrait mirror, and notches for the speaker phone. The back cover can be easily removed without much force and will provide access to the battery and SIM card slot.
By no means does it have the snappiest mechanism in opening the
QWERTY
, but it's more than adequate with its resistive quality. Thankfully, the keyboard sports a venerable layout that's equally usable in form thanks to its dedicated row for numbers and directional arrows. The hard plastic feeling buttons are all evenly sized, slightly flush, and have even spacing in between them. We found typing to be an easy and joyful process since it offers some good feedback without much falter when speed typing.
Samsung Craft 360 Degrees View: