Samsung CorbyPRO B5310 & CorbyTXT B3210 Preview
3

Samsung CorbyPRO B5310 is a global GSM phone. It can be used with AT&T and T-Mobile USA,
but without 3G.

Samsung CorbyTXT B3210 is a global GSM/EDGE phone. It can be used with AT&T and T-Mobile USA

Introduction and Design:
The
Samsung Corby S3650
is the first handset of the manufacturer aimed at young people. It comes with a
cheerful design
, easily replaceable panels and affordable price-tag. The former two are among the things that
youngsters
do like, while their parents are sure to find latter appealing. There is a really important thing, however, that Samsung forgot at first. The statistics says that most young people are really eager on text messaging and we have to say it didn't take Samsung much time to decide what to do to fill the market niche. They are about to release
two QWERTY handsets
, effectively turning the original Corby into the forefather of a new range of cell phones dedicated to young people. Today, we are going to introduce to you the
Samsung CorbyPRO B5310
and
Samsung CorbyTXT B3210
. The former is the most technologically advanced member of the Corby family and comes with 3-megapixel camera, support for high-speed 3G (HSDPA 7.2Mbps) and a side-sliding keyboard with four rows of buttons.
Actually, it´s exactly
the keyboard
that makes the Samsung CorbyPRO B5310 so different from the Corby S3650 – the newer handset is substantiallythicker and heftier than its predecessor. They both have pretty similar faces and you can easily get them confused if you fail to notice the small video-call camera placed above the
2.8-inch resistive, QVGA screen
of the CorbyPRO B5310 (the Corby S3650 has a capacitive display). It supports 16 mln colors unlike the original Corby that copes with just 262k.
We still do not have official information on the
replaceable panels
that will be offered, but we hope the manufacturer comes up with cool and good-looking ones that don´t get dirty and stained as easily as the white one. We are pleased to see the Samsung Corby B5310 sports standard connectors only – 3.5mm headphone jack and microUSB port for charging and data transfers.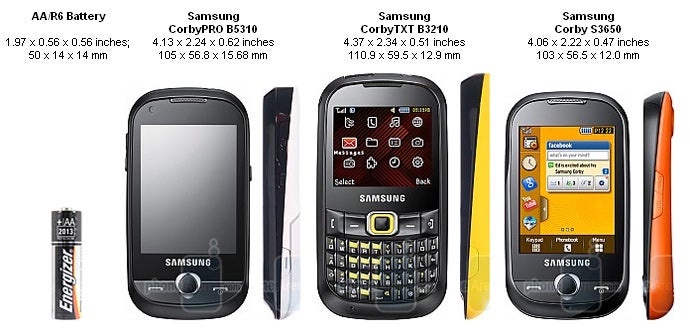 You can compare the Samsung CrobyPRO B5310 and
Samsung CorbyTXT B3210
with many other phones using our
Size Vizualization Tool.
The Samsung CorbyTXT B3210 features the same standard connectors, but that´s where the similarity ends. This is a cell phone coming in a classic, candybar form factor equipped with
full QWERTY keyboard
and
2.2-inch display
with low native resolution (220x176 pixels). We quite like the large functional keys around the D-Pad. The keyboard buttons are small, but with a specific form, just like those of BlackBerry devices. Still, we tend to think it´s just people with smaller fingers that will find them comfy enough, i.e. youngsters. Hulk and Hellboy on the other hand, are bound to face BIG troubles with them.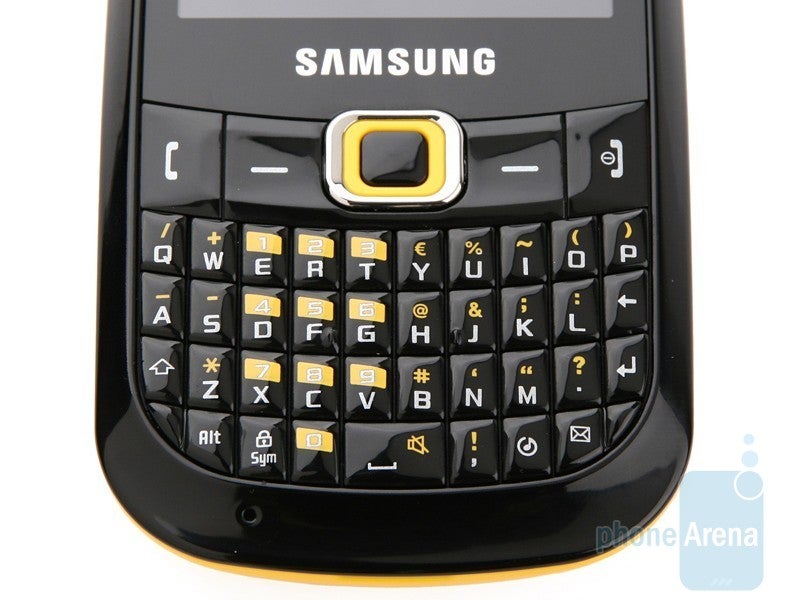 The keyboard buttons are small, but with a specific form
As a whole, the Samsung CorbyTXT B3210 remains true to the spirit of its predecessor - it´s a compact, likeable handset that will fit perfectly into the hands and pocket of any kid. We, however, believe the Samsung CorbyPRO B5310 is aimed at teens and older kids, since it delivers more features and sports a more, erm, austere design.
Samsung CorbyPRO B5310 and CorbyTXT B3210 360 Degrees Views: