Samsung Corby 3G S3370 Preview
11

This is a global GSM phone. It can be used with AT&T and T-Mobile USA, but without 3G.

Introduction and design:
Less than a year ago low-entry cell phones equipped with touch-sensitive screens used to be scarcer than chicken teeth, but a number of cheap models like the
Samsung Corby S3650
and
LG Pop GD510
coming with said hardware feature are out for grabs now. Actually, the
Samsung Genoa C3510
(also known as the Corby Pop) that has appeared on the market recently, was until now at the price bottom of the affordable range of handsets with touch screens.
Frankly, being the youngest and smallest member of a family is not always a great thing really (despite all the fairy tales that say the opposite). It´s quite obvious the manufacturer has made certain hardware compromises with the
Samsung Corby 3G S3370
in order to decrease the production unit cost per unit, so true fans of high-tech gadgets would probably look down their noses at the 2.6-inch resistive screen with QVGA resolution of the phone. We have to admit, however, that the sensitivity of our prototype is quite good indeed, while at the same the small display size equates to a truly compact body.
The Samsung Corby 3G S3370 features a
standard set of buttons
. There is a microUSB port for charging and connecting the handset to a computer, but sadly, the 3.5mm headphone jack is conspicuous in its absence.
You shouldn't expect a stunning
build quality
, of course. It´s not that the materials the phone is made from are bad really, but they make it feel cheap in your hand. We do like the slightly rugged pattern on its back that is, probably, merely ornamental.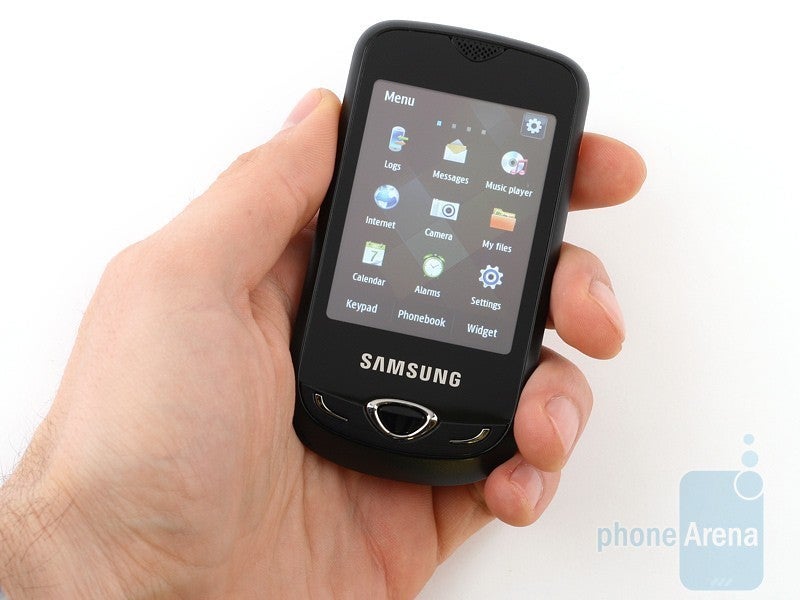 Samsung Corby 3G S3370 360 Degrees View: Interface and functionality:
The Samsung Corby 3G S3370 comes with TouchWiz interface. Surprise! Well, you can at least act as if caught off guard... to an extent. One of the cool aspects of said interface is that it delivers exactly the same extra features, no matter whether you have an entry-level or cream of the crop device. Well, it´s a tad sluggish in the particular case of the Samsung Corby 3G S3370, especially alongside of the way it runs on high-end cell phones, but you´ve got a real task manager that can be called up by keeping the middle button pressed for a while. All the usual suspects when it comes to social networking applications are here, namely for Facebook, Twitter and MySpace.
It´s just too bad that the
internet connectivity
options are limited to EDGE only, which probably means that most of you would write off the social networking capabilities of the browser right away. By the way, the latter is quite good. The handset is equipped with Dolfin browser version 1.5, the same edition the Samsung Monte S5620 comes with. It offers limited flash support, but we would rather wait until we´ve had the chance to test a final, retail unit before sharing our impressions.
What about the
camera
? It sports a 1.3-megapixel sensor and lacks autofocus and flash, delivers basic functionality and captures videos that are best suited for sharing via MMS messages, because their resolution is just 176х144 pixels.
The Samsung Corby 3G S3370 takes microSD expansion cards of up to 8GB, which equates to quite a lot of music, plus Samsung´s
standard audio player
is fit for the task indeed. In case you get tired of all the music you´ve got, the built-in
FM Radio
will help you chill out.
Expectations:
The Samsung Corby 3G S3370 may look somewhat odd, especially to people who tend to go for cell phones with the largest number of features within the confines of the available budget. Still, there are many developing markets worldwide and quite a few people getting along on a shoestring and price can be decisive in their cases. They would probably welcome a handset that would give them the opportunity to get all the extra features of Samsung's TouchWiz interface and they are not half bad at all. We believe the Samsung Corby 3G S3370 can hit the shelves with a price tag of $140 or less - something that, until now, was considered virtually impossible for a cell phone with touch-sensitive screen.