Samsung ATIV S Neo Preview
13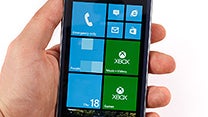 Introduction
Lookie here, it turns out Nokia isn't the only company churning out Windows phones, as Samsung is reminding us that it too knows how to handle those live tiles. With a phone destined to grace Sprint's late-summer line-up, Samsung is gearing up to launch what may be considered the US version of its current Windows Phone 8 flagship, the
ATIV S
. Sprint's phone will be called
ATIV S Neo
, and by the looks of it, it'll fail to upgrade upon what the ATIV S already offers.
Design
No shocks here – the Samsung ATIV S Neo is incredibly similar to the ATIV S in terms of external appearance, which is to say that it's decent. The bad news is that the ATIV S Neo seems to have lost the fancy back cover design of the ATIV S, replacing it with a far more generic-looking one instead.
Sporting that trademark Pebble Blue color with a sort of a 'jeans' texture, the ATIV S Neo sticks to Samsung's favorite glossy plastic construction, which has proven to make handling the phone quite convenient. The handset is on the bulkier side, but button placement is very appropriate, meaning users won't have any trouble reaching any of the keys.
Unlike, Nokia, Samsung has decided to put a physical Home key instead of a touch-sensitive one. Not that it makes any significant difference. The Back and Search keys are capacitive and found at their usual places around the Home one.
Display
Carrying its habits over from Android, Samsung has installed a large 4.8" display on the ATIV S Neo – same as on the international ATIV S. Resolution has also stayed the same at 720x1280 pixels. The only difference here is that instead of AMOLED, the display technology in use is LCD. While this won't have such a dramatic impact on the phone's usage, it's safe to say that outdoor visibility will be better with the S Neo, as LCDs are still capable of higher brightness outputs compared to their AMOLED counterparts.
Anyways, we can't offer any conclusive thoughts here, seeing that we're dealing with an early version of the phone which may not accurately represent the retail product's qualities.
Recommended Stories