RIM BlackBerry Curve 9315 Review
2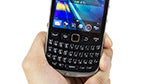 Introduction:
On the eve of RIM's highly anticipated announcement for its new BlackBerry 10 devices, we're getting a look at its latest smartphone for T-Mobile – the OS 7.1 running
BlackBerry Curve 9315
. Essentially a variant of the Curve 9310, it's priced to sell for $49.99 on-contract, but the question that remains is whether you'll want to pick one up knowing what's on the horizon.
Design:
The Curve 9315 for T-Mobile is identical in design to Verizon's model in the
Curve 9310
. Compared to its predecessors, this is arguably one of the most compact Curve models to date, but we have to admit, it definitely feels rather cheap in feel with its all-plastic construction.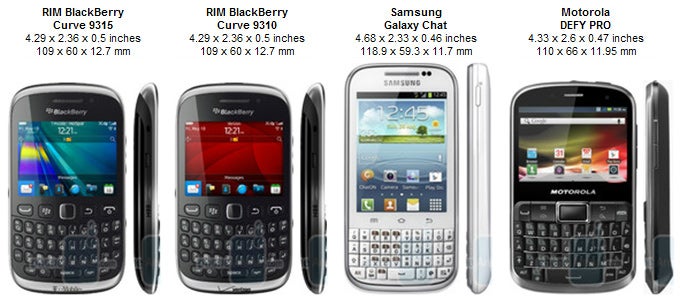 You can compare the RIM BlackBerry Curve 9315 with many other phones using our Size Visualization Tool.
Around its trim
, we spots its lock button, volume control, shutter key, speaker grill, BBM button, microUSB port, microphone and 3.5mm headset jack.
In the rear
, there's a paltry sized 3.2-megapixel camera with LED flash, which has a maximum video capture resolution of VGA (640 x 480). Sliding off the rear casing, we're given access to its 1,450 mAh battery, SIM slot, and microSD card slot.
Display:
Ouch! Our eyes writhe in pain trying to view anything on this poor excuse of a screen. To be specific, its 2.44-inch QVGA 320 x 240 LCD display is painfully agonizing to view! Not only does it lack in the details department, but when you combine its poor viewing angles and low contrast, it doesn't particularly handle too well with outdoor usage.
Keyboard:
Paying homage to the Curves of yesterday, this latest model is staying true by featuring that classic Curve keyboard we all know and love – though, it's still not quite as good as the Bold series keyboard. With its slightly raised buttons and responsive feel, we're able to type away merrily without much hassle. Meanwhile, it's a bit alien to once again go back to using an optical trackpad for navigation, but it still works well for the occasion.
RIM BlackBerry Curve 9315 360-degrees View:
Recommended Stories