Plantronics Discovery 975 Review
5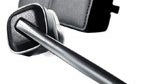 Introduction and Design:
Unlike its Voyager series of Bluetooth headsets, the Plantronics Discovery line whole-heartedly keeps in mind fashion and a sense of style with its somewhat futuristic designs. Following up after the popular
Discovery 925
, which was a very well-rounded model, its successor in the
Plantronics Discovery 975
aims to bring forth yet another similar experience. As it's priced at the higher end of the spectrum at $130, you're naturally presented with some nice features like AudioIQ2 & WindSmart technology for noise cancellation, dual-microphones, Multipoint technology, Voice Alerts, and its updated case that doubles as a battery charger. Included with the packaging are 3 gel ear tips, AC charger, case strap, and carrying/charging case.
One of the biggest distinguishable characteristic about the Discovery 975 is its stylish and futuristic
design
which seems to be foreign versus the usual crop out there. Amazingly, it has been reduced to nothing more than a narrow boom microphone that's attached to the main body of the diamond shaped earpiece. Constructed out of glossy plastic that's painted with a metallic finish, it contributes in making it very lightweight. Moreover, the subtle faux-pas leather adorning the earpiece complements its overall chic nature.
Utilizing almost the same exact
ear gel designs
, it feels a little bit more comfortable versus their previous outing since it's gummier in texture – thus enabling us to wear it for prolonged periods of time without being too irritating. Meanwhile, the intricate design allows it to snugly fit in our ear without the worry of it getting loose and coming off.
Physicals buttons
are limited to only two items with the Plantronics Discovery 975, and to make matters worse, they're all not that great in terms of feel. The multi-function talk button is placed squarely on the earpiece and exhibits a stiff feel when pressed, while the tiny volume button that simply cycles through three preset settings is located inconveniently on one of its sides on the earpiece.
Of course, you can charge the headset through its microUSB port, but the advantage with it is that it comes along with its very own useful combination carrying/charging case. As stated by Plantronics, it's capable of delivering triple the amount of talk time. And besides being able to carry and charge the headset simultaneously, this model features a tiny LCD that displays both the battery charge of the case and headset.
Recommended Stories