Phonejoy Review
2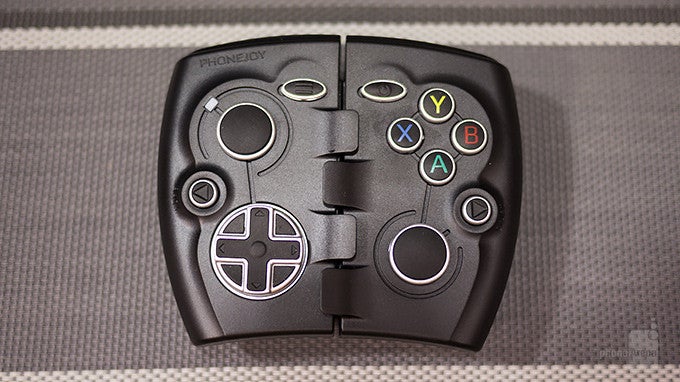 Introduction
There's a war raging on in the Android kingdom, where various companies are vying for supremacy in the fledging gaming sector. Already, we've seen countless Bluetooth enabled gamepads that play nicely with the abundance of Android devices out there – with some being more useful than others. Another entrant into this highly competitive area, the Phonejoy, is embarking on a quest to make its gamepad the go-to choice for hardcore gaming enthusiasts.
Being a Kickstarter funded project, which raised nearly $70,000 back in January 2013, the Phonejoy is finally in finished form and making its presence in the market. Of course, since it's a Bluetooth enabled gamepad, it's able to play nicely with PC and iCade devices as well – in addition to the expansive set of Android devices. As we continue to see the platform become a hub for gaming, it'll be interesting to see how the Phonejoy can rise above the hoop to see itself amongst the elites in the space.
The package contains:
Design
The button layout is familiar, but its odd shape makes for some challenges until we get accustomed to its feel.
Looking back at some of the gamepads we've reviewed for smartphones, like the ones from Moga's camp, the Phonejoy opts to take a different approach with its design. Right from the onset, our interest is piqued by its incredibly compact design, which can be expanded thanks to the device's EasySlider mechanism – to accommodate a wide array of devices. Comprised mostly of matte plastic, it gives the Phonejoy a lightweight feel in the hand, making it easy for travel as well.
Visually, it has a distinctive look that's very different from other Bluetooth controls. If you're coming straight from a traditional console, like the PlayStation or XBOX, you'll have to adapt to the unusual shape and feel of this particular control. Due to its odd shape, it doesn't have the most comfortable feel, but after some time and play, we're better able to get a good feel for it.
Whereas its design traverses a different path from most other controllers, its layout is pretty much familiar. Specifically, it features a d-pad, 2 analog sticks, power & mode switches, 4 shoulder buttons, 4 action buttons, and start & back buttons. Naturally, the layout is something we've come to expect, as it follows many other console-grade controllers. However, we're not fans of the stiff feel of its d-pad and 4 action buttons. Even though we like the soft touch matte finishes on the two analog sticks, they're not the true full-sized analog sticks we see on console gamepads. Rather, they're more like nubs than anything else – similar to what's found on the first-gen Sony PSP mobile console.
Thanks to its EasySlider mechanism, it can easily accommodate a variety of devices. Relying on various springs, we can expand the Phonejoy to hold smaller devices like the iPhone 5 – or larger phablet-sized things. Heck, to an extent, it can also hold a 7-inch tablet, but they're mostly propped in portrait as opposed to landscape. Regardless of that, it's just a pleasant feeling to know that it grasp them. Still, the construction feels a bit wonky, as some parts of the mechanism's stainless steel frame flexes awkwardly and rubs against the back of our device. In addition, most of the power and microUSB ports of our devices are inaccessible – albeit, optional adapter fitted onto the sides of the gamepad allow us access to them.