Palm Pixi Plus for AT&T Review
1

Introduction:
Certainly not the last major carrier to adopt webOS into its lineup, AT&T customers have been fortunate to see Palm's once fledgling mobile operating platform make its entrance with the Palm Pre Plus. However, customers are now given a choice with the recent introduction of the
Palm Pixi Plus
– it surely feels late to the game, but it's nonetheless finally here. As we've seen Android's big push with AT&T of late, it may require more than freebies to entice people to side with the Palm Pixi Plus for AT&T.
The package contains:
Palm Pixi Plus
Wall Charger
microUSB cable
Services Guide
Quickstart guide
Touchstone Charger
Touchstone rear cover
Design:
When we were first introduced to the original
Palm Pixi
, we were amazed by its light weight and remarkable compact form factor that's traditionally dominated by RIM's line of portrait style QWERTY handsets. AT&T's Palm Pixi Plus is an exact replica to Verizon's version with the exception of the obvious AT&T branding on the front. Overall, it's still a refreshing look when you take into consideration the lack of compact looking devices employing this particular form factor – but it's starting to become rather stale at this point.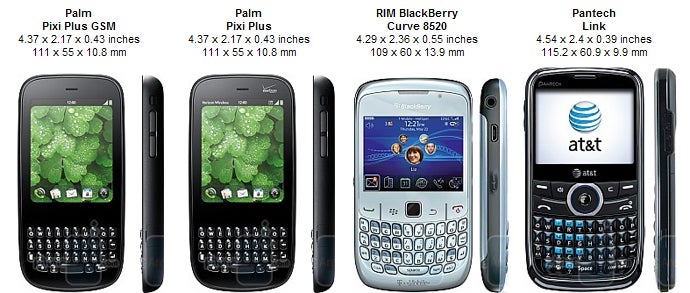 You can compare the Palm Pixi Plus with many other phones using our
Size Visualization Tool.
Already having to deal with some real estate issues, the Palm Pixi Plus packs a diminutive 2.63" TFT touchscreen which has a resolution of 320 x 400 pixels and support for 262k colors. By no means is it the sharpest out of the bunch with its washed out looking colors, and it may be too cramped for some people. Although it's pretty responsive to the touch, it's unable to meet the level of brightness emitted by the Palm Pre Plus as things begin to disappear when using it in direct sunlight.
The left edge of the phone is completely barren, while the right side houses the microUSB port, which can be found behind a cover, adequatly sized volume rocker, and the silent switch. To the top, you'll have access to the 3.5mm headset jack and a stiff feeling dedicated power button. Finally, the 2-megapixel camera with LED flash and speakerphone can be found on the rear. You can remove the soft touch rear cover by yanking the bottom portion off first which will then give you access to the battery.
Similar to previous incarnations, the Palm Pixi Plus offers a decent physical keyboard with its solid tactile response, but it can prove to be worrisome for those with larger sized fingers. Spacing between buttons is very limited as you'll have to rely on fingernails most of the time to accurately press a specific button. However, we did notice some back-lighting issues on our unit as the bottom row looked the most distinguishable, while the rest were faint.
Palm Pixi Plus 360 Degrees View: