Nokia X6 Review
22

This is a global GSM phone, it can be used with AT&T's 1900MHz 3G band, and with T-Mobile without 3G.

Introduction and Design:
Today we are going to introduce the most technologically advanced member of Nokia´s Xseries, the
X6
. It comes with the impressive 32Gb built-in memory, 3.2-inch capacitive display, 5-megapixel camera with Carl Zeiss Tessar optics and one-year subscription for
"Comes with Music"
. The latter service allows for download of music completely free of charge from an online server that features rich audio libraryand you can do it without violating anyone´s copyright, plus you are permitted to keep all the tracks you downloaded onto your phone or computer when the subscription expires. Unofficial information has it that a version of the X6 equipped with 16Gb built-in memory and without "Comes with Music" is coming February 2010.
You will not find anything coming out of left field in the box – the handset comes boxed with a pair of headphones, USB cable, software CD, user guide and a booklet that contains your own "Comes with Music" registration code. It would have been great if the manufacturer had thrown a phone cover designed to protect the device against scratches into the deal, but apparently Nokia has opted toremain true to its newly established corporate policy of cutting corners. You just won´t fail to notice that last year´s top music-oriented handset of the manufacturer, the
Nokia 5800 XpressMusic
came with quite richer accessory pack that included things like, say, TV cable… Well, the financial meltdown seems to have made everyone stingier, tighten their belt and batten down the hatches.
Every bird likes its own nest really, but the manufacturer simply cannot afford to blow its own trumpet on a product portfolio that includes too many handsets with touch-sensitive
screens
not to mention that, at least until now, they were all equipped with displays utilizing resistive technology. The
3.2-inch screen
of the Nokia X6 is the first to integrate capacitive one and we have to say its overall sensitivity is substantially better than its resistive counterparts. It comes with native resolution of 360x640 pixels, supports 16mln colors and as a whole, the image quality is pretty good, plus the screen remains usable even in direct sunlight.
The front side of the Nokia X6 hosts video call camera, touch-sensitive button than calls up a dedicated shortcut menu, send and end keys as well as a
button
to open the main menu. All told, they all feel handy to use.
The SIM card slot is located on the
left hand side
, but since it lacks spring eject mechanism, you would have to remove the back panel and battery to take the card out. What you have on the
opposite side
is camera shutter, screen lock switch and volume rocker. We didn't encounter any issues with any of them, since they all feature proper travel.
The 3.5mm jack is on the
top
, along with the charger and microUSB ports and power on button.
We just cannot say we are greatly pleased with the overall
build quality
really, because the Nokia X6 just doesn't feel as good in your hand as such a high-end device should, not to mention the back panel appears… downright cheap. Still, keep in mind the phone is quite tall and you will definitely feel it clearly in your pocket, not last due to its relatively bulky weight of 4.3 oz.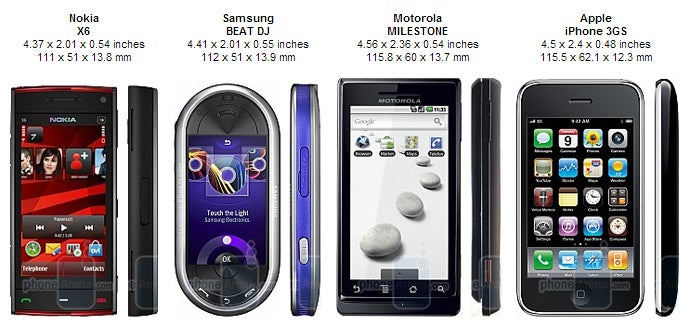 You can compare the Nokia X6 with many other phones using our
Size Visualization Tool
.
In step with the overall styling of all other Nokia handsets with touch-sensitive screens, the X6 features
symmetrical design
and the space above and below the display and to the edges is equal. In our opinion, the phone looks slightly boring, or to put it in other words, it failed to capture our imagination. We do prefer the shapes of the
Samsung BEAT DJ М7600
and
Nokia 5530 XpressMusic
.

Nokia X6 360 Degrees View: