Nokia Mini Speakers MD-4 Review

Introduction:
Do you feel like taking the party to a place where there´s no electricity? Say, right onto the roof of grandma´s house? Unless you´ve got one of those huge gangsta-rap tape recorders from the mid 80s, well, you should probably have to trust you phone to do the trick, but we bet it can hardly provide sound that´s loud enough. Well, a number of manufactures have taken it to heart to come up with decent portable speakers to help you out of the tight spot. We are about to show you one of the most compact solutions on offer as of now, namely, the
Nokia Mini Speakers MD-4
that you can literally carry around in your pocket.
What´s in the pack?
Nokia Mini Speakers MD-4
Four AAA batteries
2.5 mm to 3.5 mm jack adapter
Nokia pop port to 3.5 mm jack adapter
Manual
Design and functionality:
Now these speakers are compact indeed. They fold up conveniently and while they are they hardly take up more space than most cell phones while unfolded, they are 220 mm long. In other words you can always find enough room to bring them along and place them anywhere, even if the table happens to be all covered in dishes, cups – you name it. Speakers are connected to a source of music (cell phone, player or any device) through a standard 3.5 mm jack. The good news is there are two adapters in the package that provide connectivity to Nokia phones featuring pop port or any other device with 2.5 mm jack. The audio cable is 75 cm long and we believe that should be more than enough in most cases.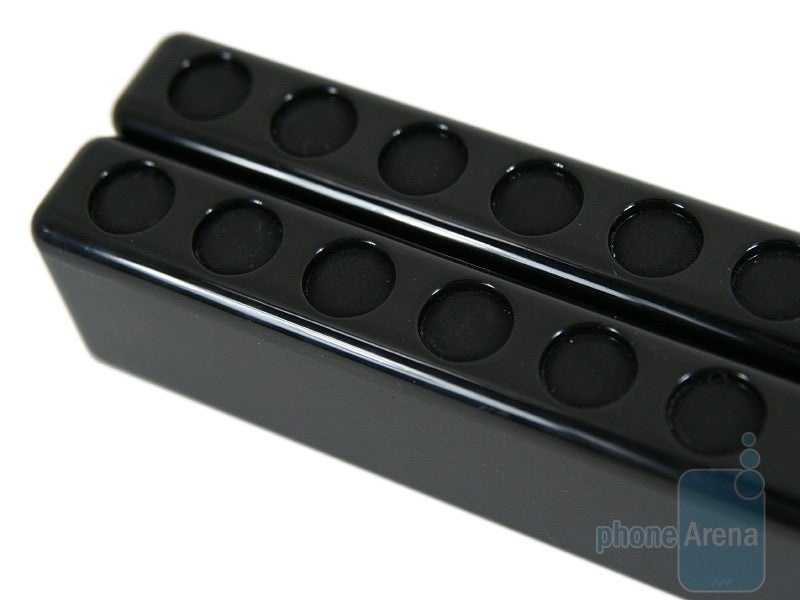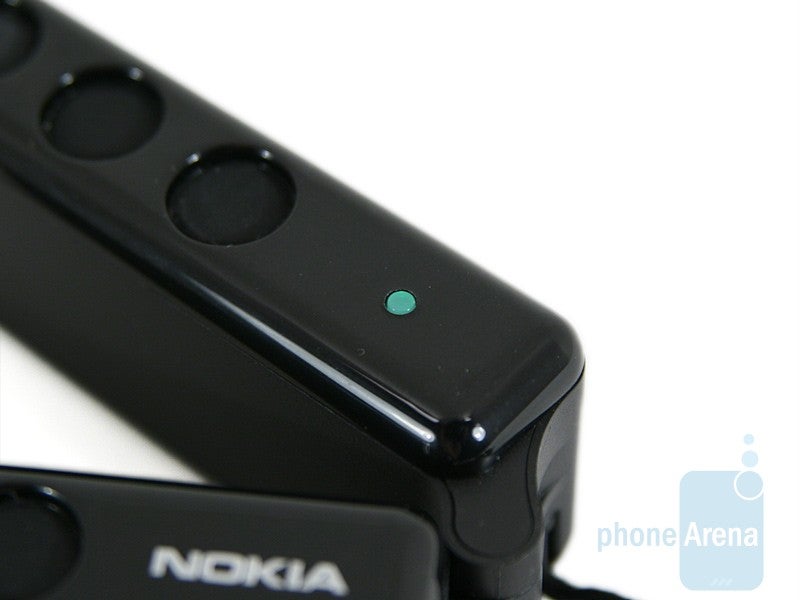 The
twelve holes for the speakers
are on the front side and there´s a
LED status indicator
showing if the speakers are switched on/off. The batteries are plugged into two compartments in either "shoulder" of the speakers, each of them fitting like a glove under the covers. Unfortunately, we noticed some scratches had appeared onto the glossy parts after certain, not heavy use of the speakers that really marred the otherwise pretty nice overall look.
Nokia Mini Speakers MD-4 are turned
on/off with a button on the backside
and volume is controlled from the device you´re using as a music source only. This isn't such a pain in the back, since the controlling device would be at no more than 75 cm away at most.
What we do like is that you only need to
fold them up to cut off the music
. This is done the following way – there´s a
small protruding cog on one of the inner sides of the speakers
that simply pushes the on/off button that´s located onto the other inner side. Simple and hassle-free! Moreover, there´re magnets lodged inside both "shoulders" that prevent you from spreading open the speakers accidentally.
Nokia Mini Speakers MD-4 have a simple look about them that may not appeal to anyone, but we definitely don´t think this is a problem, especially if the speakers measure up to their task, that is, to deliver loud, high quality sound.
Recommended Stories