Nokia 3390
1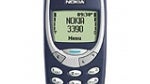 Nokia is the world's number one cellular handset Manufacturer. Based in Finland, Nokia took the cellular market by storm.
Holding 26.6% of total worldwide handset sales by the end of 1999 and increasing its share to approximately 35% by the end of year 2000, it managed to double the market share of its closest competitor. But today, at a time of great difficulties for the industry, which is lacking growth due to the U.S.-led economic slowdown, for the first time in several years Motorola and Ericsson may have gained market share in mobile phones at the expense of industry leader Nokia. Even though Nokia registered no market share gain in Q2 2001, volume deliveries have ensured profits which are undisputedly the industry's highest - in fact, it is the only major mobile phone maker that is currently profitable.
The 3390 is a phone Nokia introduced early in 2001, aiming to replace the aging 51xx and 61xx series. Most will consider the 3390 to be a low-end phone - it lacks high-end features, connectivity options and is essentially a low-priced, single mode phone. At the same time, it offers an attractive combination of price, appearance and features. The 3390 uses 1900MHz GSM technology and is offered by various carriers in the US and Canada. I have been using this phone on a daily basis for almost 4 months and have come to appreciate some features while others never cease to annoy me.
Recommended Stories