New Trent PowerPak Xtreme Review
2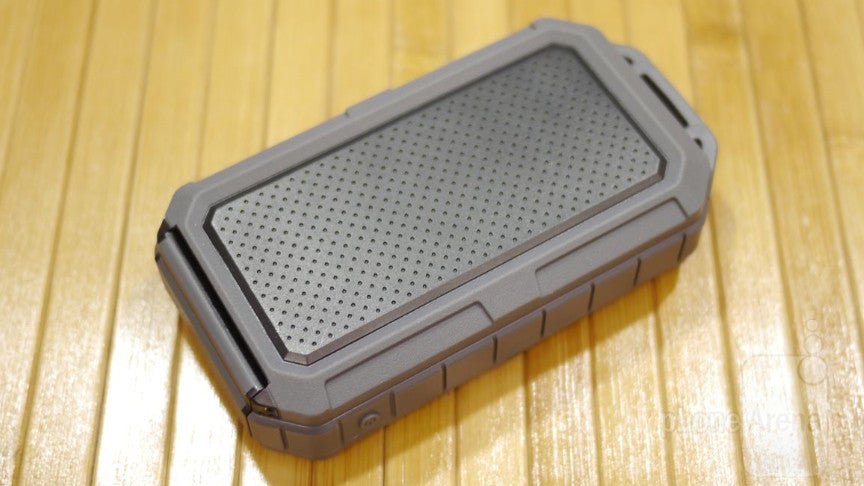 Talk about getting a whole lot of bang for the buck! Prices for portable batteries can vary depending on features and whatnot, rather than solely on capacity, but the New Trent PowerPak Xtreme is one of those all-in-one behemoth solutions that does more than to simply juice our devices. For starters, it's carrying along a leviathan of a 12,000 mAh capacity battery inside of its body.
Outdoor and travel enthusiasts won't mind using this one in the elements, as it can withstand being submerged under 3 feet of water for up to an hour – that's in part to its tough matte finish exterior. Unfortunately though, for something that's meant to be impervious to damage, it's literally built like a tank! It's bulky in size and tips the scales at 11 oz, giving it one heck of solid shell. Seriously, it can inflict some serious damage if it's thrown towards someone.
There's a single power button that activates the charging process, and lights up the unit's blue colored LED lights, which corresponds to its available charge. Under a plastic flap are two full-sized USB ports to charge our devices, a 1A port for smartphones and a 2.1A one to give a steady supply to tablets. Nearby as well is a microUSB port to charge its own internal 12,000 mAh battery.
Using the New Trent PowerPak Xtreme exclusively throughout CES earlier last month, we're impressed by how it delivers a potent punch of power to all of our devices. Thankfully, tablets don't take a ridiculous amount of time to charge fully, partly due to the 2.1A port it's blessed with. If there's one complaint that we have, it's that charging cables aren't integrated, which means that we're constantly reminded to carry along our own cables.
Nevertheless, the $59.95 cost of the portable battery online goes a long way in giving us enough power to last us longer than most of its rivals – plus, it helps that it has one sturdy construction!