Motorola Moto G Play Review (2021)
1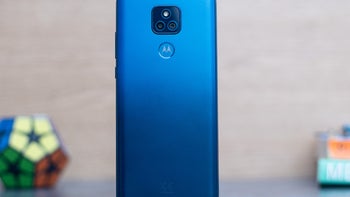 Motorola has slowly cemented itself as a strong presence in the value segment, and it's leveraging this reputation with the new and improved, ultra-affordable Moto G Play. At $169, the ratio of price to functionality is quite good, but the Moto G Power is a considerably better phone for only thirty dollars more. Those who don't require much from their smartphones will find the G Play's clean software and great battery life quite attractive, but for everyone else, there are better options within the market, even within Motorola's own lineup.
Design & Display
The latest G Play has a trim design and surprisingly good build quality. The clean, affable design has a sculpted plastic shell and flat glass display, and it feels more solid than you might expect—at 208 grams, it outweighs the similarly-sized OnePlus 8T by almost ten percent. The device doesn't feel heavy though, just well-constructed, which is a big plus at this price range.
The G Play has a fairly minimalist design. The top and bottom edges house the 3.5mm headphone jack (yes, that still exists), Type-C charging port, mics, and a single bottom-firing speaker. The left side has the SIM tray, and the right side the power and volume keys (textured for easy tactile identification).
The device is currently available in one color, Misty Blue, and it is better looking than any sub-$200 phone has the right to be. The nifty ombré color scheme is at once playful and sophisticated, giving an elegant finish to an otherwise plain design. The shell also houses the camera bump and Motorola logo/fingerprint reader. I've always been a fan of the ergonomics offered by back-facing biometrics, and I'm happy to say this one is easy to find, accurate, and fast.
On the other side of the device, a 6.5-inch, 720p LCD panel handles the visuals, and it's alright. Colors look accurate but feel muted, not vivid, and in 2021, a 720p display verges on pixelated. Still, the large display feels expansive yet easy to use, and the phone manages to output enough nits for a passable viewing experience in direct sunlight. Keep your expectations reasonable at this price point, and you'll be fine.
Camera
The G Play's camera setup is about as budget as it gets, featuring one 13MP main shooter and a 2MP depth sensor. It performs about as well as you'd expect from an entry-level device, capturing perfectly acceptable shots with good lighting but faltering with more challenging shots. Color seems well captured, though saturation and contrast can sometimes feel exaggerated. The dynamic range can struggle quite often, rendering shadows too dark and highlights blown out.
The G Play is the sole device in Motorola's new lineup to omit Night Vision for darker scenes, a sad but unsurprising absence. As far as selfies go, the 5MP front-facing shooter has many of the same pros and cons as the main sensor, delivering punchy photos but questionable dynamic range—in direct sunlight, the device may try to give you a botched rhinoplasty. Motorola's photography has come a long way, but this particular mode's cameras are rather middle-of-the-road in most respects.
Software & Performance
Each phone company has its unique spin on Android, and I've come to appreciate Motorola's My UX as a great balance between user-friendly and powerful. The customizable themes provide another layer of personalization, and Moto Actions, like the iconic double twist for camera or chop-chop for flashlight, feel intuitive and convenient. Motorola doesn't do a whole lot to Google's stock software, but it's carefully calibrated to feel clean and fast.
Unfortunately, the phone does struggle with raw performance. Stuck with a lower-end Snapdragon 460 and 3GB of RAM, the G Play hums along with basic web browsing, photo viewing, or emails, but it can feel sluggish with more challenging tasks, such as photo editing or gaming. It isn't terribly slow, but sometimes it feels as if you're controlling the device through half a second of lag instead of in real time.
Another point of contention is that Motorola is only promising one OS upgrade. The phone ships with Android 10, so the company is really only promising to update the device to the current version (Android 11), with anything beyond that not guaranteed.
Battery
Battery life is definitely one of the strongest elements of this phone, with a 5,000mAh power cell to last all day and all night and all day and all night, and then some. With the low-power display and processor, the new G Play sips power at a very slow rate. Motorola says up to three days of usage, and this estimate seems quite accurate based on my experience.
The phone supports 10W wired charging, which can top up the massive battery in under two hours. On the other hand, there's no wireless charging on board, but neither do most of its peers.