Motorola Debut i856 Review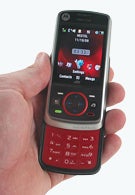 Introduction:
Motorola
Debut
i856
to throw convention out of the window. Not only is it a slider, but it also sports a sleek design not usually associated with iDEN (apologies to the
i9
.) The Debut has a slick morphing navigation cluster which switches from the typical layout to multimedia controls when the music player is launched. Other features include a
1.3
megapixel camera, 3.5mm headphone jack and microSD expansion.
Design:
The Debut makes its mark with a very good design. As mentioned, this is the first iDEN slider to hit the market and what a debut the form-factor makes (sorry, we're done now.) The compact design and internal antenna is a rarity in the PTT world, but the Debut pulls it off nicely and feels great in the hand.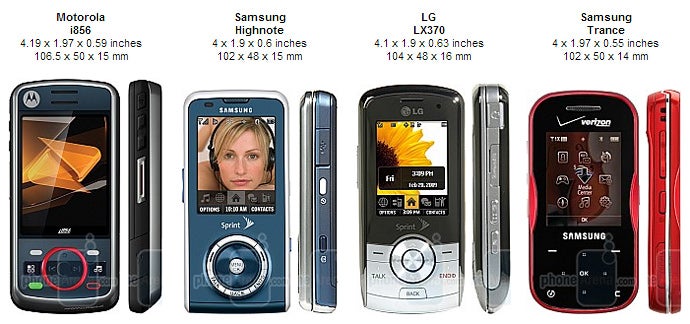 You can compare the Motorola Debut i856 with many other phones using our
Size Visualization Tool
.
The Debut sports a
2.2" TFT display
with a 176x220
pixel
resolution. It's not the highest quality screen, but as this is billed as a music phone it gets the job done just fine. It does have a tendency to wash out in direct sunlight, but this is something Nextel users should unfortunately be used to by now. Below the display is the
navigation cluster
, which by default has a fairly traditional layout with the 5 way directional pad, two soft keys and Send/End keys. To the sides of the d-pad are two hard keys; Menu to the left and Music to the right. When the music player is activated the d-pad morphs to include track forward/back and play/pause functions.
Sliding the i856 Debut reveals a standard
12 key dialpad
. Though the entire pad is continuous, the numbers are individually raised and the middle column is larger. Still, it is hard to distinguish between the keys by feel alone. They offer a click when pressed, but are a bit shallow for comfort.
The
left side
of the Debut has- from top to bottom- the speaker key, volume rocker and Direct Connect key. The microUSB charging port is on the
bottom left
and 3.5mm audio jack (with DC ring) on the
bottom right
. The
back
is non-descript anlyd coated in very nice soft-touch paint. The 1.3 megapixel camera is only available with the slider open, similarly to the Samsung m520.
We're impressed with Motorola's design here. The Debut is very pocketable and has a great feel in the hand. The slider mechanism is sturdy, with just the right amount of resistance and spring-assist, making us feel that we could slide it open and closed forever without issue. We'd have preferred a better design for the keypad, but it is far from unusable. All-in-all Motorola has done an admirable job with the i856 Debut's design.
Motorola Debut i856 360 Degrees View: