Moga Hero Power Controller Review
4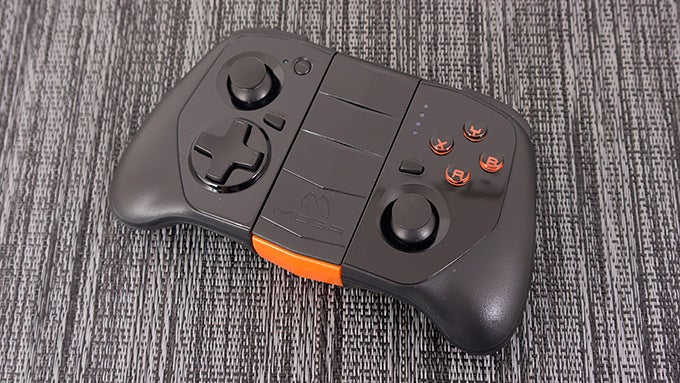 Introduction
Way back in the fall of 2012, we were teased with the first whispers of Moga's gaming controller for Android – the Moga Pocket. Right on schedule, it quietly released in 2013 to an awaiting audience hungry for a solution that would adhere to the stringent needs of most hardcore gamers. Now we're seeing its successor in the Moga Hero Power, a revamped update that makes a considerable leap over its predecessor. With all of the dramatics in tow, will it be enough to fancy our inner most gaming desires?
The package contains:
micro-B cable
MOGA Boost charging cable
Owner's manual
Design
It's still compact, but the aggressive new approach gives it a more modern design.
From a far glance, we can see some of the old design aesthetics of the Moga Pocket in the Moga Hero Power, but the more we look at it intently, we realize that there's more of an aggressive approach this time around.
First, it now sees a dedicated directional pad, which is raised, has a distinctive feel, and offers tight responses. Secondly, it wields two fully articulating analog sticks – whereas before, they were more like nubs. This time around, we're happy to see that they're snappier and can be pressed down to act as another button. And finally, on top of having the usual shoulder buttons, it features left/right analog triggers as well. Even though there isn't much give to the triggers, we're nevertheless thankful for their presence.
Gone is the rudimentary design of the Moga Pocket, replaced by a more authentic and modern gamepad design. Not only does it look better, but it feels better too – thanks to its sturdier build quality. Yes, it's comprised entirely out of plastic, giving it a lightweight feel, but at the same time, it's the solid kind that gives the entire gamepad some strength in the event it's dropped. Although it's not going to bother people with small to medium sized hands, the compact size of the Moga Hero Power might prove to be too cramped for those with above average ones.
Improvements have been made to the adjustable latch that grasps our smartphone in place as we hold the gamepad, since it's now able to accommodate even some of the beefiest phablets around – like the
Samsung Galaxy Mega 6.3
. There are two angles it can be positioned into, 90 and 135 degrees, but it's only the latter that proves useful.
Recommended Stories