Mio Fuse Review
2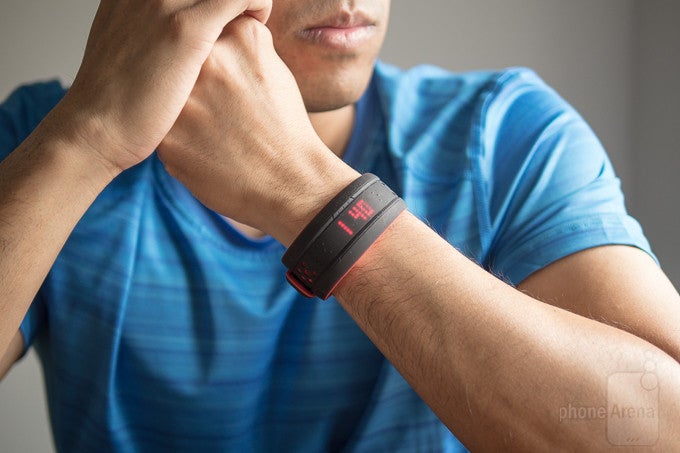 Introduction
By now, we're pretty familiar with the kind of styles that fitness trackers employ – you know, sporty ones that match their fitness tracking function. Some of the 'beefier' ones tend to look like watches, which at times come off as utilitarian, while others steer towards the wristband style we're all accustomed to seeing by now. The Mio Fuse at first appears to follow the latter, but there's undeniably something flashy with the way it looks, going for more than that conventional look. In a segment that's dominated by big names like Fitbit and Jawbone, it'll require some unprecedented qualities to stand a chance in surviving.
Packaging contains:
Mio Fuse
Charging cradle
Quick start guide
Warranty information
Design
Stylish and sporty, the silicone band makes it super comfy to wear.
Bravo! Impressively enough, the Mio Fuse incorporates one of the more flattering and flashy designs we've seen in the wearable fitness space in some time. Sure, it's a wrist-worn styled fitness tracker, much like the collection that's out there already, but what sets it apart is the almost futuristic style blended into a sporty wristband. Come to think of it, the design almost looks like the Nike Fuelband, but considerably more flexible thanks to its soft silicone band.
More than comfortable to wear by any means thanks to the rubbery textured material, it's worth noting too that the Mio Fuse is fully capable of withstanding the sweatiest of workouts – more so, too, when it's water resistant in up to 30m of water. As for the strap itself, it's just like your ordinary watch clasp, as adjusting it to almost any length is done quickly and effortlessly. And mainly because of how it contours perfectly around our wrist, it never feels irritating to wear for long periods of time.
Our particular review unit sports the crimson color scheme, a black band with red accents, which blends and contracts nicely together. Alternatively, there's also an aqua color that swaps the red accent color for aqua. On the underside, we have the components that make up its heart rate sensor. Just like most other sensors, it's almost blinding when it's on with its overpowering green glow. What really sets this fitness band apart from the bunch is the cool looking LED display dominating the majority of its façade.
Display
Futuristic looking, the soft red glow of its LED display commands attention.
Its red LED lit display is huge in contrast to the band's overall size, taking up much of the footprint along one side – and it's immense compared to the screen on the Fitbit Charge! Similar to those scrolling LED billboard signs you might see on some store fronts, the subtle translucency of the silicone band gives the display a soft glow, which is never too overpowering under dim conditions, but still ample enough to make out in bright light. Information, of course, is scrolled through the LED display. However, our only wish was for it light up in different colors for even more variety.
Flanking the display are the dotted scroll touchpoints that allow us to scroll left and right with the display. They're responsive and are indicated by these trio of raised dots on both sides of the display, while another timer touchpoint above the LED display enables its workout mode (we'll talk more about it later).
Futuristic? You betcha it is! The ample size of the LED display and its subtle glow is definitely eye catching, especially at night where it's instantly recognized by prying eyes.