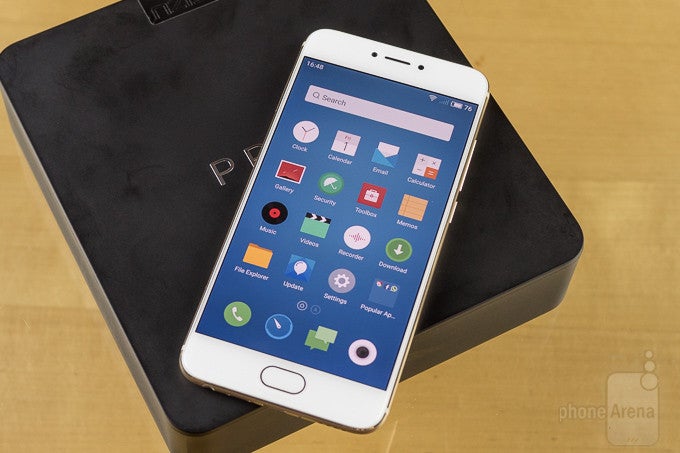 Introduction
There's a certain contingent of smartphone users that, no matter which new handset you show them, will invariably comment, "Oh, that looks like an iPhone." Sometimes that just reflects a narrow view of the smartphone market; it's only iPhone or iPhone wannabe, right? And sometimes there really are some pretty glaring similarities, as manufacturers try to take direction from moves where Apple has found success.
Pro 6
, where even "imitation" feels like too weak of a word: from hardware design, to functionality, to the heavily modified Android-based platform, the Pro 6 is a smartphone that feels like it was created from a singular vision intent on capturing some of that iPhone magic by following as close in Apple's footsteps as humanly possible.
And wouldn't you know it, but the
Meizu Pro 6
somewhat succeeds in doing just that.
In the box:
Meizu Pro 6
USB Type-C to standard A cable
Fast charging adapter
Warranty/safety cards
Quick start guide
SIM tool
Design
An iPhone by any other name...
Back in March, much as we still are today, the smartphone community was speculating about the design of Apple's next iPhone. And when some imagery surfaced of a metal-backed handset with an interesting, curved antenna stripe, rumors quickly zeroed in on it being a possible
iPhone 7
prototype. The next day, though, a Meizu exec burst our bubble by confirming that the image was actually of his company's own Pro 6. The initial leak didn't feel like a hoax, or an attempt by some jokester to pull one over on us; the Meizu Pro 6 really is that easy to mistake for an Apple device.
Meizu's Apple-parroting decisions include giving the Pro 6 a single hardware button up front: a fingerprint-scanning home button that may not be round like Apple's but it's similarly all alone up there – no extra capacitive Android buttons waiting in the wings. And while Meizu does side-button placement a little differently, the phone's bottom
edge
with headphone jack, mic, reversible USB Type-C connector, and speaker grille is one page pulled right from the iPhone playbook.
Display
A solid AMOLED screen with pressure-sensitive input
pixel
-density-meausring contests for bragging rights. With multiple color-tweaking modes to push that panel to its limits, as well as software options for adjusting white balance, the phone's screen sure comes equipped to impress.
In our tests, though, it came up just a little short in terms of brightness, meaning you might be fighting to see this guy on a particularly sunny day.
Like the iPhone from which it borrows so many tricks, the Pro 6's screen implements its own version of 3D Touch, letting you hard-press certain icons to pull up shortcuts. Honestly, it works really well, and our only big problem with it is how limited its availability is; only a few key Meizu apps take full advantage of these interactions.
Display measurements and quality