Lenovo YOGA Tab 3 Pro Review
9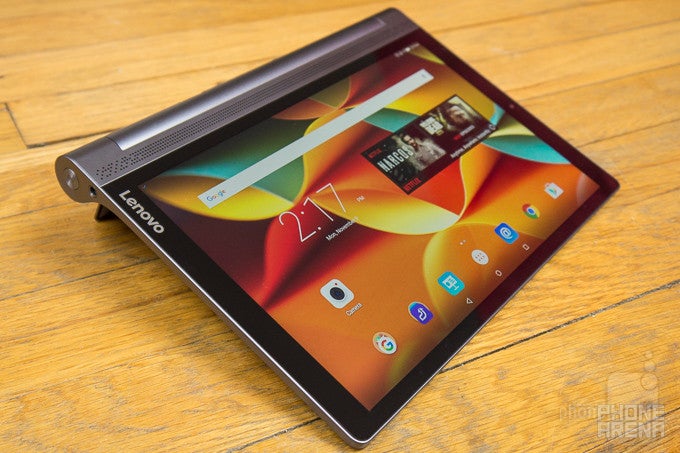 Introduction
Never the one to be satisfied by having a single model for a particular product line, Lenovo's Android-powered YOGA line provides consumers with diversity. Last year, for example, we were introduced to its most ambitious model in the series – the pico-projector packing
Lenovo YOGA Tablet 2 Pro
. For its successor, the
YOGA Tab 3 Pro
, they've reduced it to a more manageable size with its 10.1-inch screen, while also keeping the pico-projector and upgrading the specs in the process. All of this points to a resounding multimedia consuming tablet that can be enjoyed almost anywhere, but can it suffice as being a workhorse for getting work done?
The package contains:
Lenovo YOGA Tab 3 Pro
Wall Charger
microUSB cable
Get start guide
Warranty Information
Design
Same familiar design, but with a more sophisticated faux-leather finish.
Intact is the design language we've come to expect from the series, so this one doesn't deviate from the norm with its cylindrical hinge design and adjustable kickstand. This, though, receives a subtle improved treatment in the form of a new faux-leather finish that covers most of the back of the tablet. Combined with its durable metal chassis, it definitely gives it a more sophisticated look.
For a 10-incher, the YOGA Tab 3 Pro tips the scale on the heavier side at 667 grams. It's worth noting, too, that Lenovo has endowed it with an IP21 certification for protection against accidental liquid splashes. Unchanged by and large from the first generation models, we still have to credit it for its incredible flexibility in how it's used.
Most of the ports and buttons are situated in the same positions as before, but there are some changes. The biggest one pertains to the pico-projector itself, which is now incorporated into kickstand – whereas before, it was stationary in the hinge at the side. This new arrangement is a logical one because it comes with fewer hassles adjusting it, seeing that it can be positioned to our liking by rotating the kickstand.
Turning it on is done by pressing on the corresponding button embedded into the side of the hinge, which powers on the 50 lumen bulb. Honestly, the best performance is achieved in complete darkness, where it's being projected onto a white screen. Trying to use it in a room where ambient lighting is present is challenging, since it's just not bright enough. With a resolution of 845 x 480 pixels, details appear pixelated when it reaches the manufacturer's rating of 70-inches, but smaller projections under the 50-inch threshold make it more ideal.
Luckily, there's an automatic keystone correction feature that corrects trapezoid distortion – so that the projection is always perfectly level. Although we appreciate the added treat we get from having a built-in pico projector, its usability mainly hinges on the amount of ambient light that's present. At home trying to watch a flick during the night is no problem at all, but it's extremely challenging in a conference room in the middle of the afternoon.
Display
Bright and exceptionally detailed, it's an all-purpose thing for any condition.
Even though they've downsized it to a 10.1-inch IPS-LCD screen, it's sweet knowing that they've increased the resolution to 2560 x 1600 pixels, which means the screen's aspect ratio is 16:10. So yeah, details are stunning and plentiful with this one, but at the same time, it comes with some favorable qualities that make it an effective thing for almost anything.
Achieving a maximum luminance of 479 nits, it's one of the brightest screens in a tablet we've come across in some time, so outdoor visibility is pretty good. Colors aren't entirely accurate, as the magenta is heavily influenced by blue, while the whole thing suffers from a dominant green, but it still packs deep and rich tones to give the screen a sense of vibrancy. Oh yeah, it even features Lenovo's AnyPen technology that allows us to use almost any conductive object as a pen.
Display measurements and quality
Recommended Stories