LG VX8350 Review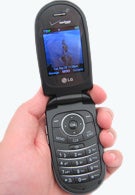 Introduction:
In June of 2006, Verizon introduced the LG VX8300. At that time the phone was an immediate success, since it replaced the not-so-popular (or
The VX8350 has been designed to be more modern and up-to-date. This includes an Internal Antenna, 4GB MicroSD card support, and a more streamlined appearance. Several features have remained the same, such as the 1.3MP Camera, Internal Display, Front Music Buttons, and Stereo Speakers. The VX8350, just like it predecessor, it targeted to consumers looking for a mid-level phone without spending a lot of money.
The Retail Package includes the LG VX8350 Phone, 1000mAh Battery, Wall Charger, and User Manual.
Design:
As we previouslystated, the most noticeable changes on the VX8350 are with the physicaldesign. Gone is the 1" stub antenna that was atop the VX8300, the frontMusic Buttons are now separate from the external display, and theside-firing Stereo Speakers have been moved to the back. The VX8350 isstill made of out plastic, but when holding the phone, it feels verycheap and "toy like". We believe this is due to the plastic having alower quality feel to it and the phone having less weight, whencompared to the VX8300.
| | | | | |
| --- | --- | --- | --- | --- |
| Model | Dimension(Inches) | Dimension (mm) | Weight (oz) | Weight (Gramms) |
| LG VX8350 | 3.73" x 1.97" x 0.87" | 95 x 50 x 22 | 3.30 | 93 |
| LGVX8300 | 3.58" x 1.93" x 0.92" | 91 x 49 x 23.5 | 3.88 | 110 |
| LG VX8550 Chocolate | 3.85" x 1.87" x 0.67" | 98 x 47.5 x17 | 3.24 | 92 |
| MotorolaRAZR2 V9m | 4.05" x 2.08" x 0.46" | 103 x 53 x 11.9 | 4.12 | 117 |
Pixel
262K Color TFT. It would have been nice if a higherquality QVGA Display was used, since this is becoming a standardfeature on most phones, and would make viewing when outsideeasier.
When opening the flip, the hinge movedsmoothly without any creaking noises. Yet we did notice that once itwere open, you could continue to push the flip further back, causingthe hinge to flex. Also, while on several test calls, with the flip upto our ear, we could move the bottom keypad closer to our face, thuscausing pressure to build in the hinge and causing it to flex. TheVX8300 suffers from this slightly, but nowhere near to the extent aspresent on the VX8350. Because of this, we are unsure as to how wellthe hinge will hold up to everyday use over a period oftime.
The
Keypad
has been slightly altered, with thenumeric buttons being closer together, yet the buttons remain samesize. We found this a change allowed for much easier dialing and textmessaging. The only problem we encountered with the new keypad was thatwe occasionally pressed the Clear button by mistake, when our intentionwas to press the Down Button on the 5-way Navigational D-Pad. This isbecause those two buttons have no plastic separatingthem.
PhoneArena's LGVX8350 Video Review: