LG GM205 Review

This is a global GSM phone, it can be used with
AT&T
and
T-Mobile.

Introduction:
Low-end music phones are pretty popular among both young and grown-up users, due to a number of reasons. First, music is an important part of almost everybody's life. Second, in the general case, such phones are reliable devices with long-lasting batteries. If you are that kind of person, who would gladly exchange a complicated file system and many third-party apps for a simple interface with music-centric features such as Dolby Mobile technology and built-in FM antenna, then this review of the
LG GM205
candybar will be of interest to you.
Design:
The LG GM205 is your typical affordable music candybar. It has a cheerful appearance, which makes it a perfect everyday handset that is, of course, if your whole day isn't full of business meetings and other formal stuff.
The
2-inch display
on the LG GM205 is nothing to write home about. It's fairly small, but gets the job done. Images look by no means breathtaking, because of the low resolution, which is not such a big deal on that particular handset. An unpleasant fact is that it turns into a mirror, when viewed under bright sunlight. What bothers us is that the plastic protection on top of the screen seems very weak, as it bends quite easily.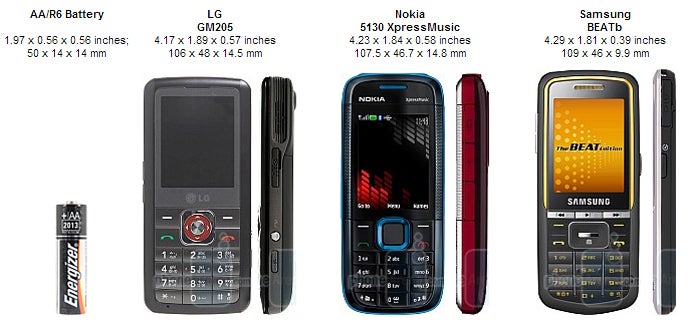 You can compare the LG GM205 with many other phones using our Size Visualization Tool.
On
the sides
of the GM205 you find elements designed to serve the needs of music lovers. On the left are the volume rocker and the microSD card slot (nice decision by LG to place it here); on the right is the proprietary LG port, as well as the FM radio music player keys. On the top is the much-cherished 3.5mm jack that greatly widens the range of headphones you can plug in.
The LG GM205 features a
2MP camera
and 2.1 channel speakers that should deliver some nice sound even when you are not using a headset.
As a whole, the
keys
are totally usable. We especially like the buttons on the sides with their pronounced click. We only think the numeric keypad could feel slightly better, as you sometimes get the feeling as if you have pressed more than one key at a time. Fortunately though, we never had problems with its functionality.
As far as
design
goes, the LG GM205 is a decent competitor to other similar handsets on the market. It sports a pleasing and cheerful appearance, nice keys, conveniently placed memory card slot and a 3.5mm jack that's a mandatory feature here.
LG GM205 360 Degrees View: Recommended Stories