Jabra STONE2 Review
14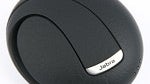 Introduction:
The
Jabra STONE2
claims to be a member of the high-end Bluetooth headset kind - an example of a unique design fused together with a bouquet of useful features. Picking up right where its predecessor, the original
Jabra STONE
, left off, the STONE2 feels well built, weighs next to nothing, and it is definitely something that you wouldn't mind being seen wearing in public. The most noticeable improvement that we find in the new model is the inclusion of voice commands that make using the headset a true hands-free experience. Besides that, you can use it to listen to your music and videos thanks to its A2DP support, and the active noise reduction feature should make your conversations sound as clear as they can be. So far, everything about the Jabra STONE2 sounds great, but does the headset really perform well enough to justify its $129 price tag? Let's check it out and find out for ourselves.
Design:
Folks who are familiar with the original Jabra STONE will notice that the newer Jabra STONE2 model looks pretty much identical to its well-crafted predecessor. You get the same earpiece and charging dock tandem – snap the two together and you get a "pebble" that can be carried around in a pocket or clipped to a belt for convenience. What's the idea behind that? Well, the charging dock contains a battery of its own and can charge the earpiece completely up to four times before it runs out of juice. The dock itself gets charged by using the included power adapter or by attaching it to a USB port with a microUSB cable. The earpiece on its own can provide about 2 hours of talk time, but if you charge it on the go with the dock, that figure can be extended to the impressive 10 hours of talk time.
Both the charging dock and the earpiece are made out of soft touch plastic and feel very well put together. It doesn't take long before you realize you are holding a high quality product in your hands. Unfortunately, the headset is meant to be worn on the right ear only, and since its
ear hook
does not bend in any direction, the fit isn't what we would call snug. Nevertheless, thanks to its low weight of 7 grams, the earpiece's presence is not too noticeable. It should not put any strain on your ear even if you choose to wear it for long periods of time. There is one thing that could have been improved on though – the set includes 4 different eargels, and even though they do get the job done, none of them seemed to provide a perfect fit. Adding more shapes and sizes would not have been excessive.
There is only one
physical button
located at the bottom edge of the headset. It is your ordinary multifunctional button that picks up and hangs up calls, enables voice commands, and turns the device on and off. Finding it with your thumb is pretty easy and it provides sufficient amount of tactile feedback. Adjusting the volume is done by sliding your finger along the side of the earpiece, which is touch-sensitive and seems to be very responsive to our fingers. We may not be the biggest fans of touch-sensitive volume controls, but we have to admit that on the STONE2 it works much better than it did on the original Jabra STONE.
So, we have examined the Jabra STONE2 on the outside, but no matter how pretty it looks, it isn't of much use if it doesn't do its job as a headset well. Let's see how it handles calls and whether we can stream our favorite tunes straight to it without any troubles.
Recommended Stories