Jabra Elite 25e wireless headphones Review
5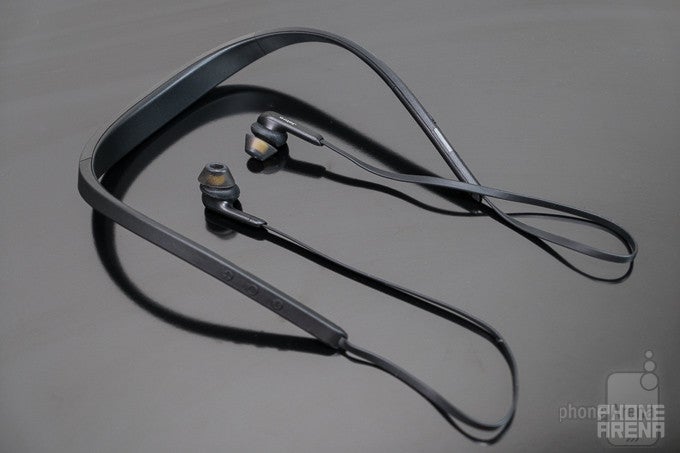 Introduction
The Jabra Elite 25e is one of many around-the-neck styled Bluetooth headphones in circulation, catering to both audio enthusiasts that want nothing more than to sit back and listen to music, as well as those busy bees who are always constantly moving around. You could say that it's trying to strike a balance with its design and offerings! With so many options to consider, will this $79.99 pair of headphones offer consumers anything more compelling than the competition?
Design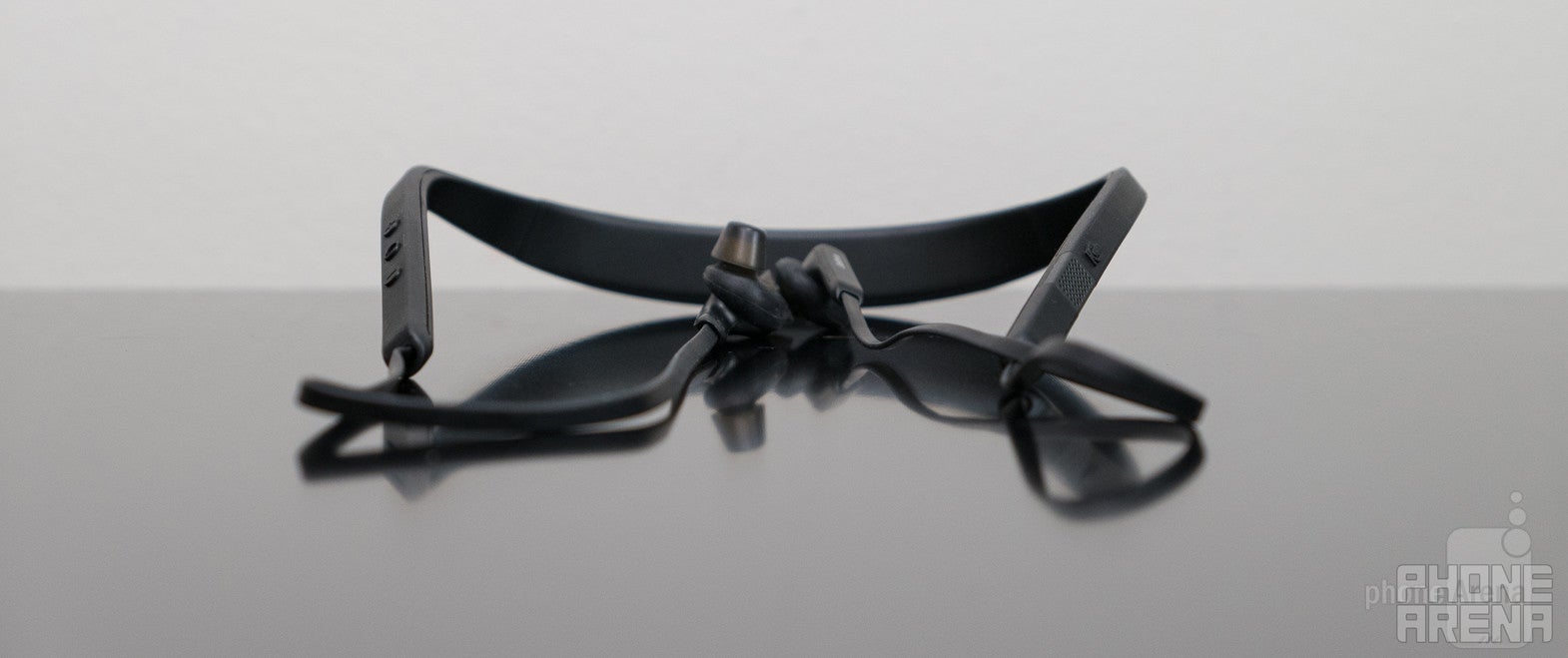 Let's not run around the bush, the design of the Jabra Elite 25e has been done countless times before – so there's really not a whole lot new here with its design. Sporting a mostly plastic frame with some soft touch matte accents, the design is an ergonomic one that rests snuggly around our neck, but it's extremely stiff and lacks any sort of flexibility. This becomes a bit of a nuisance with exercises such as running, where the bobbing motion can cause the frame to constantly bounce up and down, since most of its weight is towards the rear section of the band.
Despite this, it's still being fashioned towards exercise buffs because of its IP54 rating, making it water-resistant. That's important because the cover for the microUSB port on its underside is well-protected, so we're assured that it won't be adversely affected when using it in the rain. On top of that, the microphone along one end of the band is wind-protected, so callers won't have to endure those sudden and harsh sounds due to the wind during conversations.
As for the earbuds themselves, they're rather odd at first with their peculiar oblong shape, but it allows for a snug fit thanks to how they compress going in – and then expand to fill the gaps. Along the one end of the band, there are three physical buttons laid out for the usual playback functions, like pause/play and volume adjustment, but they're so stiff and oddly positioned that we're always finding ourselves fiddling around to press them. And lastly, there's a dedicated voice control button next to the microphone.
While its design can suffice for intense workouts, it's more likely to be used for causal music listening and phone calls – things that don't involve a whole lot of movement.
Software and Functionality
Pairing it to an LG V30, we proceeded to download the Jabra Assist app for Android, which provides for some useful functions with the Elite 25e. For starters, it breaks down the remaining battery life into three sections – talk time, music time, and standby, so you'll know where it stands with each of them. Secondly, there's a "Find my Jabra" feature, which once enabled, can help users to track down their missing headphones. It stores the last known location on a map, but if you've simply misplaced it and you know it's nearby, since it's still connected via Bluetooth, you can send a beacon that emits an increasing pulsating sound until you can hear it.
Beyond that, there are also functions that allow the Elite 25e to read out incoming messages automatically – like texts and emails. It works without any interaction on our part, just as long as we're wearing the headphones. While these features are all useful in their own way, we've become spoiled by how some other headphones offer custom equalizer settings – to tune the audio to our specifications, rather than remain static like this.
Connectivity
Leveraging its Bluetooth 4.1 connection, the Jabra Elite 25e offers a fair amount of reach. In our testing, we're able to easily continue hearing uninterrupted music playback in open areas up to 30 feet away – while indoors, it's capable of easily going through walls and adjacent rooms.
Controls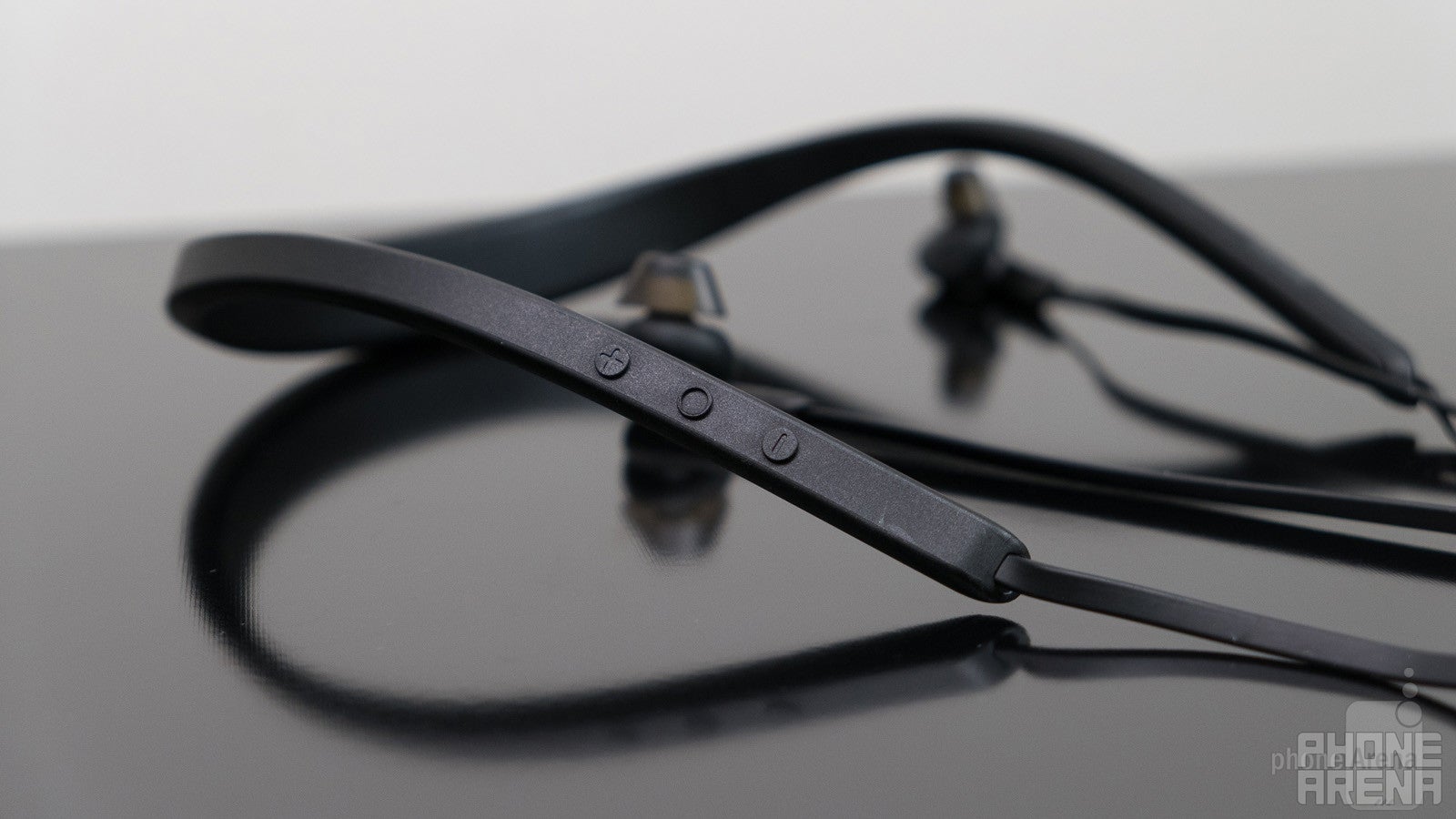 As we've mentioned earlier, there are three physical buttons along one side of the frame. The middle button is used to power on/off the Elite 25e, as well as acting as the pause/play function as well. The other two buttons flanking it default to volume up and down, while long pressing them initiate track forward/reverse functions.
Even though they're prominently raised, they're extremely stiff to the touch, which means you'll need to give them firm presses in order for them to respond. It's annoying, so be warned! And oh yeah, you'll want to use your left hand to access these controls, just because the angle of how the band rests on our neck, it makes it awkward trying to use our right hand.
Sound Quality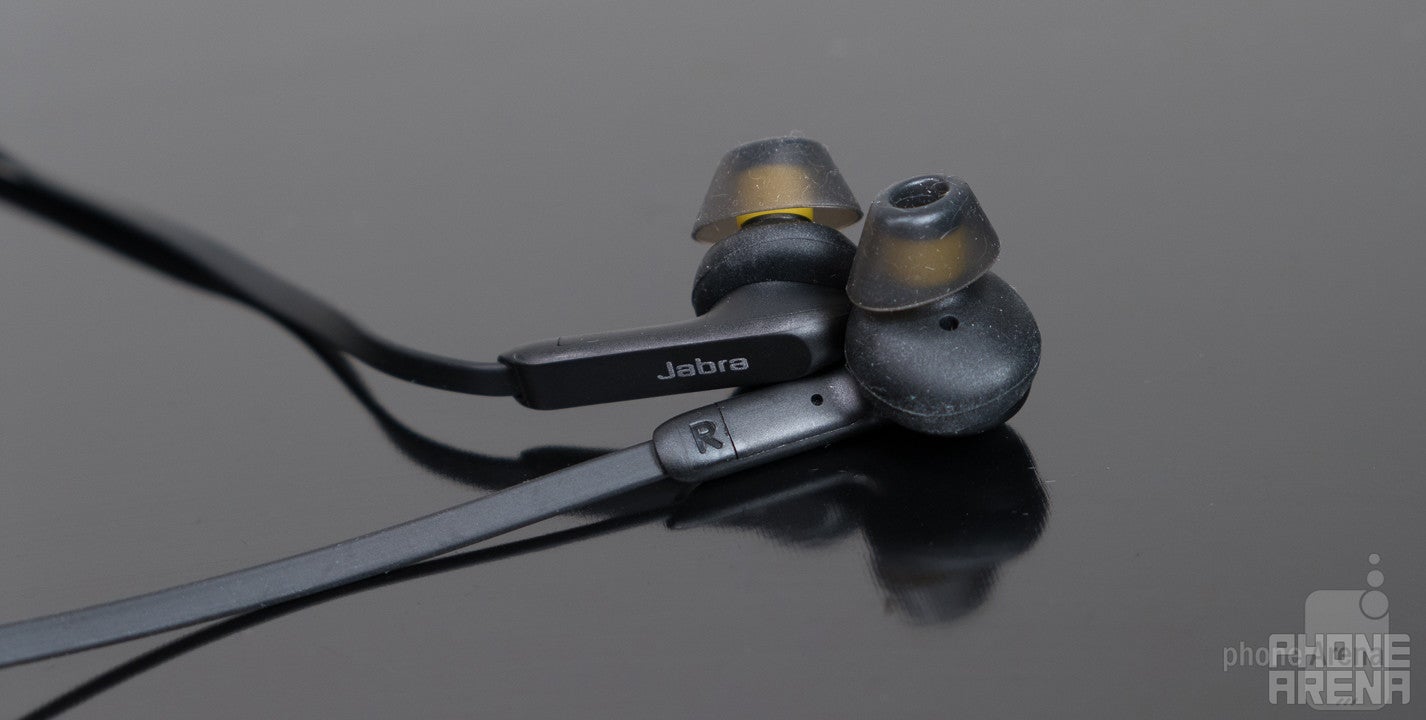 Partly due to how the earbuds manage to stay on firmly, the audio quality from the Jabra Elite 25e doesn't disappoint with its crisp sounds and punchy lows at the mid-to-high volume levels. There's a fair amount of wide audio dispersion, giving the music a good deal of depth. At the highest volume level, it never once seemed to strain or distort with its output.
Battery Life
Buy these headphones if you're looking for longevity, mainly because the Elite 25e gets by significantly better than most others in the market. Rated for up to 18 hours of battery life, we didn't even have to once recharge the headphones after 5 visits to the gym. Those sessions last approximately 2 hours at the most, which means it should still have some juice remaining..
Conclusion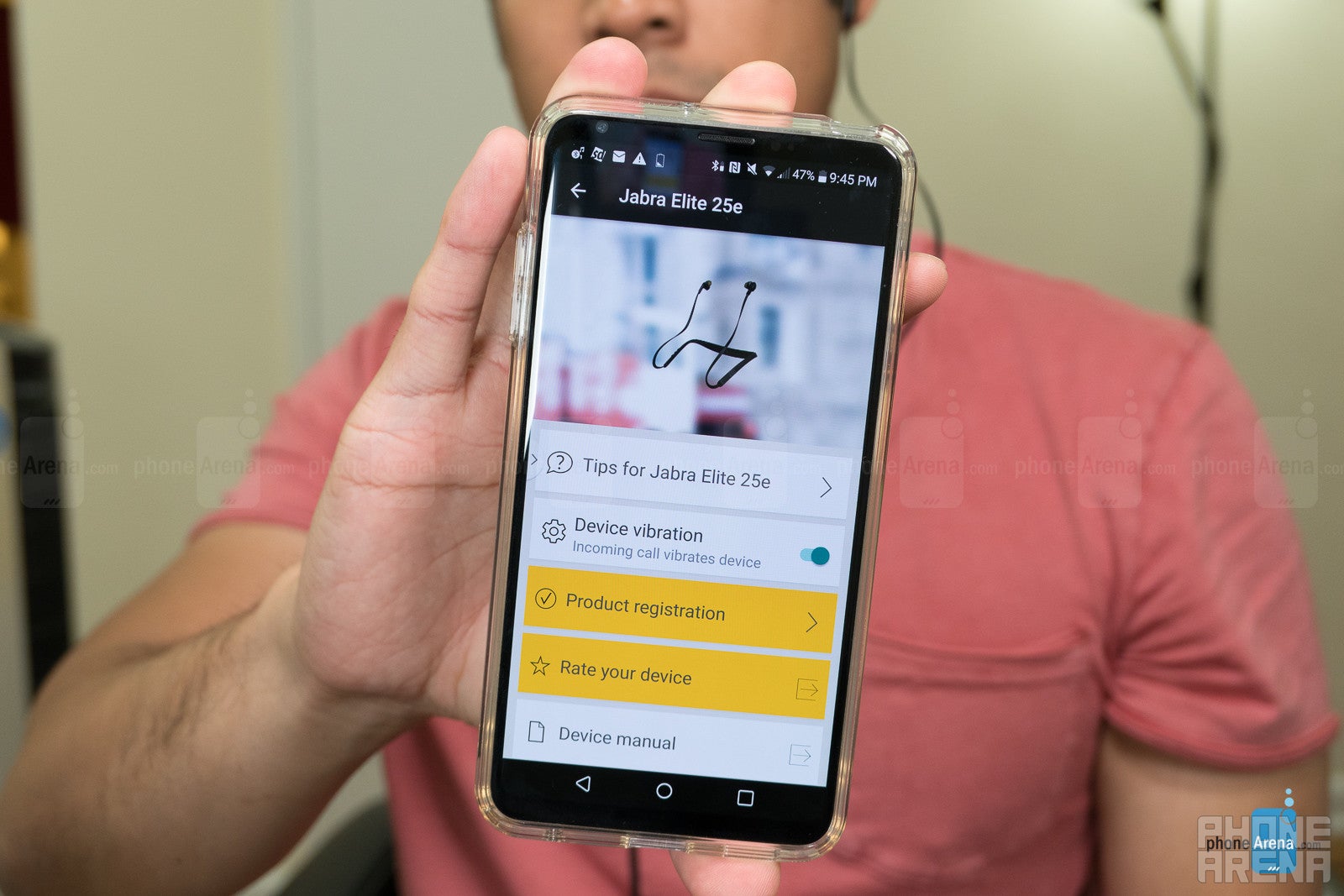 With its sticker price of $79.99, that's not too bad for a pair of headphones that offers extreme battery longevity, a water-resistant construction, and a robust audio quality. And with no glaring issues, it's definitely something worth considering if you're in the market. For the price and all, it's irresistible to not gobble up, since you're not spending a fortune on something that manages to strike a good balance between audio performance and battery life!
Of course, it's not for everyone, especially if you intend on using them for workouts that involve intense movements, as the stiff frame offers very little flex. On the other end of the spectrum, however, it's a great option if you're looking for something to relax and unwind with on long trips.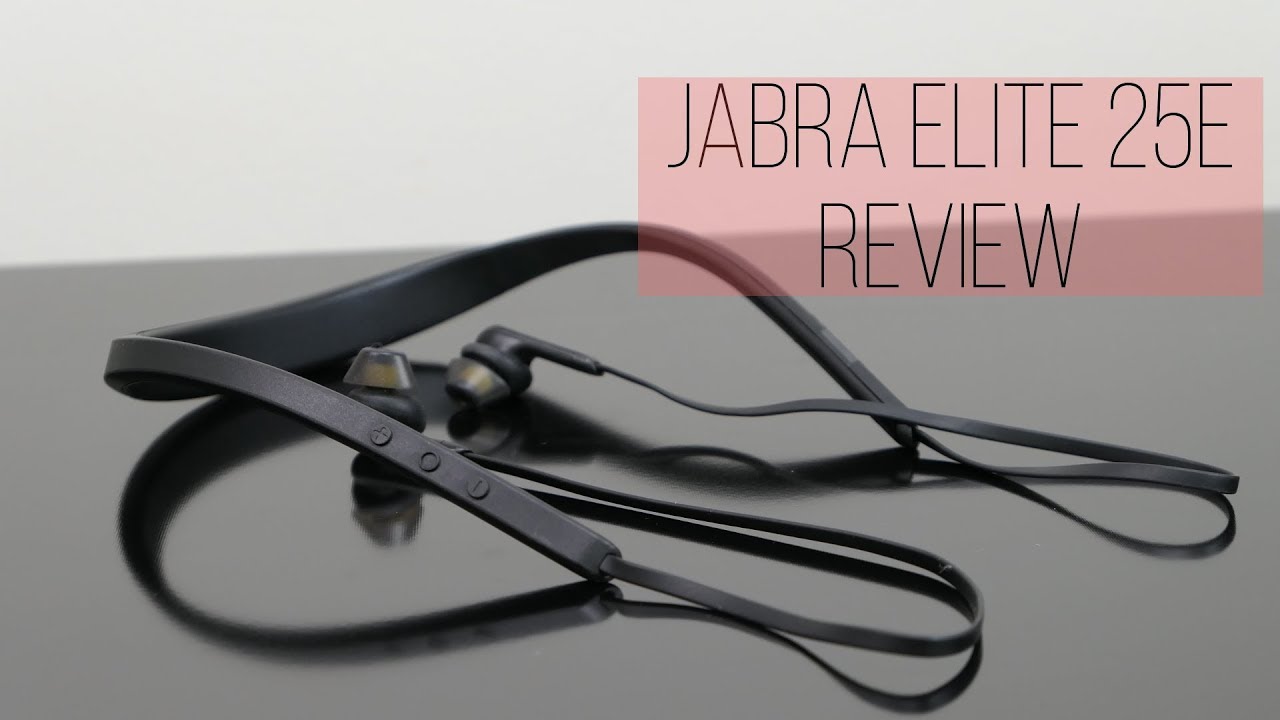 Recommended Stories