JBL Flip 4 Bluetooth speaker Review
8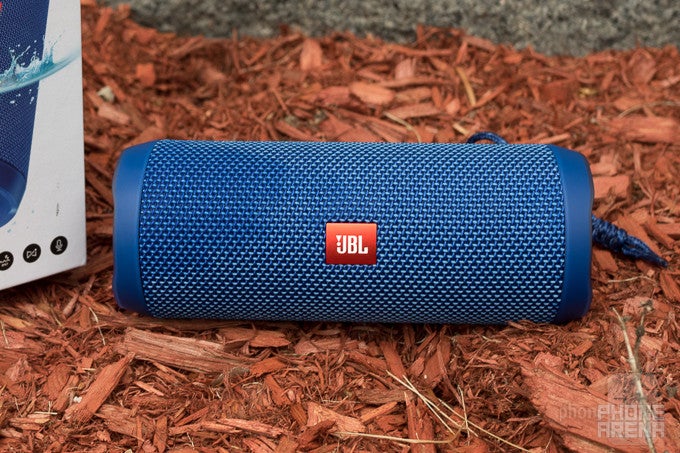 Introduction
With July upon us, summer is finally in full swing, and when these hot, sunny days have you feeling the urge to hit the pavement – get out and have some fun – you can rely on plenty of mobile devices to bring the entertainment along with you.
Obviously, that means bringing along your smartphone, but to get the most out of an impromptu summer cookout or lazy afternoon at the pool, you're going to want to share some of that entertainment with all your friends – and who wants to spend that time huddled around a handset?
Instead, you're probably thinking about pairing your phone with a versatile, outdoor-friendly speaker, letting you play DJ and share your favorite new tracks with everyone within earshot. There are plenty of options for doing so, but when it comes to feature sets best suited for summer listening, the JBL Flip 4 caught our eye.
Promising waterproof operation, a rugged, rubberized build, and the ability to deliver hours and hours of party-fueling tunes, the JBL Flip 4 sure looks like it hits all the notes we're looking for. Does the portable speaker meet all its potential? Let's check it out.
In the Box
JBL Flip 4
Micro USB charging cable
Warranty card
Quick-start guide
Safety sheet
Design
JBL builds a resilient, durable speaker without making it feel like a tank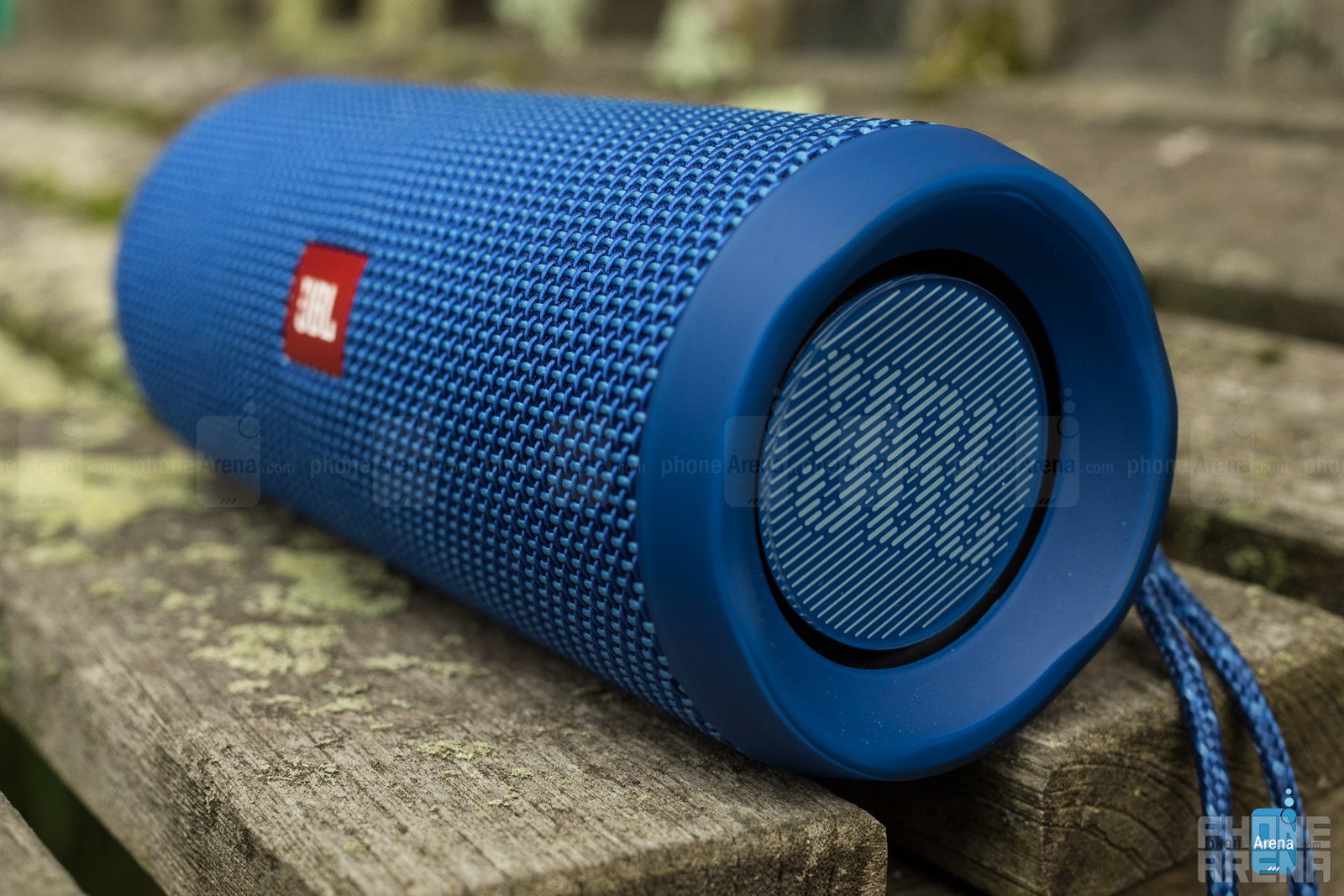 While there's any number of designs a mobile Bluetooth speaker can take, it feels like the majority of them go the "tube" or the "brick" route. And here, JBL wholeheartedly embraces the former with the cylindrical Flip 4.
The hefty speaker is a mix of molded plastic and an expansive fabric-covered grille. While the whole design is largely monochromatic, the Flip 4 is available in a decent variety of colors, including some bold, fun-looking shades.
Each end of the tube is populated by a passive bass radiator, recessed to help avoid accidental damage. They still feel a little exposed, but it's fun watching them pulse and twitch to the beat. Around front we don't see much a prominently centered JBL logo, but behind the fabric weave on each side hide the speaker's 40mm drivers.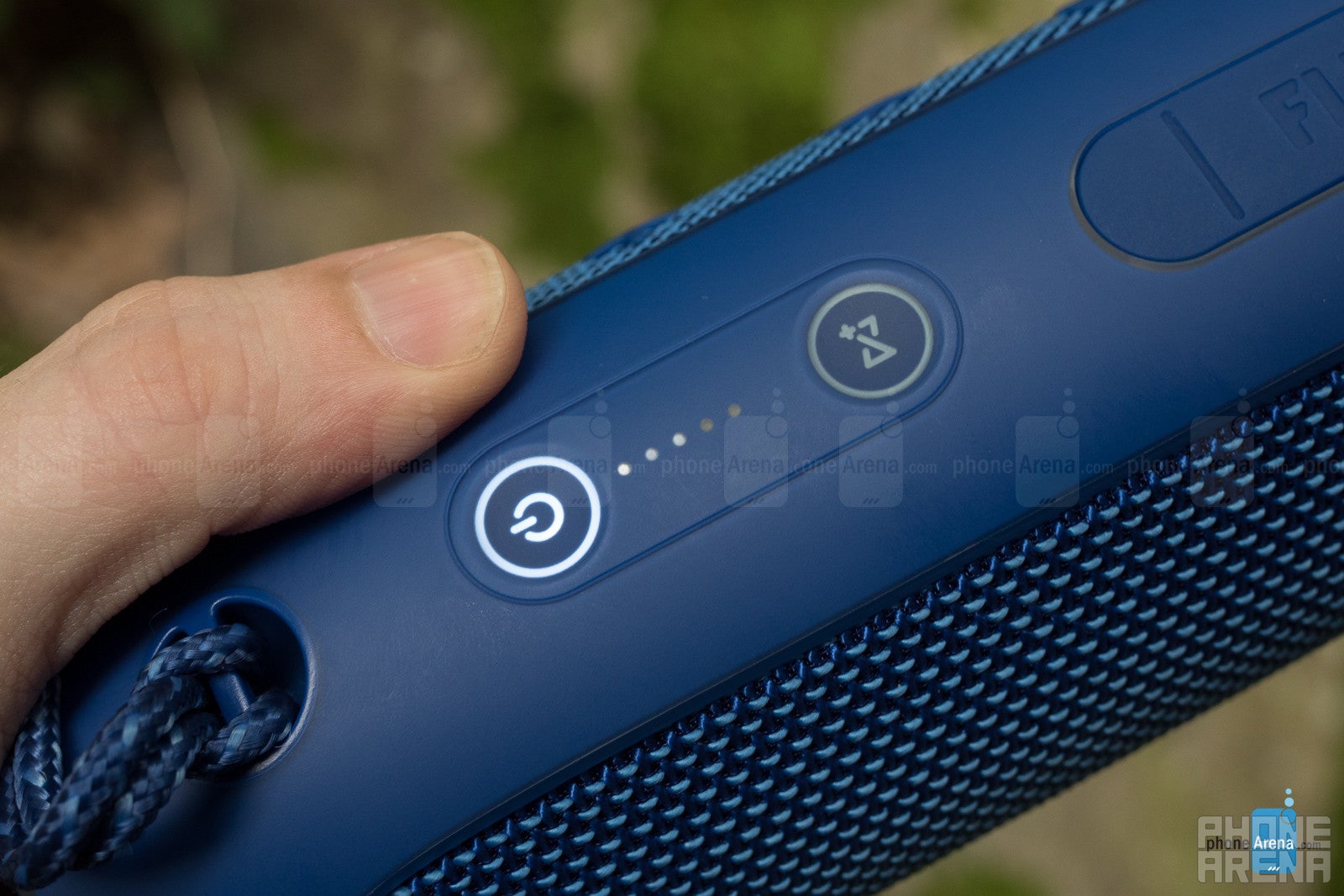 Up top we find the primary controls, a set of four raised buttons: Bluetooth, volume up and down, and a multi-feature play key. Tucked a little further back behind is the Flip 4's power button with battery-charge indicator right next to it. There's also an initially mysterious hourglass-looking button that turns out to help control multi-speaker JBL Connect+ functionality, which we'll discuss in a bit.
A deep rubber flap conceals the micro-USB charging port and analog 1/8-inch port for accepting non-Bluetooth audio sources – and as you pop that flap open, it becomes pretty clear you're compromising the speaker's water-resistance in the process. And finally, there's a lanyard loop to ease in carrying the Flip 4 around.
That water-resistance comes in the form of an IPX7 rating, meaning the speaker can withstand immersion in up to one meter of water. Officially, that's nice clean freshwater, but JBL says that the Flip 4 should withstand a dip in a salt or chlorine-treated pool, though recommends washing the speaker in fresh water after. Also keep in mind: while the Flip 4 is indeed waterproof, it won't float, so you're going to want to keep an eye on it around deep water.
Software and functionality
The Flip 4 offers good reason to install JBL's custom app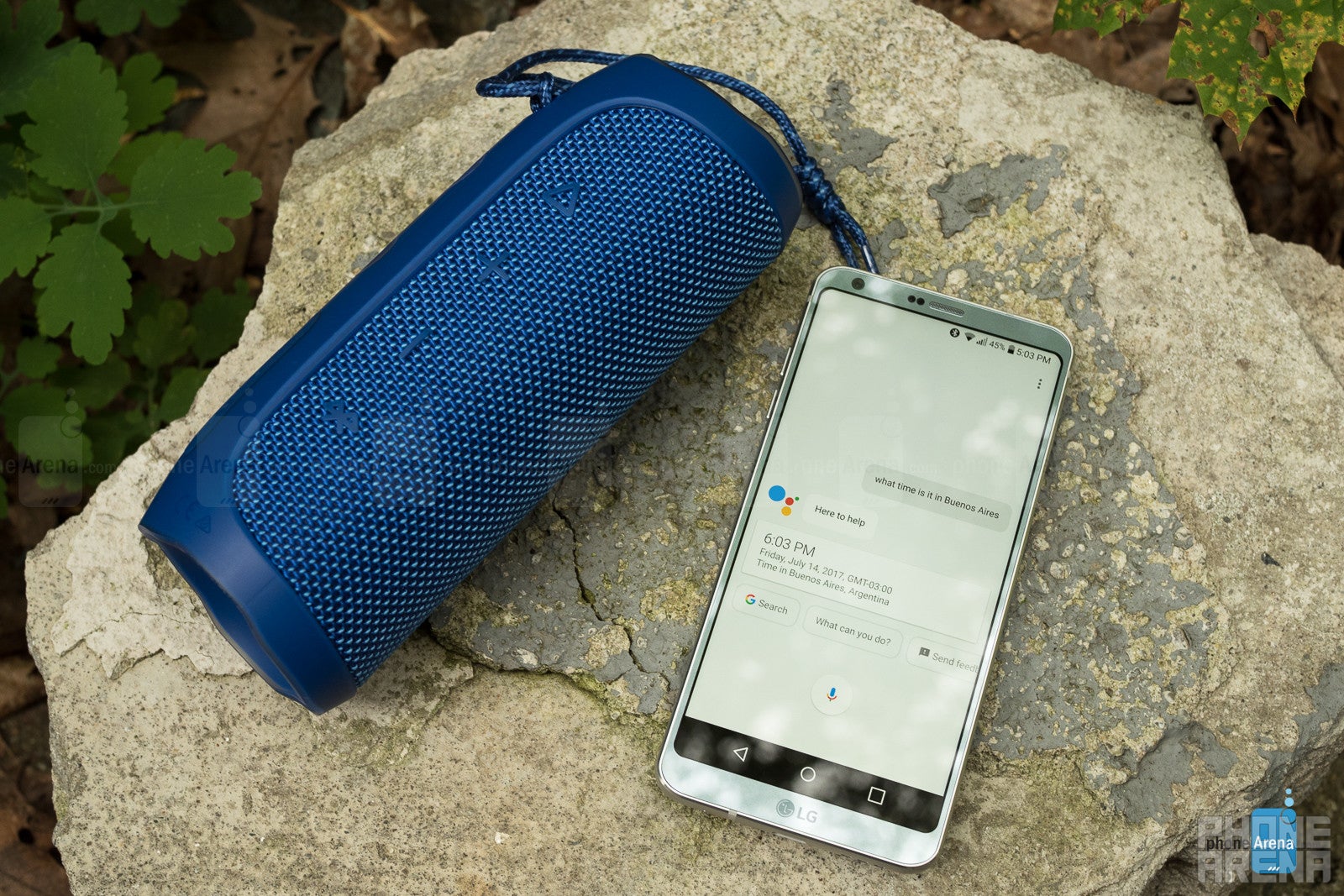 A Bluetooth speaker doesn't always need its own app – and sometimes even when the manufacturer goes to the trouble of delivering one, it doesn't do much to add value to the listening experience. Well, while JBL very much has an app for the Flip 4, this one thankfully has some real functionality to it.
Now, you can use the JBL Flip 4 just like a generic Bluetooth speaker, and doing so couldn't be easier: hit the big button shaped like the Bluetooth rune, and pair on your phone. That will give you music playback, as well as volume and playback controls. All pretty standard, right? So what's the app for?
Well, once you download and install JBL Connect, you'll gain access to three additional features for the speaker. Maybe the most useful there is the ability to set up access to a voice assistant like Siri (on iOS) or Google Now.
Normally, the arrow-shaped play button on the speaker acts as a pause/play button when pressed, or to advance to the next tract when you press-and-hold. But once you set up your voice assistant in the app, that single-press action instead pauses the music and lets you perform voice actions.
That's pretty cool, but we have a few issues with the implementation. For one, the audio quality (we tested with Google Now) of the voice assistance is noticeably lower than that of the music – it sounds almost like you're hearing it over a phone line. It's also quite a bit quieter than music, and while that might be nice if you wanted to do a quick voice search without everyone in the room hearing, we wish there were controls to set the volume to our tastes.
There's also the issue that you lose the ability to pause music in this mode. While that's clearly a concession to the number of available hardware buttons on the Flip 4, why not link the voice assistant feature to a button that's not routinely used during listening – like the Bluetooth pairing button? That way you could still easily pause things at your discretion.
JBL's app also opens up two special modes for users with multiple speakers. Remember that hourglass-shaped JBL Connect+ button on the speaker's back? With the help of the app, you can press that button to tie the outputs of multiple speakers together. In one mode, you can chain together a whole mess of speakers (up to 100), all cranking out the same tunes. In the other, you can create an expanded stereo effect by taking two speakers, and dedicating one to the left channel, and the other to the right.
We weren't able to check out either of those capabilities (thanks to only having one JBL Flip 4 for this review), but it's worth noting that the JBL Connect+ feature they rely on is new to the company's speakers, and won't work with older models.
In addition to working with voice assistants, the microphone JBL gives the Flip 4 lets you use the unit as a speakerphone. Sound quality's really not bad, but you're still going to want to keep relatively close to the speaker in order to be as intelligible as possible to the party on the other end.
Recommended Stories