HTC Snap Review
2

This is a global GSM phone. It can be used with AT&T and T-Mobile USA. It has a version called the S522 that supports AT&T's 3G network. The T-Mobile Dash 3G is a similar phone, which supports the carrier's 3G but lacks the Inner Circle feature and has a rearranged keyboard. Sprint also offers a model called the HTC Snap which is slightly different both in terms of design and features.
Introduction and Design:
With their famous Touch series, HTC seem to have cut down on the production of less sophisticated devices,
running Windows Mobile 6.1 Standard
, which are by far, not to be underestimated, especially when equipped with decent QWERTY keyboards. For an instance, the
HTC S740
turned out to be a viable alternative to the
Touch Pro
, which is a side-sliding, hefty cell phone, not really comfortable to carry around in your pocket. The Snap is
the first full QWERTY keyboard
candy-bar handset that HTC have made since 2007 and the form factor has allowed the manufacturer to make the phone quite thin (12 mm), so you will not end up with your pocket bulging out too much, plus its black color makes the phone look even slimmer than it actually is. Aside from the handset, what you will also find in the box are: USB cable to connect the device to a PC that comes with adapter to quickly turn the cable into a charger, software CD, user guide and quite nicely looking earphones.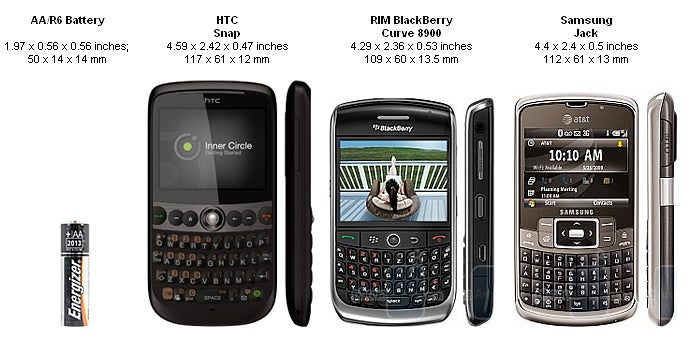 You can compare the
HTC Snap
with many other phones using our
Size Visualizatoin Tool
.
The
phone display
has the typical of such devices landscape orientation, measures 2.4 inches and delivers QVGA resolution and 65k color support. As a whole, the image quality is rather unappealing and direct sunlight renders screen unusable.
Send and end
buttons
are below the screen, along with two functional buttons to call up the phone screen or navigate back in menus. These four are prominent enough and easy to press. We found ourselves mistakenly using the right functional key instead of the other, because they cling close and have the same shape. The trackball is located between the buttons and is not enough sensitive to touch even if you change the relevant settings. Scrolling downwards is OK, but moving in the opposite direction is rather hard.
The
keyboard has four rows
with all keys having the same shape (except for the space button), convexity and they all lack enough travel. On the overall, we didn't have any troubles typing things away, even with one hand, although we had to keep an eye on what we were punching in all the time, because we couldn't make out what was the button we had just pressed. Keyboard might become a serious, vexing issue to people with thicker fingers, unlike the one the
BlackBerry Bold
comes equipped with. Still, we are pleased many keys sport pre-assigned shortcuts that allow fast access to, say, your messages or camera interface. The button that bears a small, green circle marking calls up your "Inner Circle" on screen, but we will tell you about this a bit later.
Left hand side
houses large and comfortable two-directional button that controls sound volume. miniUSB connector is on the
opposite side
, hidden under a small protective flap. As a whole, the HTC Snap feels rubber-like when in your hand and will not exactly make people to look twice in your direction, unless they take the phone for a BlackBerry.
HTC Snap 360 Degrees View: Recommended Stories