HTC One M9 vs Apple iPhone 6
18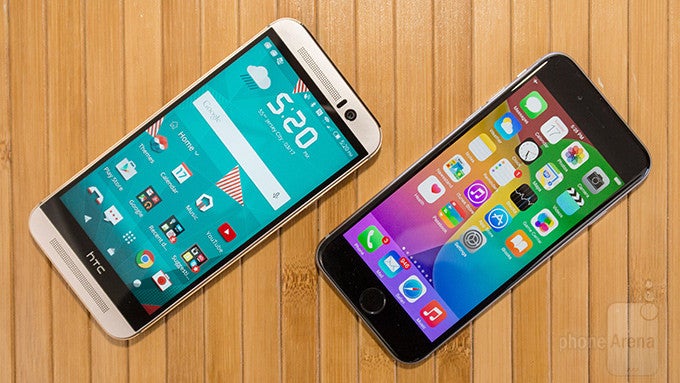 Introduction
Apple and HTC have something intimately in common with one another, they seriously know how to design some gorgeous looking phones. When we first saw the
iPhone 6
last fall, we were quick to draw comparisons to the
HTC One M8
– mainly because they're constructed mostly out of metal, and have similar design characteristics. Between them, though, it was the iPhone 6 that garnered more attention and adulation, both from consumers and critics alike, which is made more poignant by the amount of units Apple was able to ship out and sell of its prized phone.
For HTC, they've had the time to analyze some of the M8's opportunities and delivered a more refined product in its successor – the
HTC One M9
. Having seen what Apple has done with the iPhone 6, one can presume that the M9 will at least one-up its rival in some aspects, but does it really?
Design
The M9 feels more ergonomic in the hand, but the iPhone 6 is more compact. However, they're premium in every way!
Hands down, these are two meticulously designed phones that radiate with star power! There's a lot to like between the two flagships here in this comparison, as they both embody the characteristics we want to find in flagship devices. For one, they boast metal bodies that feel solid with their constructions – while also meeting the criteria in being premium phones.
HTC made some minor tweaks to the M9's design, evident mostly by its jewelry grade dual-tone finish – one that features a pleasant, contrasting colored bezel around its sides. Add in the fact that the new finish makes it grippier, and that there's a subtle arch to its construction, it clearly has more of an ergonomic feel in the hand. To be fair, however, we have to give the iPhone 6 credit for its skinnier chassis, lightweight feel, and overall compact size. Size, that's what arguably is at stake the most here when looking at their respective designs.
Display
Pixel density is higher with the M9's screen, but the iPhone 6 Retina Display is more color accurate and brighter.
If we're to look at specs alone, one would probably be more impressed by the M9's screen – a manageably sized 5-inch 1080 x 1920 S-LCD 3 display. In comparing it to the iPhone 6's Retina Display, a 4.7-inch 750 x 1334 IPS-LCD based panel, the M9 presents itself with the higher pixel density count of 441 ppi. On paper, it's undoubtedly a check-mark for the M9, but in practical usage, it's really tough to distinguish this "superior" quality, as the detail and clarity of the two displays are tough to differentiate from a normal viewing distance – leaving us to conclude that they're both sufficiently sharp.
However, as we take a closer dive into other characteristics of their displays, it becomes apparent that it's the iPhone 6 that's bearing the higher quality panel. First and foremost, it shines stronger at close to 600 nits – easily eclipsing the 508 nit brightness of the M9. In addition, the iPhone 6's 7200K color temperature is better than the 8100K value of the M9, and it's also more color accurate on the whole too.
Display measurements and quality