HTC Desire 510 Review
5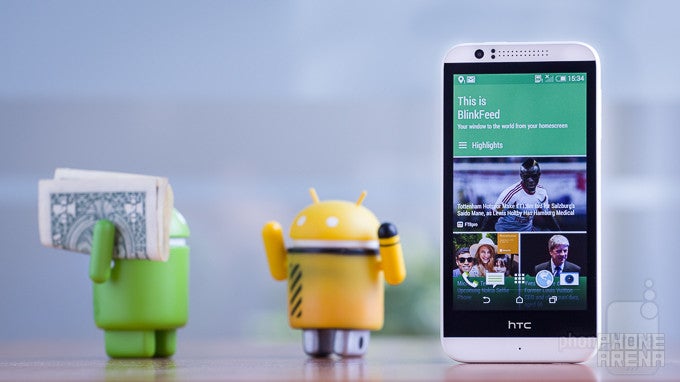 Introduction
The
HTC Desire 510
has the legitimate honor to be the first Android smartphone to ship with a 64-bit processor. Surprisingly, though, this isn't a hot-shot HTC flagship, but quite the opposite - a basic entry-level smartphone. It's the successor to 2013's
HTC Desire 500
, which was a fine, but not exceptional low-end phone back in the day. Targeting budget-conscious customers across the globe, the LTE-enabled Desire 510 is rivaled chiefly by the
Moto E
,
Moto G
, and the
Lumia 635
. Is this a smartphone worthy of considering against those two?
Design
A plain smartphone made of glossy plastic.
The HTC Desire 510 is made to be cheap and functional, not to blow your mind. It is built from the kind of glossy and smooth plastic they use to make toys with. It collects more fingerprints than a forensic specialist, and it's easy to scratch and get dirty. This doesn't mean the HTC Desire 510 is filmsy, or devoid of charm. In fact, it's the best-looking low-end Desire phone to date, and it is well-built, too. The plastic might be cheap, but it doesn't creak or give out in hollow points.
At 5.51 x 2.75 x 0.39 inches (139.9 x 69.8 x 10 mm), the HTC Desire 510 might be on the chubby side, but it's still an ergonomic smartphone. The smooth edges make it easy to hold and operate. The power and volume buttons are positioned on the left top side and right side, respectively. They don't have much travel to them, but are easy to find and press - and this rings true for both right and left-handed users.
The front side is home to a microphone, earpiece, camera, light & proximity sensors, and a 4.7-inch display Unfortunately, a LED notification light is not present. Up top, there are the Power button and 3.5mm audio jack, and on the bottom you'll find the microUSB port. The back panel is home to a speaker grille and a main camera that lays flush with the panel. Your index finger will often touch the lens, but you will eventually lose the habit.
Display
Poor quality.
We'll make it clear from the beginning - the HTC Desire 510's 4.7-inch display is very poor. It has a resolution of 480 x 854 pixels, making for a low pixel density of 208 pixels per inch. It's color temperature is way off at 9058 Kelvins (the reference value is 6500K), giving it a cold, blueish look, and the colors appear very dim and washed out. At 321 nits, it's not particularly bright, and using it on a beautiful sunny day is practically impossible. The vertical viewing angles are terrible, with the display exhibiting extreme distortion in brightness, contrast and color temperature when skewed.
Display measurements and quality
Recommended Stories