Gigabyte GSmart Simba SX1 Review
8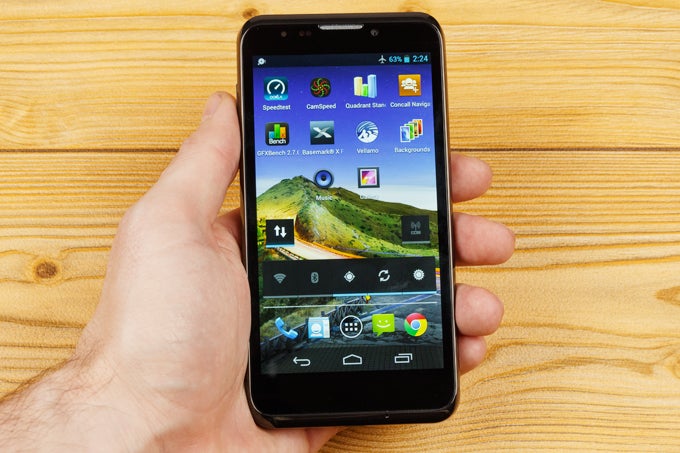 Introduction
Gigabyte has been on a spree these past 6 months, releasing as many as five new Android phones under their GSmart brand. The spotlights today are on the dual-SIM
Simba SX1
, though, and while it takes guts to step on the stage, we all know that it's nothing more than a stepping stone – the show is just about to start. In a sea of smartphones, however, it's hard to truly shine under the projectors, especially if you don't carry on the ancestry of a renowned brand. But, the Simba SX1 has something special in its sleeve – it's a competent communications device, capable of running two active SIM cards simultaneously, which is more than can be said for most other dual-SIM phones out there. But more is required from a smartphone these days, and the Simba SX1 is ready to answer the call with a decent 13-megapixel camera, a snappy dual-core chipset and a crisp 720p display.
So, does this mid-ranger pack enough bang for your buck? Let's find out.
In the box:
In-ear headphones with a micrpohone
Wall charger
USB to microUSB cable
Warranty and information leaflets
Design
We found the Simba SX1 to be one of the better-looking GSmart phones. It looks distinguished, with uniform, clear-cut lines that almost appear premium. 'Almost' doesn't really cut it, however, and we can't say that we were fooled by the plastic frame, which Gigabyte is trying to pass for metal, though it is a pretty good attempt. We found the Simba SX1 to be a pleasure to hold, thanks to its matte plastic back and its reassuring weight of 5.82 oz (165 g). In a nutshell, the Simba SX1 presents well.
But, the good comes with the bad, and while we're fine with the volume rocker's placement on the left side of the device, we can't quite agree with Gigabyte over the placement of the power button on the top left. This is a 5-inch device, after all, and unless you're a leftie with giant hands, you'll very likely find this one hard to reach. Thankfully, the feel and feedback these two provide is appreciated.
Display
Powering the Simba SX1 on introduces you to a 5-inch 720x1280 (294ppi) resolution IPS display of good quality. The inherent advantages of the panel include life-like color reproduction (although biased towards blue), great viewing angles and a decent outdoor visibility. Unfortunate, however, is the apparent omission of a protective coating on top of the screen, so thread carefully.
Overall, we're treated to a crisp viewing experience, and it quickly became apparent that the display is not an area to be wanting on this GSmart phone.